Dads work hard to keep us healthy and happy – so when Father's Day comes around, we owe them a little something extra. That's the thinking behind
Pioneer Woman
Ree Drummond's menu, which features an appetizer, entrées, a side and dessert that will fill his belly – and warm his heart.
Drummond, who runs
a popular blog
about her life in the country and the hearty fare she serves her family, picked five recipes that her husband, Ladd, particularly likes. Since the way to a man's heart is through his stomach, read on to find inspiration from
these delicious dishes
.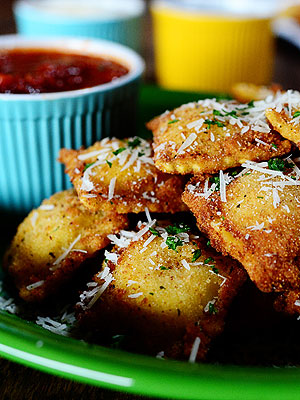 Toasted Ravioli
Makes 24 ravioli
• 4 cups vegetable or canola oil
• 2 cups all-purpose flour
• 6 eggs
• ½ cup half-and-half
• 2 cups seasoned breadcrumbs
• 12 frozen beef ravioli
• 12 frozen cheese ravioli
• ¼ cup shredded Parmesan cheese
• 1 Tbsp. minced fresh parsley
• 2 cups jarred marinara sauce, heated
1.
Heat the oil in a medium-sized pot over medium-high heat. Bring the temperature to 400 degrees. (The temperature will lower once the frozen raviolis are dropped in.)
2.
Place the all-purpose flour in a dish, then whisk together the egg and half-and-half in a separate dish. Pour the breadcrumbs into a separate dish.
3.
Grab the ravioli (they should be frozen solid), and one at a time, drop them into the egg mixture. Quickly dredge them in the flour, then dunk them once again in the egg mixture, then coat them in the breadcrumbs. Set aside on a plate, repeating until they're all coated.
4.
Three or four at a time, drop the breaded ravioli into the oil and fry for 2 to 3 minutes, or until the surface is golden brown and the filling is hot. Remove, and drain them on a paper towel.
5.
Transfer the ravioli to a serving platter with the marinara sauce and sprinkle on the Parmesan and the parsley. Dig in immediately!
Next: Chicken Parmigiana