When it comes to holiday cocktails, mixologist Patricia Richards stirs by a simple approach: Just shake it! Lucky for us, what Richards mixes in Las Vegas for the famed Wynn Hotel, isn't staying there.
The famed drink-pert says a merry recipe is as simple as 1-2-3: combine the contents, shake over ice and serve with festive garnishes. Toast your festive guests with these effortlessly chic drinks to get your holiday party started!
Menu:
• Peppermint Hot Chocolate (see below)
•
Gingerbread Spiced Nog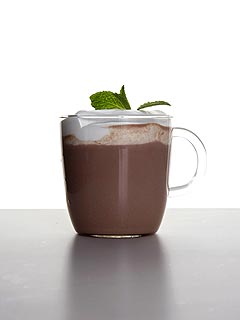 Peppermint Hot Chocolate
• 3 tbsp. hot chocolate powder
• 1½ cup boiling water
• 1½ cup scalded milk
• 1½ tbsp. crème de menthe
• 1½ tbsp. peppermint schnapps
• 1 tbsp. whipped cream
• Red and green sanding sugars
• Mint sprig
1. Combine cocoa powder, boiling water and milk in a mug and stir well.
2. Add remaining ingredients and gently stir.
3. Garnish with whipped cream, red and green sanding sugars and a sprig of mint, and serve.
NEXT: Gingerbread Spiced Nog >