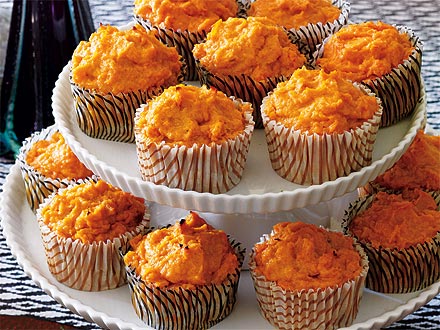 Mini Sweet Potato Soufflés
Serves 6
• 4 medium yams or sweet potatoes, peeled and chopped into large chunks
• 2 tbsp. unsalted butter
• 2 tbsp. soy milk or regular milk
• 1 tbsp. honey
• 1 tsp. salt
• ½ tsp. cinnamon
• ¼ tsp. vanilla
• ¼ tsp. nutmeg
• 4 egg whites
1. Preheat oven to 350ºF.
2. Put the yam chunks in a large pot of cold, salted water. Bring to a boil and cook until the chunks are tender when pierced with a fork, 10 minutes.
3. Drain and transfer to a large bowl. Mash with a potato masher. Add butter, milk, honey, salt, cinnamon, vanilla and nutmeg. Stir well until mixture is smooth.
4. In a medium bowl, beat egg whites until they start to form soft peaks. Stir ½ of beaten whites into yam mixture until completely combined. Fold in remaining whites in two additions, until just combined.
5. Spray 12-cup muffin tin with cooking spray or line with paper cups. Scoop the yam mixture into the cups.
6. Bake for 30 minutes or until the soufflés are just firm. Remove from oven and let cool for 5 minutes.
7. Carefully remove soufflés from tin and place on serving platter.
NEXT: Pom-opolitan >