It was five minutes before show time, and Peter Hegan was a face in a crowd of 10,000. (Not to mention his face was covered in dirt.)
Nervous? Excited? He felt a little bit of both. The 29-year-old had spent the last three months in rehearsals – which lasted 20 to 30 hours a week in the final stretch – preparing for the
2012 Summer Olympics
opening ceremony, in which he played a worker in the 17th-century Industrial Revolution. But this was different.
"This was the time the world was watching," the London-based broadcast systems coordinator, who has no prior theater background, told PEOPLE after he took the stage Friday night for the highly anticipated ode to British history, pop culture – and Harry Potter.
Hegan was one of the 2,500 volunteer performers who sported high-waisted trousers (and grime-like face makeup) for one of the early segments of the $42 million-Olympic Stadium spectacle, watched live by a reported 60,000 spectators in London for the Games. (
Among the audience
members:
Kate Middleton
,
Prince William
,
Michelle Obama
and
David Beckham
.)
"We pretty much looked like we had just crawled out of the ground," he recalled of the performance, in which the "Green and Pleasant Land" was transformed into an industrial landscape with props that included shovels, hammers and chisels.
Now that the heavy lifting is over, Hegan will never forget his moment in the global spotlight – especially around October.
He gets to keep his costume, so "Halloween is sorted for the next 20 years," he said.
Making His Country Proud
Some time before Christmas, Hegan received an email: Show organizers were looking for volunteers, and anybody, actor or office employee, could audition.
"It took over my life," said Hegan, who landed a part that would begin rehearsing in May. "It's sort of a mixture of pressure to do your country proud and put on a show because the entire world is watching."
Aside from a steep time commitment, participation in the Danny Boyle-directed show required a dedication to secrecy or, how he describes it, a "save-the-surprise mentality" (a phrase that trended on Twitter earlier this week).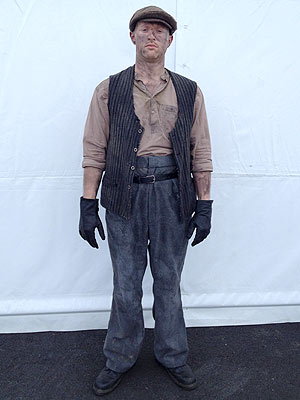 And now that the show is over and the secret's out, Hegan and some of his fellow performers plan on celebrating with something everyone can root for: a refreshing (pub-bought) beverage.
"Everyone's on a high right now," he said. "What we were doing wasn't easy. I think everyone's just ready to celebrate."
Added Hegan: "We're really just sort of hoping that we have represented the country well."