On her way to the women's all-around competition at the
London Olympics
– arguably the biggest meet of her life – Gabby Douglas had a good feeling.
"I was on the bus and it was raining and I thought, 'It's going to be a great day,' " Douglas, 16, told PEOPLE on Thursday after
winning the all-around gold medal
. "My mom used to tell me when I was little, 'When it rains, it's God's manifestation, a big day's waiting to happen.' "
"I texted my mom, 'It's raining. You know what that means.' "
And a big day it was for the gymnast dubbed "The Flying Squirrel," winning the most coveted prize in her sport. It comes just two days after she took home the
team gold medal
alongside Aly Raisman, McKayla Maroney, Kyla Ross and
People.com blogger
Jordyn Wieber.
The significance of winning the all-around was not lost on the young gymnast. Asked which medal means the most to her, Douglas told reporters, "The all-around matters to me. People keep saying I'm the first black American to win the [all-around] gold medal so I [thought], yeah, I forgot about that. It was amazing. I feel so honored. ... It's a barrier-breaker, and I think that it just says something more about it."
She was also pleasantly surprised to learn another bit of trivia about herself. Told by a reporter that she is the only American to have gold medals in both the team competition and the all-around, Douglas replied: "Oh, wow. You learn something new every day."
An Unlikely Journey
Douglas's coach, Liang Chow (who also coached Olympic medalist Shawn Johnson), says he did not anticipate having a decorated Olympian on his hands when Douglas, only 14 years old, moved to Iowa by herself to train with him.
Neither did Douglas. "When [I] look back and think about it now, wow, everything is possible," says the gymnast. "I moved to Iowa [and there were] a lot of sacrifices, but they pay off."
"I think she's improved," says Chow. "Before, many people were worried about her mental toughness and I think, especially today, that demonstrates that she can handle the toughest jobs." He adds that his athlete made a "wonderful effort, wonderful performance under huge pressure for a 16 year old."
Team coordinator Marta Karolyi echoed those sentiments.
"She did so great improvement that it's incredible in this short time," said Karolyi. "I haven't seen any gymnast from an average, good gymnast five months ago, to climb up to the best in world. That's the truth."
Taking It All In
Standing atop the podium was something of a surreal moment for Douglas, who edged out Russian frontrunners Victoria Komova and Aliya Mustafina for the gold.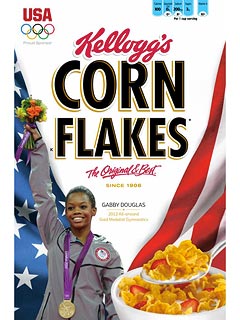 "That was awesome, seeing the flag raised and you're on top and the national anthem just playing," says Douglas. "You feel like you're in a concert. All these flashes ... I'm living on Cloud Nine."
She's also embracing her new role as an inspiration to others. Asked to advise young gymnasts, Douglas replied, "I say keep fighting. I say push it. And it all pays off. Only believe in yourself."
She's taking her own advice to heart as she looks ahead – way ahead, to the 2016 Games in Rio. "I want to stick with this," says Douglas. "People tell me that I'm young and don't give it up."
But before turning her attention to her future in the sport – or even to her remaining events in London, the individual balance beam and uneven bars finals, let alone her face soon appearing stateside on boxes of Kellogg's Corn Flakes – Douglas had just one thing on her mind.
"I saw my mom in the crowds," Douglas told reporters, but "I didn't get to hug her yet."
•
Additional reporting by SIMON PERRY