Though NBC cut
the Sochi mascots (Bear, Leopard and Hare)
from
the opening ceremony
, Russia made sure to make them a crucial part of the closing ceremony.
We're still kind of creeped out by them, though.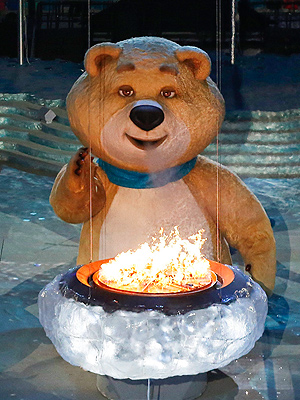 Barbara Walton / EPA / Landov
The massive, sort-of-lifelike creatures were wheeled back into Fisht Stadium and spent some time wheeling around the floor and looking back and forth before Bear sidled up to the Olympic torch, and – with a Superman-esque gust of super-breath – blew out the flame.
Then the giant bear shed a single tear.
The mascots were such
a big part
of the closing ceremony that we find it all but impossible to believe that NBC would cut them out of its broadcast Sunday night, but even if they do, we have the pictures to prove they were there, they were magnificent, and they were also a little unsettling.
Where do you stand on Bear, Leopard and Hare?
The #Sochi2014 Olympic flame has burned out, but your legend never will #ClosingCeremony pic.twitter.com/DSEFbsDlHb

— Sochi 2014 (@Sochi2014) February 23, 2014
Follow PEOPLE on Facebook!