Kanye West
has responded to
Amber Rose
– and true to form, he didn't hold back.
Over one day after his ex-girlfriend shared an
explicit tweet
about his sexual preferences, the rapper denied her claims on Twitter.
"Exes can be mad but just know I never let them play with my ass," West, 38,
wrote
late Thursday. "I don't do that... I stay away from that area all together."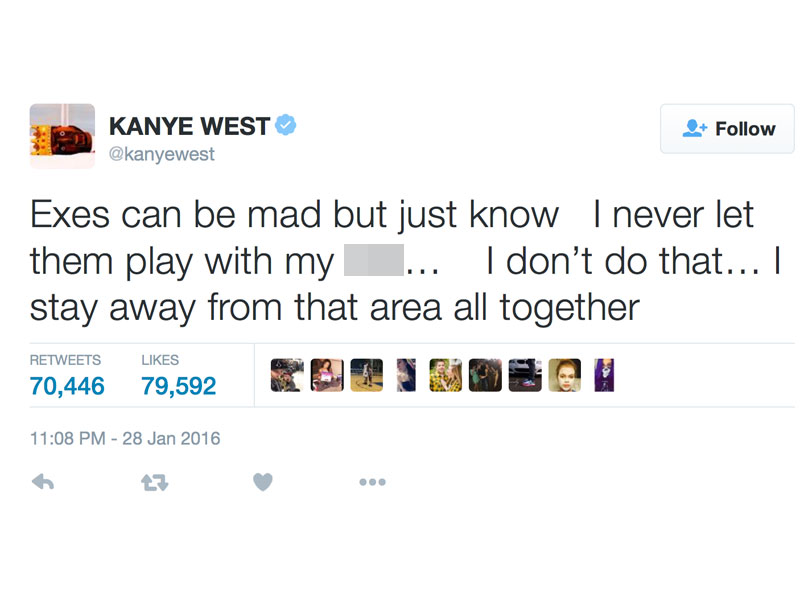 Source: Kanye West / Twitter
One minute later, West elaborated: "I'm not into that kind of s---," he tweeted. "I like pictures and videos Me and my wife [
Kim Kardashian West
] got the kind of love that can turn exes into best friends."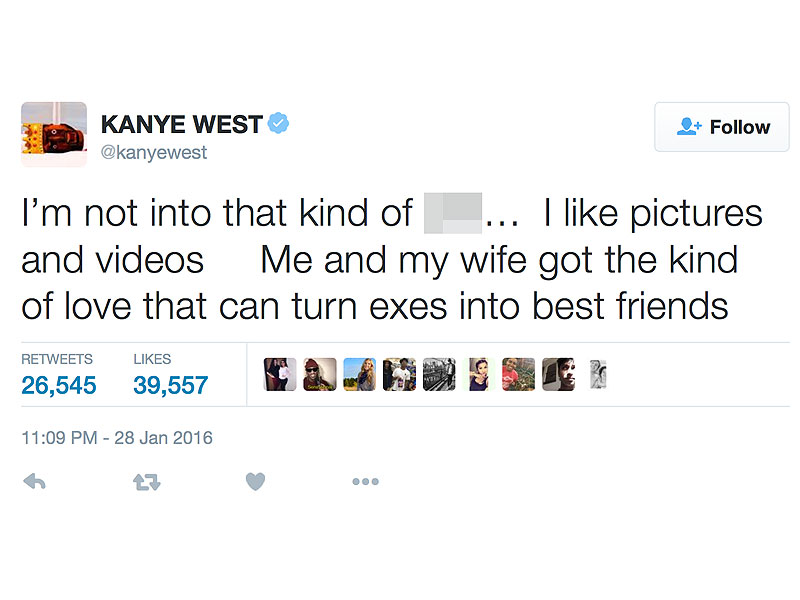 Source: Kanye West / Twitter
The latest flare-up between West and Rose, 32, came in the midst of the
hitmaker's heated Twitter feud
with her ex
Wiz Khalifa
, 28, who criticized West's decision to change the name of his
not-yet-released album
from
Swish
to
Waves
earlier this week.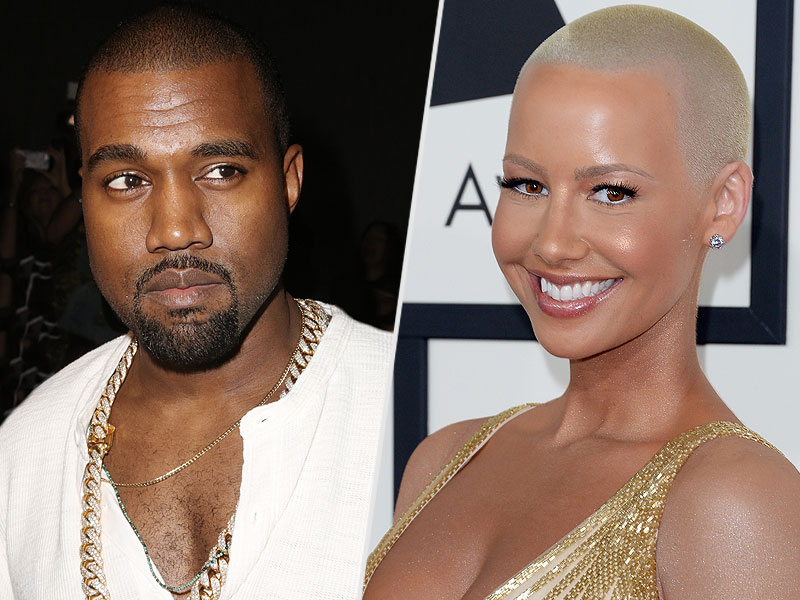 Chelsea Lauren / Getty; Jason Merritt / Getty
Rose didn't get involved in West and Khalifa's escalating exchange until West referred to her past as an exotic dancer, telling Khalifa in a now-deleted tweet, "You let a stripper trap you." West went on to address the former couple's son Sebastian, 2½, penning, "You wouldn't have a child if it wasn't for me," and "You own waves???? I own your child!!!!"
West later attempted to ease the tension,
tweeting
, "What's sad is I love Wiz and I love all all my brothers and all people."
As the trio's tweets went viral,
Rose discussed the ordeal
in an interview to be released Friday. "I wouldn't have said anything if it was just between him and Wiz," she said on the
Allegedly
podcast. "That's two grown men hashing it out. That's their business. I would have kept it cute and just minded my business, but you don't bring in my baby. That's so corny."
Meanwhile,
West brushed off the drama
with a smiley appearance at LAX, and Khalifa shared a blunt message for West at his concert in Buenos Aires on Wednesday. Speaking into a microphone on stage, Khalifa told the audience, "F--- Kanye!"