Kim Kardashian West
and
Amber Rose
surprised fans by making peace with an Instagram selfie Tuesday. The reconciliation comes one week after Rose lashed out at Kim's husband
Kanye West
for dissing her young son during a Twitter rant against
Wiz Khalifa
.
A source tells PEOPLE Kardashian West initiated the reconciliation with Rose, who once dated West.
"Kim is a mom and wants to be a role model. She doesn't want to be involved in ridiculous drama," a source tells PEOPLE. "She reached out to Amber. They met and everything is fine now."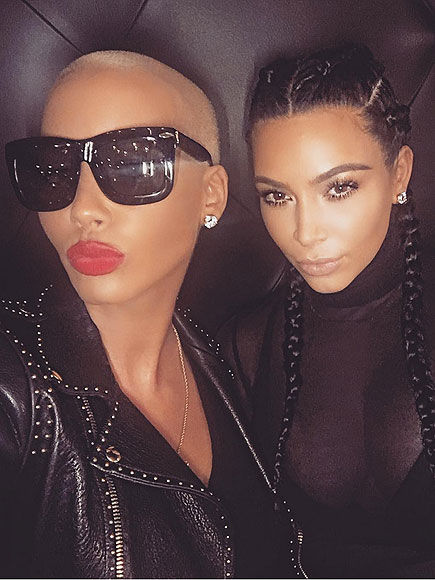 Source: Kim Kardashian / Instagram
Kardashian West, 35, captioned her
Instagram photo of the duo
with "Tea anyone?"
Kardashian West's husband has also made peace with Khalifa, Rose's ex husband with whom she shares a son.
"Me and Wiz spoke yesterday," West, 38,
wrote on Twitter Tuesday
of a chat he had with Khalifa, 28.
The spat between Kanye and Khalifa started last Tuesday, when Khalifa took issue with
West's new album
Waves
, originally named
Swish
. West responded when he mistakenly thought one of Khalifa's
tweets
– "Hit this kk and become yourself" – was about his wife, but Khalifa later explained that he was referring to marijuana.
The clarification came too late, after West had already tweeted insults about Rose ("You let a stripper trap you," he told Khalifa) as well as Rose and Khalifa's 2½-year-old son Sebastian ("You wouldn't have a child if it wasn't for me," and "You own waves???? I own your child!!!!").



Rose, 32, fired of a tweet of her own about West's supposed sexuafl preferences (which West denied) and Rose spoke out again on the Allegedly podcast, where she slammed West for speaking about her son.

"I would never talk about kids in an argument," she said. "It just shows the type of person he is. Even him saying stuff about my son, I still didn't say anything about his kids. I'm not going to. This is ridiculous. They're innocent babies. You don't ever, ever talk about a baby, ever."

West eventually agreed with Rose on that point, when on Monday, he tweeted, "God's dream... Never speak on kids again... all love ... all blessings..."