Kesha's struggle
is on
Adele
's mind.
At the
Brit Awards
in London Wednesday, the "Hello" singer concluded her acceptance speech for the female solo artist award by showing she has Kesha's back.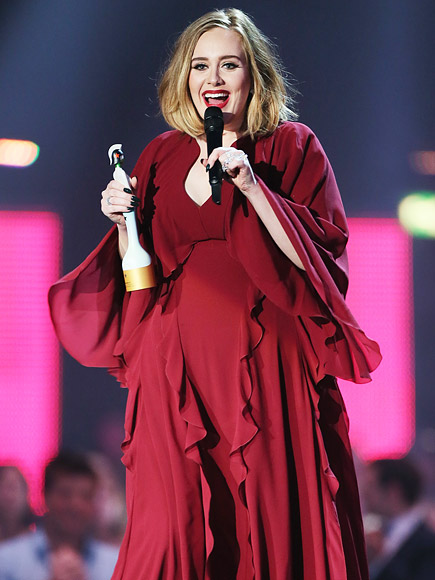 "I'd also like to take this moment to publicly support Kesha," said Adele, 27, referring to the pop star's ongoing
legal battle
with producer Dr. Luke.
On Friday, Kesha, 28, lost her bid for preliminary injunction that would allow her to record and release music without Dr. Luke, 42, whom she accuses of sexual, physical and verbal
abuse
. In the hours and days that have followed, numerous
celebrities have spoken out
about Kesha's plight. Meanwhile, Dr. Luke has publicly
deny
the rape accusations on Twitter, writing that she was "like my sister."
Adele's show of support came after she thanked her "management and my record label for embracing the fact that I'm a woman and being encouraged by it."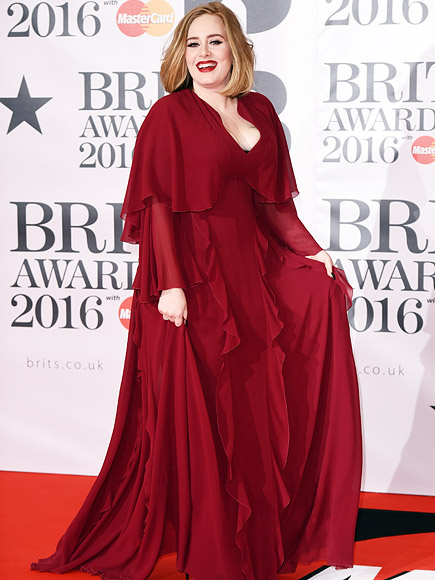 David Fisher / REX / Shutterstock
Huge congrats to @adele!! She's just bagged herself the first award of the night #BRITs https://t.co/BLLI63YaMa

-- BRIT Awards (@brits) February 24, 2016
She kicked off the night on the red carpet, stunning in a flowing
red gown by Giambattista Valli
. It didn't take long for the show to start and Adele to win the first award. Upon hearing her name called, Adele kissed her
boyfriend Simon Konecki
and took center stage to accept the trophy from
One Direction's Louis Tomlinson and Liam Payne
, marking the first time the hitmaker has won a Brit award since 2013.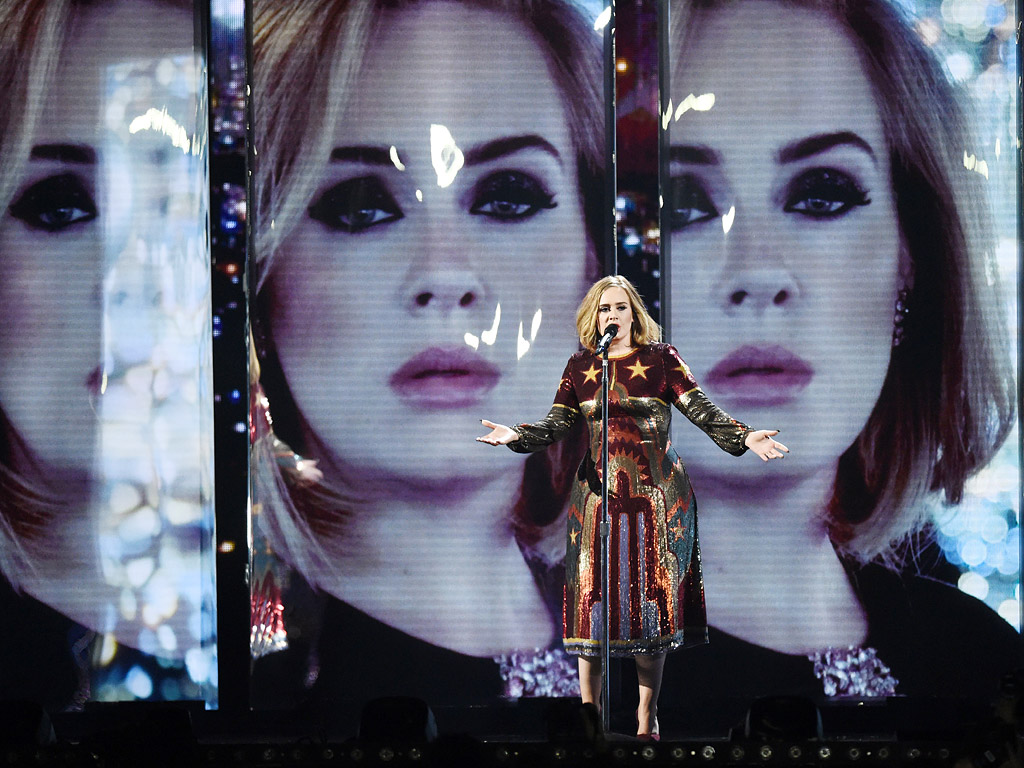 David Fisher / REX / Shutterstock
"Thank you so much," she told the cheering audience. "To come back after so long away and be so warmly received is really lovely. Thank you so much."
Adele added: "And to all the other girls that were nominated, thank you for letting me be in your company. You're all incredible. You're all amazing, and it's a privilege to be alongside you." Making the victory even sweeter, she topped off the moment with a celebratory dance.
Award number TWO for @adele! #BRITs https://t.co/XzhtYPENcg

-- BRIT Awards (@brits) February 24, 2016
She went on to win the single award for "Hello."
"I nearly fell over!" she said after making her way to the spotlight. "I was not expecting this one at all. Thank you so much again."
Then she showed love for her fellow nominees, saying, "All those songs – I love all them songs."
She also gave her thoughts on the show's performances, including a
showstopper from
Justin Bieber
, whom she smooched on the way to the stage: "Everyone has been amazing so far ... I thought you were going to set us on fire, though, Justin."
Ooo cheeky kiss there! #BRITs #JustinBieberBRITs #AdeleBRITs https://t.co/s3DCaPmh8d

— BRIT Awards (@brits) February 24, 2016
But the most emotional point came when she scored the global success award. With a mix of tears and expletives, Adele expressed her feelings in an uncensored speech.
Congratulations @adele for winning the Global Success Award! So deserved! https://t.co/khpwOMgN6q

— BRIT Awards (@brits) February 24, 2016
"Thank you. I can't work out if I'm crying because of that video or because [astronaut] Tim Peake did it," she said of a montage that played. "My kid is going to think I'm so cool. That was really amazing and I'm honestly ... oh God, sorry ... you're probably getting f---ing bored of me anyway."
(Her f-bomb later elicited an apology from the hosts on U.K. broadcasting network ITV.)
Performances from the night, including Adele's "When We Were Young," are available free of charge, exclusively on Google Play Music, with the streaming service making a donation to Nordoff Robbins and The BRIT Trust for every download. Performances are also available on each artist's official YouTube channel.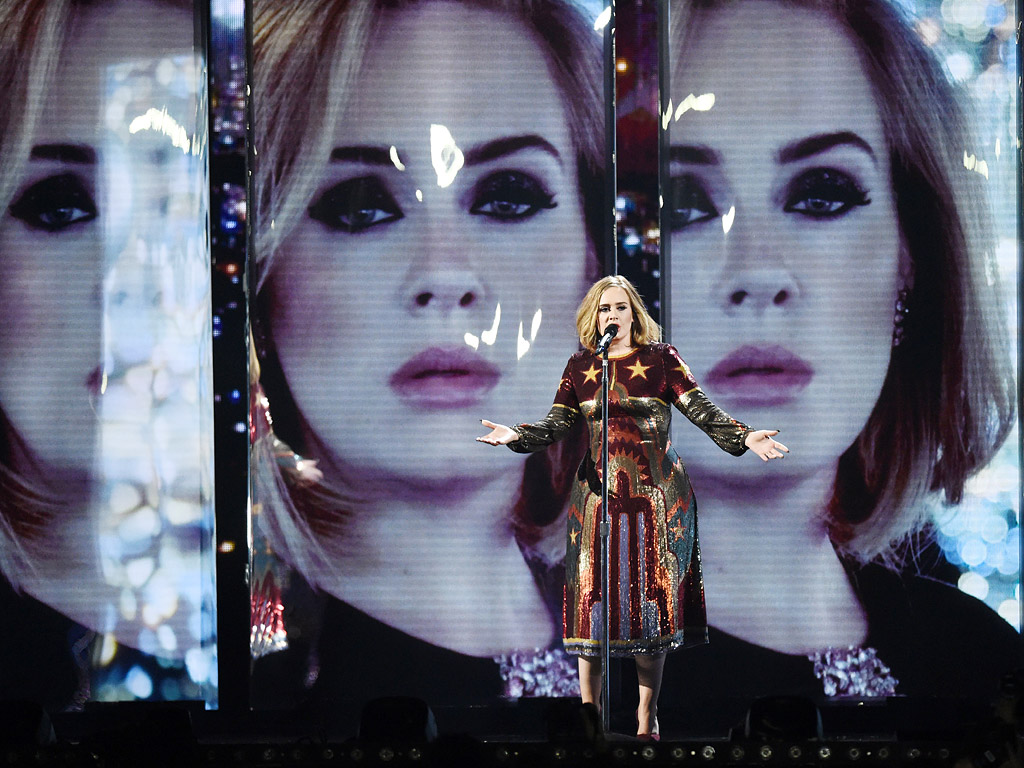 David Fisher / REX / Shutterstock
She continued: "I honestly can't tell you – I said it earlier – but to come back ... I got really lost for awhile; I didn't know if I'd ever come back, but for you all to be so kind to me ... I wanna thank my manager Jonathan Dickins and Rose Moon. You're amazing. And I want to thank my boyfriend for supporting me."
Then came her epic remark on her roots: "Not bad for a girl from Tottenham that don't like flying!"
In her fourth acceptance speech – this time, she won the Mastercard British album of the year for
25
– Adele made light of her language and tears.
"I'm really sorry about swearing earlier and I'm really sorry for the ugly cry face," she quipped prior to closing out the show with a performance of "When We Were Young." "I think now would be the time to thank people like the fans. I don't want to sound cheesy, but you're so amazing. Thank you so much. Honestly, you're incredible. You blow me away every time."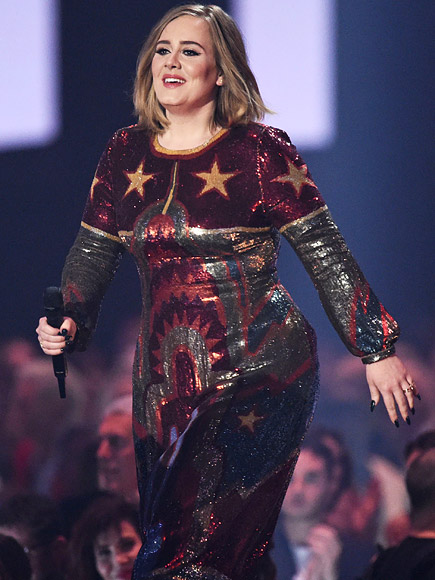 David Fisher / REX / Shutterstock
Having changed into a starred and sequined Valentino dress, Adele later thanked her boyfriend Konecki, with whom she shares son Angelo, 3.
"I also want to give a massive thank you – I'm going to embarrass you, I'm sorry – to my boyfriend," she said. "I'm so lucky to have you love me the way you do. Really, really. And to support me. This album was really hard to make. It was. I think I was a nightmare at times."
She added: "And thank you for our lovely son, who is the love of my life. This is all for you peanut, I love you."