Erin Andrews
' father said his daughter is a "shell" of her former self after she was secretly taped nude through a hotel room peephole.
"She's terrified. She's depressed," Steve Andrews said of his daughter on Wednesday at a civil trial in Nashville, according to
NBC News
. "She is not the girl that we used to know."
The 37-year-old Fox sideline reporter and
Dancing with the Stars
host filed a
$75 million lawsuit
against Marriott International, Michael Barrett and others, alleging negligence and invasion of privacy stemming from the
2008 incident
.
Barrett pleaded guilty and was sentenced to two and a half years in prison for gouging the peephole out of Andrews' hotel room door, secretly filming the star and then posting the explicit footage online.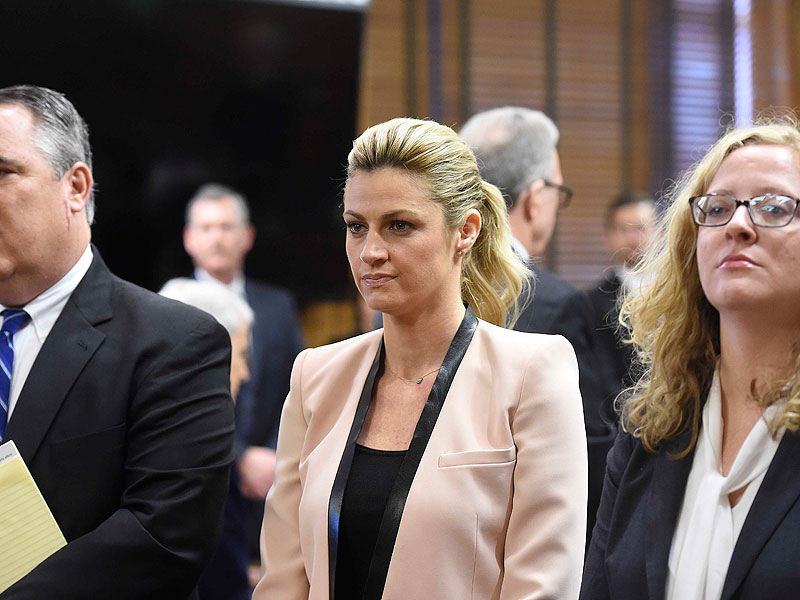 Samuel M. Simpkins / The Tennessean / AP
"She kept screaming, 'I'm on the Internet. I'm on the Internet. I'm naked. Everything I've worked for is done,' " Steve recalled on Wednesday.
•
Want to keep up with the latest crime coverage? Click here to get breaking crime news, ongoing trial coverage and details of intriguing unsolved cases in the True Crime Newsletter.
Andrews wiped tears from her eyes during her father's testimony.
"[That was the] first time in my life as – sorry – as her father where I didn't know if she was safe or not. I feared for her life," Steve said through tears.
Barrett shot the footage while Andrews was in Nashville, where she was covering a college football game.
Hotel officials said that Barrett is to blame, despite the fact that Andrews maintains that a hotel employee gave Barrett her room number and intentionally placed him in the room next to hers, the
Associated Press reports
.
Her father said Andrews was so disturbed by the footage that she became physically sick, according to the AP.
"This was about the worst thing that could have happened to her from the perspective of self-pride, comfort in the way you look," Steve said.