Erin Andrews
left a courtroom in tears Thursday as jurors prepared to watch secretly recorded nude videos taken of her by a convicted peeping tom.
An estimated 16.8 million people saw the peephole videos or still pictures lifted from them, according to testimony Thursday in the $75 million
civil case
brought by Andrews against the stalker, Michael Barrett, and others alleging negligence and invasion of privacy tied to the 2008 incident,
The Tennessean
reports.
At least one juror in the Nashville courtroom, a woman, at times averted her eyes from the projector as the images were shown,
CBS News
reports.
Bernard Jansen, a computer scientist and professor at Penn State, used Internet searches to estimate the number of online views of the images between July 2009 and January of this year.
"Right now, someone's watching that video, and another minute, maybe two," he said, according to
WSMV
.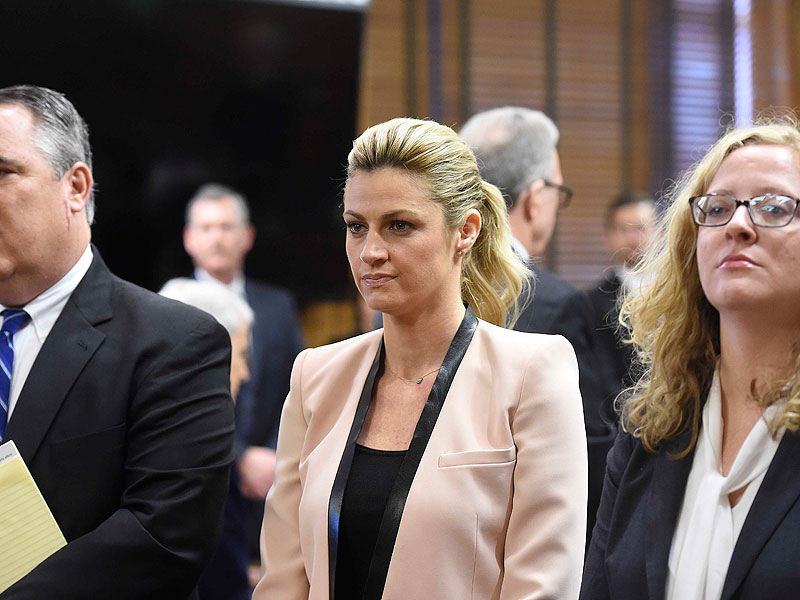 Samuel M. Simpkins / The Tennessean / AP
•
Want to keep up with the latest crime coverage? Click here to get breaking crime news, ongoing trial coverage and details of intriguing unsolved cases in the True Crime Newsletter.
Two videos taken by Barrett and posted online were shown in court, under tightly controlled conditions to assure they were seen only by jurors and attorneys,
The Tennessean
reports: A four-and-a-half minute video shot in September 2008 at the Nashville Marriott at Vanderbilt University, and a six-second clip filmed at a hotel in Ohio, both while Andrews was covering college football for ESPN.
Accused of gouging peepholes in Andrews' hotel room door, Barrett pleaded guilty to stalking and was sentenced in 2010 to two-and-a-half years in prison.
Andrews' civil case names Barrett; the franchise owner of the Nashville Marriott, West End Partners; and the Windsor Capital Group that manages the hotel, where Andrews alleges that hotel employees confirmed to Barrett where she was staying and allowed him to book the room next to hers.
Andrews' father, Steve Andrews,
earlier testified
that discovery of the videos had left the 37-year-old Fox broadcaster and
Dancing With the Stars
host "terrified," "depressed" and a "shell" of her former self.
The case resumes on Monday.