Sportscaster Erin Andrews took the stand in her $75 million
civil suit against Marriott Nashville
, tearfully telling the jury she felt angry, alone and embarrassed when a stranger secretly filmed her in 2008 and posted the video of her in the nude.
"I'm so angry. This could have been stopped," Andrews, 37, said.
Andrews, a former ESPN sportscaster who has since moved to Fox Sports, is suing the hotel. A man in an adjacent room, Michael David Barrett, shot the video of Andrews through a peep hole. Andrews contends that she would have called authorities had she known that Barrett requested a room next to hers.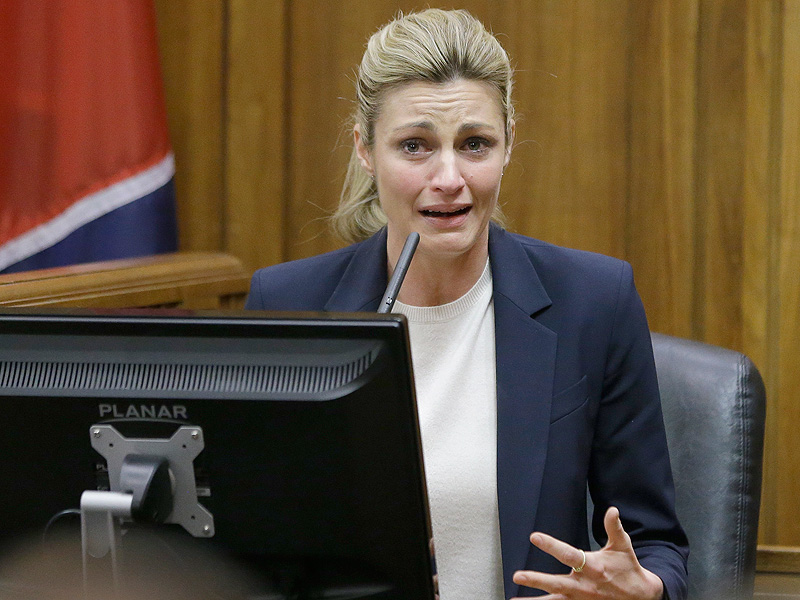 "No one ever called me or told me when I checked in that he asked to be put next to me," Andrews testified.
Earlier in the day, Barrett, a former delivery truck driver, testified that his motivation to tape Andrews was financial. He admitted that he knew the video would personally impact Andrews. He also admitted that he has videotaped 10 women, not including Andrews: "I'm not proud of what I did," he testified.
Andrews, who often spoke through tears, told the jury, "All I wanted to do is be respected, be the girl who loves sports, and now I'm the girl with the scandal. It's embarrassing."
Andrews said that she has experienced anxiety and depression. She said she spontaneously cries, and that she has trouble sleeping.
Describing her initial shock, she said, "It was everywhere ... my naked body was on the front page of the
New York Post
."
She said that she still gets tweets daily with images from the video, and that people still mock her from the stands during games.
Asked if she feels hopeless, she said, "I feel like I'm on an island all by myself."
"It's on the internet now," she testified. "And I've been told it's going to be on the internet until I die."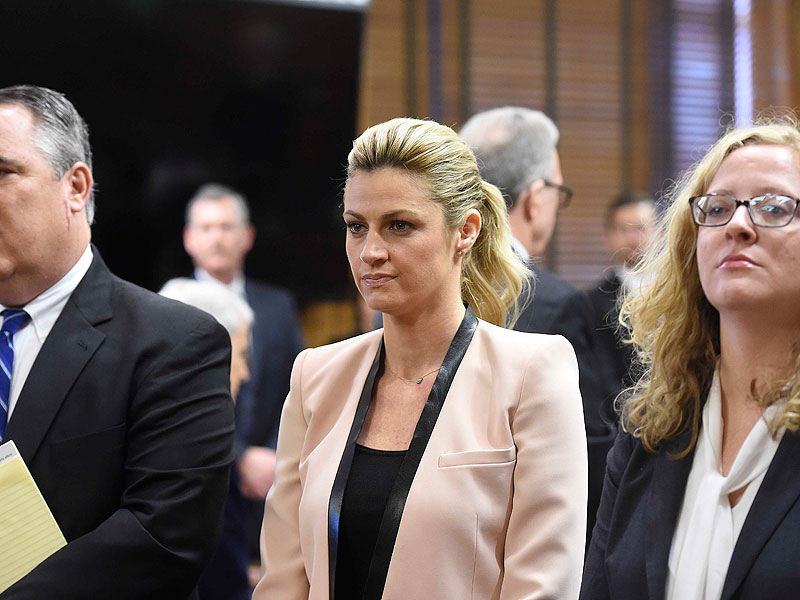 Samuel M. Simpkins / The Tennessean / AP
Mother Testifies: 'She Just Always Has That Monkey on Her Back'
Andrews described her initial phone call to her father, saying, "I was just screaming," adding, "I was naked all over the internet and I didn't know what it was."
Last week, Andrews's father, Steve Andrews,
said his daughter
was a "shell" of her former self. "She's terrified. She's depressed," he said. "She's not the girl we used to know."
On Monday, Andrews's mother, Paula Andrews, testified that her daughter had been violated by the video.
"She just always has that monkey on her back of loss of security, safety and a violation of her most personal aspect of her life," Paula said. "It's a nightmare that doesn't stop."
Andrews Describes Getting Back on the Field
Andrews testified about the difficult aftermath of the incident, saying, "I was living like a hermit. It was nothing like who I am. It was nothing like who I tried to be."
Of going back to work, to broadcast a college football game, she said, "It's me. I love college football. It's my life. It's what started me. It's my passion."
She said she felt tremendous pressure, because, she said, "People wanted to see how I could function. People wanted to see how I could do." She added, "I don't want anything to think I'm weak and I can't handle it."
Went on Dancing with the Stars to 'Get My Smile Back'
Andrews testified that appearing on
Dancing with the Stars
gave her confidence. Prior to that, she said, "I just didn't feel comfortable with who I was. And I was trying to act like I did."
It was colleague Mike Tirico, an ESPN broadcaster, who convinced her to go on, she testified. "'Please go do the show,' " she said Tirico told her. "'We need our girl back. You need to go find your smile.'"
She said she was glad she did the show, saying, "I came here to get my smile back. And for three months, I had it."
She also described going on Oprah Winfrey's show. She was nervous, but before the segment filmed, she says Winfrey, who has spoken out publicly about being sexually assaulted her youth, said to her, "I've got you. You're safe here. I'll take care of you."