Erin Andrews has mild post-traumatic stress disorder because of the secretly filmed nude video of her from 2008 that was posted on the internet, a psychologist testified in court Wednesday.
Dr. Kim Brown of Vanderbilt University appeared in court during the sportscaster's $75 million
civil suit against the Marriott Nashville
. Andrews was secretly taped in the hotel in 2008 by Michael David Barrett, a former delivery truck driver who earlier testified that his motivation was financial.
Brown testified that based on three tests she administered, Andrews, 37, "is a resilient, stable person who functions fairly well psychologically despite the horrible experiences she has been through."
On Tuesday, the hotel's defense lawyer introduced the idea that
Andrews' career has thrived since the video was leaked
, citing her increasingly better contracts with ESPN and then Fox Sports and her endorsement deals.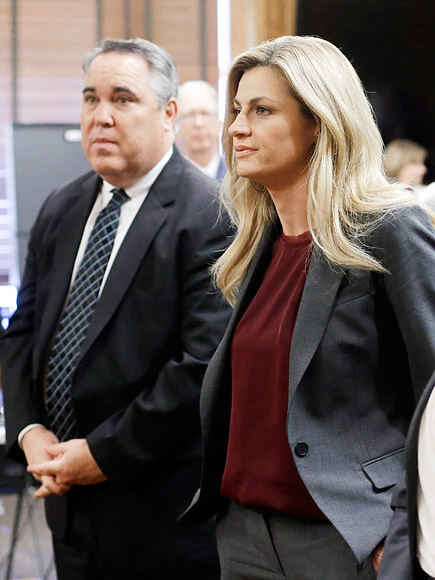 •
Want to keep up with the latest crime coverage? Click here to get breaking crime news, ongoing trial coverage and details of intriguing unsolved cases in the True Crime Newsletter.
Brown testified she believes Andrews is not suffering from permanent trauma and says after 12 to 24 treatments, Andrews could possibly be symptom-free.
Brown stated that thanks to her social support system and her ambition, she could continue to thrive.
"She has triumphed," Brown said. "[She is not] failing in any areas of her life. She's doing very well and succeeding and having good relationships and is thriving in her career and has obtained her dream job."
During cross examination, Andrews' attorney argued that the 37-year-old may not overcome her symptoms as easily as Brown suggested.
Hotel Documents Show Barrett Requested Room Next to Andrews with Notation 'Do Not Move'
Earlier Tuesday, defense lawyers called Stephen Barth, a hospitality law professor at Houston's Conrad N. Hilton College, who testified that the hotel should not be held accountable for the video.
"It's my opinion that the [Nashville] Marriott met or exceeded its duty of care to Ms. Andrews on the day this incident occurred," Barth said.
Barth compared Barrett's videotaping of Andrews to bed bugs, saying that even if a hotel cleans extensively, it's still "impossible to guarantee no bed bugs."
Addressing the fact that the Marriott did not have security cameras on guest room floors in 2008, Barth said that cameras were a potential invasion of privacy and said, "I don't believe cameras would have prevented this from occurring." He said Barrett's filming of Andrews was a "terrorist type situation."
During cross-examination, Andrew's attorney Randall Kinnard produced an internal document with Barrett's request to be in an adjoining room from Andrews. It had the notation, "Do not move."
On Tuesday,
Andrews tearfully testified
in court that Barrett's actions could have been stopped had the Marriott informed her that he had requested a room next to hers.
"The Nashville Marriott could have just called me and said, 'We're putting this man that requested to be next to you [next door]: Is this okay?' And I could have called the cops and we could have caught him and could have stopped this," Andrews testified.