Erin Andrews's civil trial
over a secretly recorded nude video was delayed briefly Wednesday after allegations surfaced on Twitter that a witness for the defense had shown the video to friends at a dinner Tuesday night, according to reports.
An employee of Margot Cafe and Bar in east Nashville claimed in a series of tweets that the witness, Neal Peskind – who works for West End Hotel Partners, which owns the Nashville Marriott, where the 2008 incident occurred – showed the video to friends, reports
WTVF-TV.
The tweets, which have since been deleted, alleged that Peskind, who testified for the defense on Monday in the Andrews case, told friends that the lawsuit was going to cost him millions, so he wanted to show the video to people. The tweets also claimed Peskind made fun of Andrews' body. The restaurant employee called the incident "vulgar and shocking," and said the group had to be told to stop.
Later on Wednesday, Peskind issued a statement claiming he did not show the video of Andrews but that someone else at the table did, reports
WKRN-TV
.
"I was at a private dinner meeting with friends," he said. "They brought up the allegations, and they started viewing the video. I asked them to stop, and while they did so, it was not as quickly as I had hoped. This incident has been blown into something it was not. I would never disrespect Ms. Andrews and what she has been through. This is a very unfortunate situation that should not be a reflection on West End Hotel Partners or to our commitment to the issues in this case surrounding what happened to her. I sincerely apologize for my participation in what happened."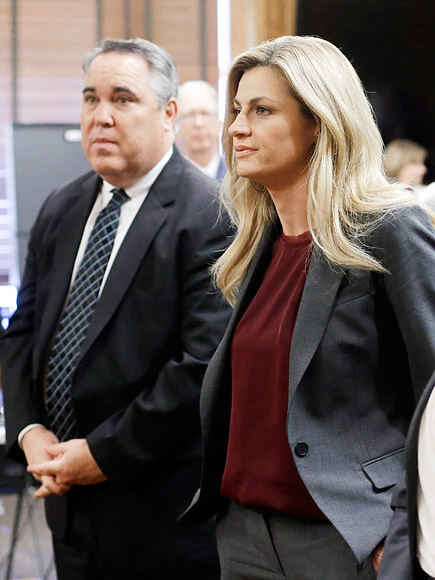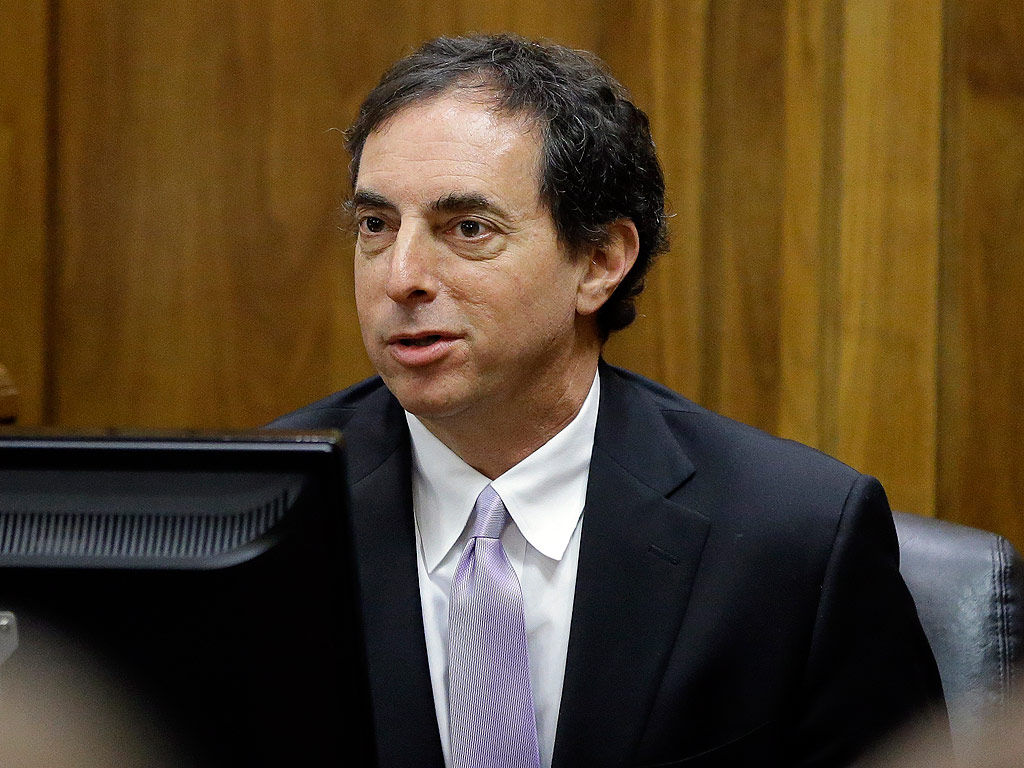 AP Photo / Mark Humphrey; Erika Goldring / Getty Images
Ultimately, the incident was not presented as evidence at trial, reports the
Tennessean.
But Susan Neal Dickerson, a local lawyer who is not involved in the case, told the paper that the incident shows what Andrews has argued – that the video is still being watched daily and continues to impact her.
"It really speaks volumes about the effect this had on her, that it happens so frequently, and it would happen in the context of this lawsuit," Dickerson said.
•
Want to keep up with the latest crime coverage? Click here to get breaking crime news, ongoing trial coverage and details of intriguing unsolved cases in the True Crime Newsletter.
Andrews, 37, a sportscaster for Fox Sports who worked for ESPN at the time, is suing the hotel owner, West End Hotel Partners, and manager, Windsor Capitol Group, as well as the man who recorded the video, Michael David Barrett, for $75 million.
She
tearfully testified
on the stand earlier this week. "I think about it every day," Andrews said. "One of the worst thoughts I have is when I walk around a stadium ... there's always that thought, as I walk right by the stands, and I think, 'My God, everyone in this stadium has seen that video.' "
Barrett was convicted in 2010 of stalking Andrews and recording her in three hotels and served 2½ years in prison.
Also during Wednesday's trial testimony, a hotel security expert claimed Barrett was solely at fault in the incident, and that the hotel was not to blame, the
Tennessean
reports.
That testimony conflicted with the testimony of another hotel security expert who earlier testified for Andrews and said the Marriott hotel should have had more security and cameras on the floors.
The trial continues Thursday.