The major question for the jury in
Erin Andrews
's $75 million civil lawsuit is this:
Should the owners and managers of the Nashville Marriott be held liable for not doing more to protect the sportscaster in 2008, when a stalker, Michael David Barrett, gouged a peephole in her door and secretly recorded a nude video that later went viral?
Attorneys for Andrews, 37, and the Marriott's owners make their final arguments Friday, a day after
the defense rested,
and then the case will go to the jury.
Defense attorneys have argued that the incident was a freak occurrence that the hotel couldn't have prevented, and that Barrett is solely to blame.
Lawyers for Andrews, meanwhile, have alleged that hotel employees confirmed to Barrett where Andrews was staying and allowed him to book a room next to hers – thus setting in motion the entire course of events.
Amid her tearful testimony earlier this week, Andrews said one one simple action by the hotel could have prevented everything.
"The Nashville Marriott could have just called me and said, 'We're putting this man that requested to be next to you [next door]: Is this okay?' And I could have called the cops, and we could have caught him and could have stopped this," Andrews said.
"I'm so angry. This could have been stopped," she added.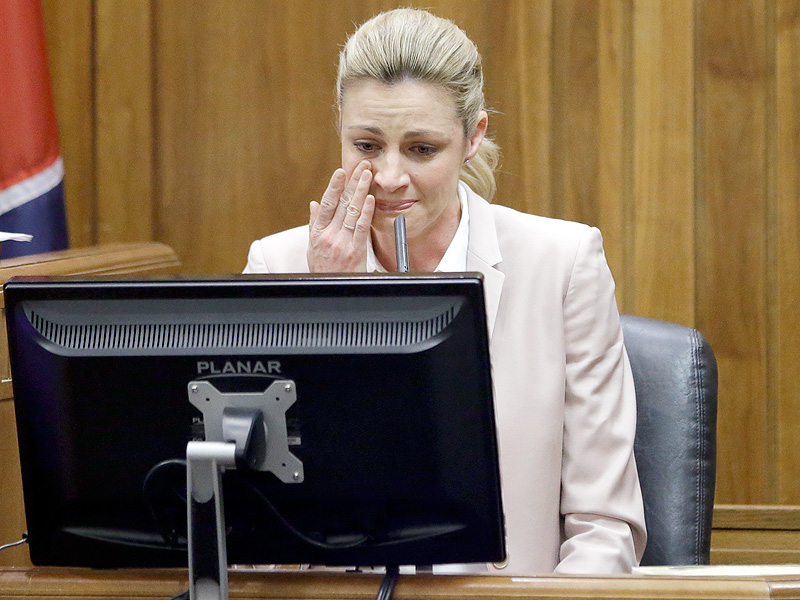 Andrews Testifies About Traumatic Aftermath of Video
Much of Andrews's testimony focused on the
emotional devastation
she felt in the wake of the video's leak. "When I walk around a stadium ... there's always that thought, as I walk right by the stands, and I think, 'My God, everyone in this stadium has seen that video,' " she testified.
Her father, Steve Andrews, testified that discovery of the videos had left his daughter "terrified," "depressed" and a "shell" of her former self.
Both sides also called hotel experts and asked them whether the Marriott could – and should – have done more. The prosecution's witness said yes; the defense's said no.
The defense also suggested that Andrews has
thrived in her career
since the incident, which, they claim, proves it wasn't as devastating as she claims.
Andrews is suing the franchise owner of the Nashville Marriott, West End Partners; the Windsor Capital Group that manages the hotel; and Barrett himself.
Barrett, who pleaded guilty to stalking and spent 2½ years in prison, testified Monday – and said his motivation for filming the video was financial, and that he was "not proud" of his actions.