Joey Feek – half of the country and gospel duo Joey + Rory – died on Friday in her hometown of Alexandria, Indiana, ending her
brave fight with terminal cancer
. She was 40.
"My wife's greatest dream came true today," Rory, 50, wrote in an emotional post to his blog
This Life I Live
. "She is in Heaven. The cancer is gone. The pain has ceased. And all her tears are dry."
Rory confirmed she passed away at 2:30 p.m. while surrounded by loved ones.
"Though this is, and has been, a time of many tears of sorrow, it has also been a time of countless tears of joy," Rory said of Joey's last few months with loved ones, including daughter Indiana, 2. "There have been too many beautiful moments to count or even begin to share ... But I try."
He continued: "When a person has been through as much pain and struggle as Joey's been through, you just want it to be over. You want them to not have to hurt anymore, more that you want them to stay with you. And so, it makes the hard job of saying goodbye just a little easier."
Rory noted his next step: returning to the couple's farm house in Pottsville, Tennessee, where he will bury his late wife. "It's hard for me to imagine being there without Joey, but at the same time ... it is where she wants us to be," he penned. "It's where she will be ... Joey will still be with us. Everywhere."
He added: "So if it's okay, I'm gonna close, wipe my tears and pack our bags to hit the road headed south. She's already got a head-start on me."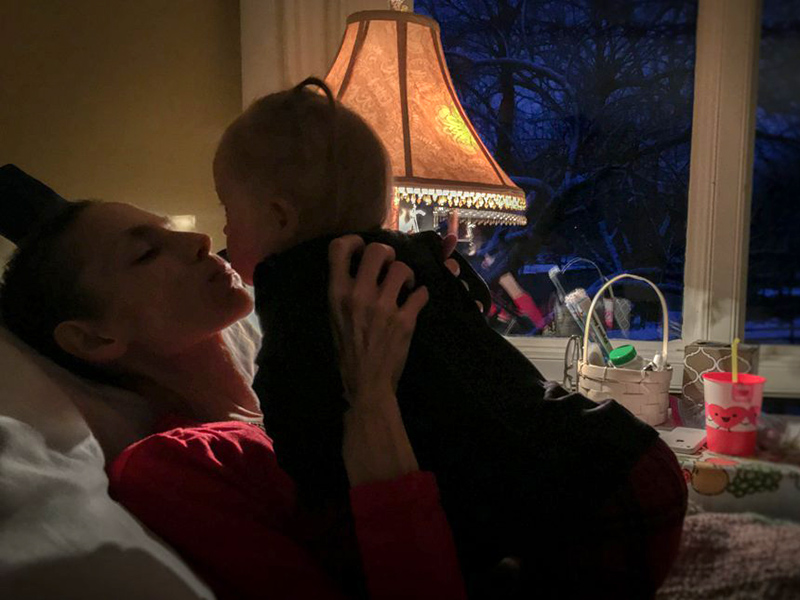 Joey was bit by the performing bug at the tender age of 6, when she sang Dolly Parton's "Coat of Many Colors" in a
school talent show
.
Her love for country music motivated her move to Nashville in 1998. The next few years brought a world of change for Joey, who signed to Sony Records in 2000 and married
husband Rory Feek
in June 2002, two months after they first met.
"Not to make you sick or nothing, but Rory and I are best friends," she said with a laugh in an interview with
Country Standard Time
in 2010. "We got into this relationship and got married right away. It was just one of those things where we knew that we were supposed to be together and every minute of our lives have been a blessing."
The couple settled into married life at their home in rural Tennessee, with Rory working as a songwriter and Joey running a restaurant, Marcy Jo's Mealhouse, with her sister-in-law Marcy Gary. In 2008, CMT's singing competition
Can You Duet
united the spouses in song as
Joey + Rory
. They landed third place, but soon scored a deal with Sugar Hill Records. A steady stream of tunes followed, including the family-focused "That's Important to Me" and sassy "Cheater Cheater."
After wowing Nashville, Joey became a mom for the first time in February 2014, welcoming the couple's daughter Indiana, who was born with Down Syndrome. "Joey and I wouldn't have changed a thing," Rory has written of Indy. Just four months later, the family's new chapter came to a heartbreaking halt when Joey was diagnosed with cervical cancer in May 2014. The
"When I'm Gone"
singer gave the disease a tough fight, undergoing multiple surgeries (including a radical hysterectomy) and receiving chemotherapy and radiation.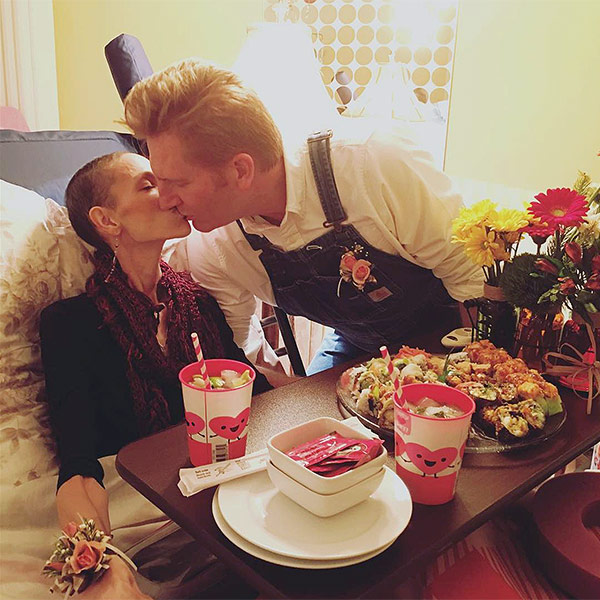 Source: Joey & Rory Feek / Facebook
However, a
CT scan
in October revealed that the disease was aggressively spreading, and doctors warned that additional treatment would only buy more time. "Sometimes there just aren't enough surgeries – or doctors – or chemotherapies – or prayers," Rory wrote in October on his blog
This Life I Live
, which has become a testament to his love for Joey. "And you have to wipe the tears from your cheeks and say the words that you were hoping to never have to say ... enough."
Joey and Rory accepted her prognosis – "God decided for me that my job of singing for people down here is my legacy, and he needs me singing up there [in heaven]," she told Cindy Watts of
The Tennessean
in November – but they remained optimistic in face of mounting odds. "There isn't a day that goes by that [Joey] doesn't look me and her family in the eye and say, 'I'm gonna beat this,' or, 'I'm getting better, I believe that,'" Rory wrote of
her will to live
in November.
After
entering hospice care
in early November, the singer returned to her hometown in Indiana to
bond with family
, including the couple's three children:
Indiana
and Rory's daughters from a previous relationship, Heidi, 29, and Hopie, 27.
Uncertain of how much time she had left,
Christmas
and New Year's celebrations were a
"roller coaster"
for Joey, wrote Rory on Jan. 5. Her condition took a turn for the worst in the days that followed. "Here I sit beside my dying wife," Rory wrote in an
emotional entry
on Jan. 9. "I don't say those words lightly. As a matter-of-fact, I haven't said them at all. But my beautiful bride has said them to me in these couple of days."
He later added, "Yesterday with tears in her eyes and mine, Joey held my hand and told me that she has been having serious talks with Jesus. She said she told him that if He's ready to take her ... she's ready to come home."
Yet Joey hung on, living for big milestones – including
Indy's second birthday
and her
last Valentine's Day
with Rory – as well as everyday tasks like
making dinner
from her hospital bed.
Joey's final farewell
came in late February. "She was ready to stop fighting and she told me so," Rory wrote. "She said the flowers would soon be blooming back in Tennessee. It's time to go home." Then Joey "gathered her family together around her and said goodbye to each of them," shared a devastated Rory. "There were lots of tears as she explained to each one how much she loved them and that she was going to be going home soon." Rory placed Indy on Joey's lap while the group "cried with my wife as she told [Indy] how much her mam loved her ... and then she pulled Indiana up and she kissed her. One last kiss." By the time Rory penned the moving blog post on Feb. 29, Joey had already entered a deep sleep as nurses warned Rory that his wife would "most likely only be with us for a few more days ... at most."
Throughout her last months,
Joey prepared her family for life without her
. "As Joey has had to learn to come to terms with what is happening to her body and what the future holds, it's been important to her to share some things that she wants me and our girls to remember after she's gone," Rory exclusively told PEOPLE in January. "More than once, I have found myself beside her bed taking notes as she shares things like when the best time to plant the garden will be this spring, how to prune the fruit trees and to make sure we still set aside a percentage of what we make as a tithe each month."
In the midst of their crisis, Joey and Rory released their final album
Hymns That Are Important to Us
– which landed at No. 1 on
Billboard
's country and contemporary Christian charts and No. 4 on the top 200 chart, marking their
biggest debut ever
– and received a
Grammy Award nomination
for best country duo/group performance. "[I] woke my bride up this morning with a baby in my arms and the news that our version of 'If I Needed You' was nominated for a Grammy," Rory, 49, shared via
Facebook
on Dec. 7. "As her excitement and tears flowed into mine, she said, 'How can that be?'"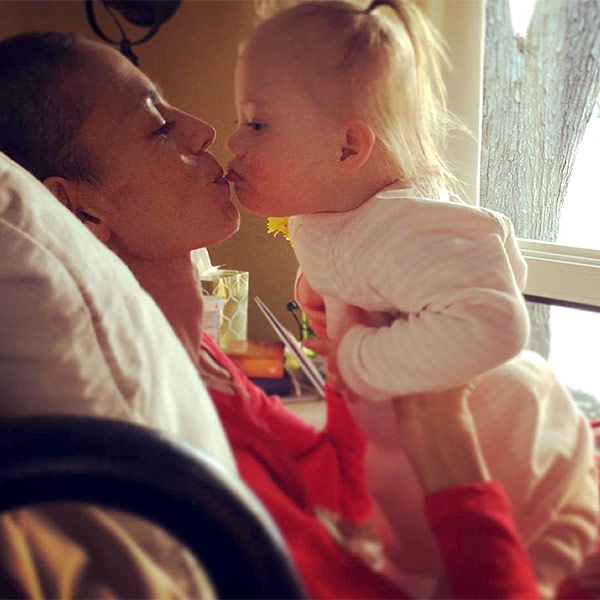 Source: Rory and Joey Feek / Instagram
For Joey + Rory, being nominated felt like "winning the lottery," Rory told PEOPLE. "The only thing that could be better than that is to actually win the award. That would be beyond our wildest dreams." Despite losing the trophy to Little Big Town, Rory explained via
Instagram
that an honorary medal from the Recording Academy was "more than enough."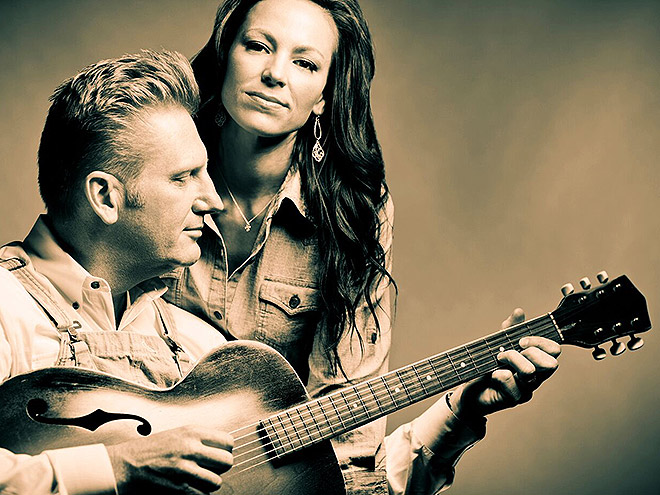 Courtesy Joey and Rory Feek
While coming to terms with losing his wife, Rory found solace in
documenting Joey's last chapter
with her family. "Without realizing I was doing it, God has allowed me to capture hours and hours of Joey and her life at home on the farm, raising Indiana and playing music," he explained to PEOPLE. "I can't help but believe that those clips will be an important part of keeping Joey's memory alive in Indy's heart."
Joey's strong family bonds and faith in God were common threads throughout her struggle. "I pray that one morning I just don't wake up," she said in her
final interview
with
The Tennessean
. "But I don't fear anything because I'm so close to God and we've talked about it so many times. I know he's close. And I know he loves me. I'm really at peace."