Hulk Hogan took the stand on Monday in his trial seeking $100 million from the website Gawker, which published a secretly recorded sex tape of the wrestler.
Hogan, wearing a black suit, a silver chain with a cross and a black bandana, said of the sex tape: "It's turned my world upside down. The main thing is I was concerned about my children and my new wife, Jennifer."
He added, "My family's been through so much.... I didn't know how they would survive. I was worried about how this thing was going to affect everything with my relationship with my children."
Hogan, 62, is going by his legal name, Terry Bollea, at the trial. He claims his privacy was violated when Gawker posted a portion of a video in 2012 showing him having sex with Heather Clem, the former wife of his then-friend Bubba the Love Sponge, a radio shock jock.
Jury selection in the case was held
last week
. As he entered the courtroom Monday morning, he told reporters he was feeling "pretty darn good," and said he was "not used to getting up this early" except to work out.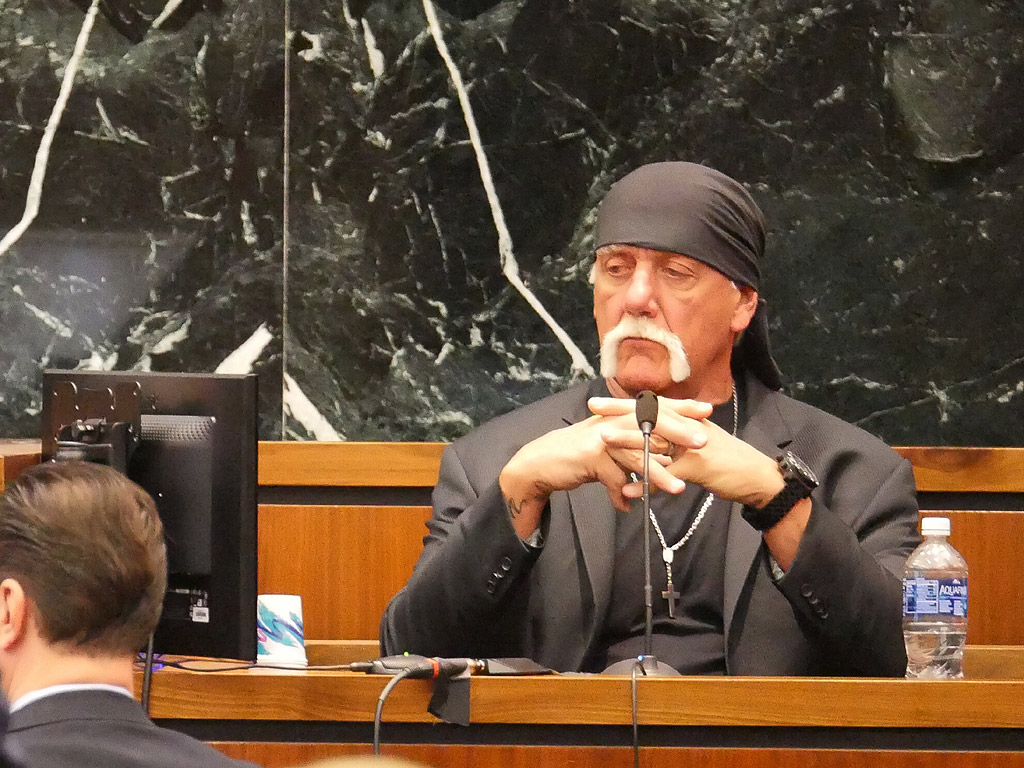 Boyzell Hosey / Tampa Bay Times / AP
•
Want to keep up with the latest crime coverage? Click here to get breaking crime news, ongoing trial coverage and details of intriguing unsolved cases in the True Crime Newsletter.
Gawker has held that the post is
protected by the First Amendment
, and that Hogan's complaint is undermined because, Gawker claims, he has publicly boasted about his sex life.
Gawker gave a new statement Monday to PEOPLE that read, in part:
"Hulk Hogan was more than willing to talk about his sex life – including in two autobiographies, a reality TV series and Howard Stern's radio show – until he didn't like what Gawker had to say. Now he wants $100 million as compensation."
The statement added: "Compare that with the $5,000 settlement that Bubba paid Hulk for the actual taping. And Bubba also had plenty to say about the tape he made, talking about it on his radio show, on Howard Stern's radio show and in his deposition for this case. But we've just learned that Bubba will plead the 5th during this trial, rather than answer important questions about the facts that could undermine Hulk Hogan's claims."
But Hogan's lawyer, David,
told PEOPLE
that Gawker's First Amendment defense "is a pathetic hail Mary. No jury would be so naïve as to believe that type of claim, especially in light of the fact that Gawker knew Terry did not know that this video was recorded. He did not authorize the dissemination of the video. It was disseminated without his consent. The invocation of the First Amendment in this case is pathetic."
Last summer,
Hogan told PEOPLE of the sex tape
, "I will not back down from this type of evil. Despite all of [Gawker's] threats, I will not back down from this type of evil."
•
Reporting by DEVAN LESLEY