Taylor Swift
's red carpet look at the Grammys has inspired
Amy Schumer
's latest Instagram.
Following Swift's stunning appearance on Monday – in which the singer, 26,
showed off her long legs
in a skirt – Schumer, 34, mentioned "a thigh gap" on
Instagram
.
"Taylor that's not a thigh gap," wrote Schumer in her caption, accompanied by a photo of her beach day with fellow comedian Bridget Everett. "This is a thigh gap."
And yes, the comment was made in jest. "She loves Taylor and was making a joke because Amy doesn't have a thigh gap," Schumer's rep tells PEOPLE.
The thigh gap has become a hot-button topic as celebrities speak out on the craze via social media. In December, reality star
Kim Zolciak
addressed Instagram users who accused her of
faking a gap
, and last February,
Demi Lovato
shared a
photo of her bikini body
to declare, "You don't have to have a thigh gap to be beautiful."
Then, in August,
Gwyneth Paltrow
asked her followers to
show concern for more pressing issues
, sharing the following quote on Instagram: "Let's focus on the #PayGap Not the #thighgap #WomensEqualityDay."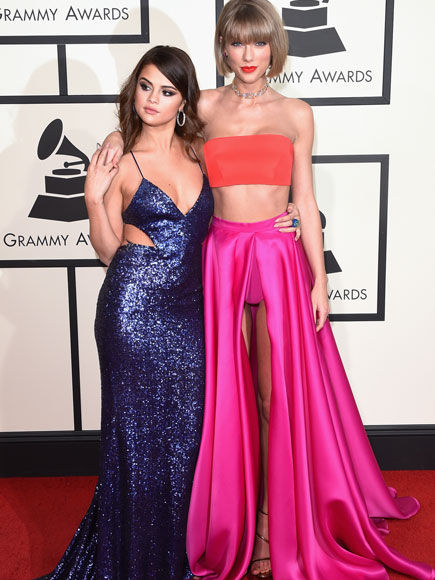 Jason Merritt / Getty Images for NARAS
The majority of celebrity social media
posts about Swift's Grammys night
have been focused on her acceptance speech for album of the year, during which
she struck back
at
Kanye West
's recent claim that he
made her famous
.
"[A]s the first woman to win album of the year at the Grammys twice, I want to say to all the young women out there, there are going to be people along the way who will try to undercut your success or take credit for your accomplishments or your fame," shared Swift. "If you just focus on the work, and you don't let those people sidetrack you, someday when you get where you're going, you'll look around and you will know that it was you and the people who love you who put you there, and that will be the greatest feeling in the world. Thank you for this moment."
Reese Witherspoon
led the applause
for Swift, tweeting, "Loved your amazing words! Keep encouraging all those young women to write their stories [and] sing their songs #Grammys."
•
Reporting by JULIE JORDAN