Awards season is a grueling affair – sometimes you have to carb up to keep going.
Just ask
Justin Timberlake
, who left a pre-Oscars party Friday night, in Beverly Hills, California, with a tray of food to go!
Timberlake, 35, and wife
Jessica Biel
left the bash together. She sported a sleeveless floral dress, white pumps and a cropped leather jacket.
He wore a blazer, button-down and dark jeans. And a pizza (or pizza-like dish – careful scrutiny of the carbohydrates has not confirmed their form).
When Timberlake and Biel, 33, have not been busy attending awards show parties, they've been recently reuniting with old cast mates – as Biel
did earlier this week
– or prepping for new projects.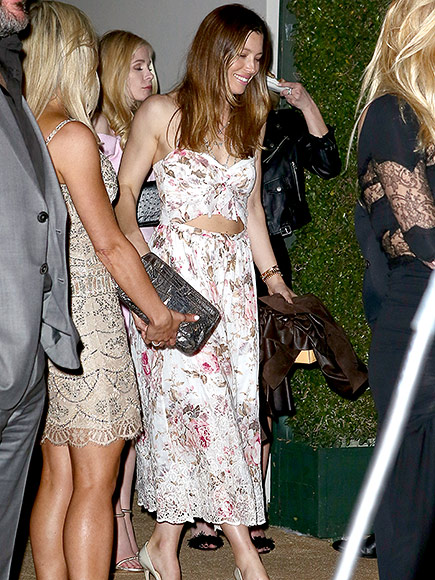 Timberlake
is set to star in and executive produce
the forthcoming animated film
Trolls
, as well as oversee the creative direction of its music and even write some of it himself.
"I have always envisioned bringing the two worlds of film and music together for one epic event," Timberlake said in a statement earlier this week. "I couldn't be more excited that they will collide in DreamWorks Animation's
Trolls
. This film is very special, the music is going to be very special and I can't wait for everyone to experience it all."
VIDEO: 'He Makes Music Even More Fun,' Chris Stapleton Says About His CMA Duet With Justin Timberlake
In other big Timberlake-Biel family news, their
young son Silas
will turn 1 in April, just a few weeks after his mom's birthday.
"Happy Bday to the sweetest, most GORGEOUS, goofiest, most BAD-ASS chick I know. You make me smile 'til it hurts. I love you like crazy," Timberlake wrote of his wife last year.