Watering the lawn, fetching the mail. These are the actual atomic units of our lives, activities that randomly connect to one another, joining into progressively larger structures (days, weeks, months... ) until they've formed a lifetime of regrets.
But not for celebrities! No, celebrities are different. For the most part, they have assistants to take care of mundane things like, for instance, organizing the closet (remember when
Kim Kardashian
did that for
Paris Hilton
?) and running errands. Which means that when they
do
decide to do those things, they're going to look so darn good doing them.
Watering the Lawn
Thank you, Kate Hudson, for turning lawn work into #FitSpo.
Eating Cheesy Poofs
Kim's skin is so spectacular, she can make snacking on junk food look healthy.
Getting Soaked at a Festival
It's virtually impossible to look good after about six hours in either the rain or sun at the Glastonbury Festival, but Delevingne still manages to have better brows than 90 percent of the population in this setting.
Easy-Baking
To be fair, Chrissy Teigen is going to look gorgeous whether she's Easy Baking or regular baking.
Maintaining Skin Health
Given that we've seen people throw up on Gaga while she's performing, it's not surprising that she's somehow making a skincare ritual that seems to involve Hannibal Lecter's mask look glam.
On the Treadmill
We'd be surprised if Oprah's treadmill doesn't double as a jet or something.
Shopping at WalMart…
Rihanna at Walmart today. pic.twitter.com/4Ku0ZnUZhx

— RihannaDaily.com (@RihannaDaily) March 31, 2013
Rihanna's gaze remains a penetrating force, even behind sunglasses … and in a Walmart.
… or at Target
Beyoncé was spotted at Target in Houston earlier today (July 14) pic.twitter.com/a7KtNzYIzu

— BEYONCÉ LEGION (@Bey_Legion) July 15, 2013
Who runs the world? Beyoncé. Or at least she runs the world of discount-priced department stores … that
aren't
Walmart.
Washing the Car … We Think
Yes, Bethenny, this is very impressive. However, can you wash the Jeep from that angle?
Schlepping Luggage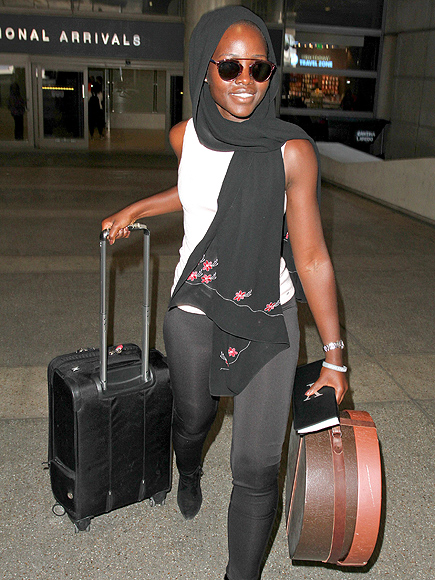 Yes, there are literally hundreds of celebrity airport photos. But there's only one Lupita Nyong'o, who somehow manages to radiate light while trucking through LAX.