Latest Headlines
Credit:

Bruce Adams/Getty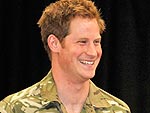 Update
Posted 05/12/2013 11:30AM
Originally posted 05/12/2013 11:00AM
While visiting Colorado on Saturday, Prince Harry fit in a little practice at being an uncle into his busy schedule.

In town to kick off the Warrior Games in Colorado Springs, where more than 200 wounded servicemen and women from the U.S. and Britain will participate in sporting events, the young royal, 28, cooed and played with 10-month-old Sebastian Wilkowski, who was cradled by his mom, Julia, at a pre-Games brunch.

Dressed in army fatigues, Harry was meeting old friends, donors and supporters of the Games when the little fan caught his eye.
Credit: Hyoung Chang/Reuters/Landov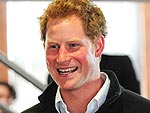 Originally posted 05/11/2013 10:35AM
Missy Franklin is officially the envy of 18-year-olds everywhere!

Prince Harry helped make the Olympic swimming champ's birthday wishes come true by joining in a sing-along at a party in Colorado on Friday.

Standing next to Harry, 28, Franklin flashed her famous smile as party guests serenaded her with "Happy Birthday."

"And the perfect way to end my 18th birthday!? Meeting Prince Harry!" Franklin wrote in a post on her Instagram page. "It was an honor meeting him and I had a blast as always."
Credit: Kevin Lamarque/Landov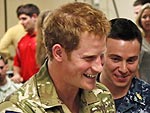 Originally posted 05/10/2013 02:30PM
Continuing his active Friday in Washington, D.C., that first took him to Arlington National Cemetery, where he paid respects to the fallen, Prince Harry switched into his khakis to visit wounded soldiers and recovering servicemen at Walter Reed National Military Medical Center.

Impressed by the technology at the facility – "We've got nothing like this back in the U.K.," he said – the prince watched as a 24-year-old army specialist, Alabama-born Corey Garmon, who lost both legs in Afghanistan, walk on a virtual simulator.

"You must have been on this thing for hours," Harry, 28, told Corey, who responded, "It's a good workout."

"How many times have you been on this?" Harry then asked, only to be surprised when the soldier revealed it was his very first day.
Credit: Ladbrokes/REX USA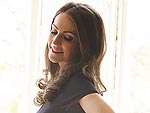 Originally posted 05/10/2013 01:00PM
As any parents-to-be can attest, prepping for baby is work that's never done. And, in the latest royal look-a-like installment, faux Kate is no exception!

Photographer Alison Jackson – who previously shot the "royal baby shower" and the newlyweds' "first Christmas" – has thought of everything this time, from the Duchess getting her bump measured by Camilla to helping The Queen paint the nursery. HRH really can rock some coveralls!

The latest spoof series, released by Ladbrokes to launch its royal baby odds in the U.K., also includes Kate's sister Pippa helping choose baby names while Kate noshes on pickles and ice cream.

While it's not the real thing, since Kate (due in July) and Prince William are laying low while Prince Harry's U.S. visit is underway, the pics at least satisfy royal watchers' cravings as well!

– Kristin Boehm
Credit: Charles Dharapak/Getty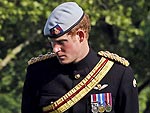 Originally posted 05/10/2013 10:50AM
Prince Harry paid his respects to the fallen during a visit to Arlington National Cemetery on Friday.

Dressed in the ceremonial uniform of his cavalry regiment – and the sky blue cap of the Army Air Corps – Harry, 28, first laid a wreath at Section 60, the area set aside for those who have died in Iraq and Afghanistan.

His message read: "To my comrades-in-arms of the United States of America, who have paid the ultimate sacrifice in the cause of freedom." He signed it captain Harry Wales.

After stopping by a memorial to President John F. Kennedy, Harry was escorted to the Tomb of the Unknown Solider.
Credit: George Pimentel/WireImage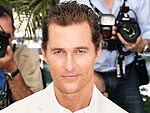 Originally posted 05/10/2013 09:05AM
Look out, New Jersey: Here comes McConaughey!

The famed polo classic, to be held on June 1 at the Garden State's Liberty State Park, will boast Matthew McConaughey as one of its co-hosts, PEOPLE has learned exclusively.

The dad of three will share hosting duties with polo star Nacho Figueras, his wife Delfina Blaquier and Veuve Clicquot U.S. President Vanessa Kay.
Credit: Jacquelyn Martin/AP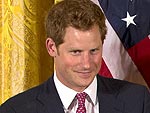 Originally posted 05/09/2013 07:45PM
Dozens of moms, grandmothers and children were attending a White House tea party Thursday when Michelle Obama introduced a special guest.

"Well ... Surprise!" the First Lady told the military families as a blushing Prince Harry joined them in the East Room. The guests, who had been eating cookies, cakes and smoked salmon, broke into applause.

"He's only got a limited amount of time with us but when he heard about the tea party and all of you, he wanted to be part of it to personally thank you for your service," Obama said.
Credit: Chris Jackson-Pool/Getty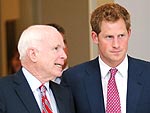 Originally posted 05/09/2013 04:10PM
Why hello, Prince Harry!

The royal, 28, arrived at Dulles International Airport in Virginia Thursday afternoon to kick off his week-long visit to the U.S.

Harry was greeted at the Russell Senate Office Building in Washington, D.C., by shrieking and whooping congressional staffers and interns who lined the marble corridors with their camera phones at the ready.

In a very Senate-worthy dark gray suit and red tie, he took it all in stride. "He seemed a little – the word isn't 'embarrassed,' but he seemed to have a normal sort of sheepish reaction," said Sen. John McCain afterward, joking that he himself gets shrieking women all the time at the Capitol.

Harry also visited the White House and was expected to meet with FLOTUS Michelle Obama.
Credit: Courtesy Hard Rock Cafe; Inset: Landov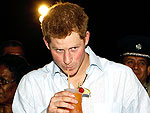 Originally posted 05/08/2013 01:00PM
Even titled nobility like Prince Harry can kick back and enjoy the basic gastronomic pleasure of a hamburger – chased by a mojito.

So it was proved only recently at London's Hard Rock Calling music festival, where Harry rocked stage-side to the American band The Killers while he also chowed down from the concert's food menu.

"Harry has joined us at Hard Rock Calling twice now and each time he has visited our Hard Rock Cafe tent," says the Hard Rock's Orlando-based executive chef Jason Gronlund, who describes the chain's Classic Legendary Burger as "topped with seasoned bacon, two slices of Cheddar cheese, a crisp fried onion ring, lettuce, tomato and pickles."
Credit: Jesal Parshotam/Splash News Online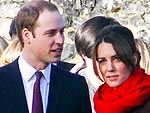 Originally posted 05/08/2013 08:45AM
Nothing like getting a helping hand – and the Duke and Duchess of Cambridge have more than one.

But the couple have hired one of Queen Elizabeth's long-standing housekeepers for their new home, Apartment 1a in Kensington Palace, which they plan to occupy early this fall.

She is Antonella Fresolone, 42, who is said to be unmarried, Italian, and already on the job – helping at the two-bedroom Nottingham Cottage where William and Kate are living until their larger family home is ready.