Critics Split Over Ellen's Oscars Performance
Photo by: CRAIG SJODIN / ABC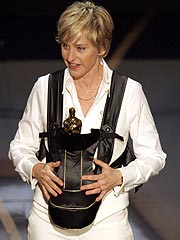 In her first stint as Oscar host, Ellen DeGeneres drew mixed reactions from critics, ranging from equivocal thumbs up to disappointed thumbs down – though most of the real complaints were aimed at the ceremony's seat-challenging, four-hour length.

Here's a sampling of what the nation's reviewers had to say:


• "You know it's going to be a long night when Al Gore's the funniest person in the room. ... Ellen DeGeneres's lowest-key performance made for a slow, slow show."
– Bill Goodykoontz, the
Arizona Republic
• "[Ellen] was cheeky but good-natured, far less barbed and sardonic than Jon Stewart last year or Chris Rock in 2005. ... As she sometimes does on her daytime talk show, Ms. DeGeneres cruised the aisle with a microphone, chatting idly with Martin Scorsese and Clint Eastwood – bringing a casual Friday mood to Fancy Sunday."
– Alessandra Stanley,
The New York Times
• "Aspects of the show didn't translate well to TV, from a dance troupe reenacting nominees against a screen to a tedious bit featuring a 'sound-effects choir,' which fell as flat as the gospel choir that punctuated DeGeneres's opening."
– Brian Lowry,
Variety
• "Ellen DeGeneres was a fine host. ... With ease and charm, DeGeneres transferred her talk-show act to the Oscars. Her monologue reflected her refreshing, unpretentious style."
– Hal Boedeker, the
Orlando Sentinel
• "In an ABC telecast that will likely be remembered as the dullest, most bloated Academy Awards ever, [Ellen] offered no edgy insults of nominees and almost no political commentary (for a change). ... At the risk of sounding smug, I have to say I could have written a better monologue."
– Adam Buckman, the
New York Post
• "[Ellen did] a crisp and unpretentious job in her first gig as an Oscar host. ... [But] virtually everything about the Oscarcast, except for a few mercifully brief features, was entirely, punishingly too long." – Tom Shales,
The Washington Post
Still, ratings for the show were up slightly – 2 percent – over last year's Oscars, according to Nielsen Media Research.
Last year, 38.8 million viewers watched the ceremony, only the second time in the past two decades that the audience fell below 40 million, the Associated Press reports.