Dreamgirls Wins Big at the Golden Globes
Photo by: Paul Drinkwater / WireImage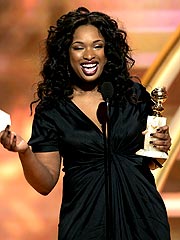 It was a dream-making night for onetime
American Idol
contestant
Jennifer Hudson,
who kicked off the Golden Globes with a win for her role in
Dreamgirls.
"I had always dreamed, but I never ever dreamed this big," Hudson said as she accepted her best supporting actress trophy. "This goes far beyond anything I could have ever imagined."
It turned into a big night for the film, which took the best movie (musical or comedy) category and best supporting actor trophy for Eddie Murphy. "Wow," he said. "I'll be damned."
Sacha Baron Cohen
won best actor for
Borat
– and gave the best acceptance speech as he described getting up close and personal with his costar's "wrinkled golden globes" in the film's naked wrestling scene.
Top drama winners included Helen Mirren (best actress for
The Queen
),
Babel,
(best drama) and Forest Whitaker (best actor for
The Kind of Scotland
). In comedy, America Ferrera won for her lead role in ABC's
Ugly Betty,
which also took home the TV comedy prize, and Meryl Streep earned a trophy for
The Devil Wears Prada.
For more of the night's top winners, click here.
PEOPLE movie critic Jason Lynch gives the full report in his live blogging of the night:
11:05 p.m. – We've reached the evening's end. Arnold bids us farewell: "Don't forget next year. We'll be back!" Oh, C'mon Arnold!
11:00 p.m. – Three hours, and now there's only one more award to go: A hobbling Gov. Arnold Schwarzengger (who broke his leg skiing) hands the
best motion picture, drama
trophy, in mild surprise, to
Babel.
(Many people thought
The Departed
would take it. I'm just stunned that something Helen Mirren was involved in
didn't
win.) But it's the best news
Brad Pitt and Angelina Jolie
have heard all night. They're beaming from ear to ear as director Alejandro González Iñárritu starts off his speech by cracking, "Governor, I swear I have my papers in order."
10:52 p.m. – We're just flying through categories now. Felicity Huffman hands out
best actor in a motion picture, drama
at Scorsese-speed to
Forest Whitaker
for
The Last King of Scotland.
Whitaker is taking his time and trying to catch his breath. Doesn't he realize there's no time for breathing with the show running late? Still, he's genuinely overcome with emotion, and his speech is stirring, though halting: Run, Forest, run!
10:45 p.m.
Best actress in a motion picture, drama
goes to
Helen Mirren
(of course!) for
The Queen.
Accepting her fourteenth (okay, her second) award of the night, she proves a benevolent ruler once again, with another regal speech. All hail Queen Helen!
10:43 p.m. Courteney Cox Arquette and David Arquette break the record for shortest time onstage presenting
best television series, drama
to
Grey's Anatomy
. "I'm staring at Jack Nicholson!" marvels creator Shonda Rhimes. Yeah, we heard a rumor about that.
10:37 p.m. – Jennifer Lopez reveals the winner of
best motion picture, musical or comedy
: The winner is..."Brad you owe me," says Lopez. Um, what film is that?
Dreamgirls,
apparently. Producer Laurence Mark accepts and kisses a none-too-thrilled Lopez. Although the music comes up fast, Mark manages to squeeze in several thank-yous – but doesn't mention Beyoncé. What's a girl gotta do to get thanked, for crying out loud?
10:27 p.m. – Finally, the moment I've been waiting for –
best performance by an actor in a motion picture, musical or comedy.
Sacha Baron Cohen
's victory is a given (thankfully, he does win), but will he accept as himself or Borat? Looks like it's going to be as Cohen, given the British accent. There's a potential minefield – he starts taking about "the ugly side of America" – but just when we're worried about a heavy speech, he brings the house down with a racy joke about his
Borat
costar Ken Davitian's "two wrinkled golden globes." He finishes off by his thanking "every American who has not sued me so far." Perfect.
10:24 p.m. –
Martin Scorsese
wins for
The Departed
. "I'll try to talk a little faster than I normally do," he quips. He too pays homage to Jack, but he's the first person tonight to actually thank him for a film-related reason (Jack, of course, was in
The Departed
).
10:10 p.m. – Beatty takes the stage and admits, "The truth is, I haven't made an awful lot of movies." (Especially lately) He playfully scolds Clint Eastwood and Jack Nicholson, who are still churning out hits while he's at home with Annette and the kids. "I don't know why these guys can't take it a little easier." He announces he'll act again, then starts quoting Borat as if he's auditioning for the sequel. Finally, he wraps it up by thanking (at last!) the Hollywood Foreign Press and Annette, "for making me feel like I am always your most promising newcomer." It's sweet – but at least seven minutes long!
9:58 p.m. – One hour to go, and somehow there are still awards to present. It's time for the Cecil B. DeMille Award, the lifetime achievement award. Tom Hanks points out that
Warren Beatty,
this year's winner, won his Most Promising Newcomer Golden Globe in 1962. I'm still trying to figure out why Hanks, who has never appeared onscreen with Beatty, is presenting the award. Perhaps because no one else could pull off this fine line: "What balls this man has!" says Hanks, "and by balls, I mean artistic vision."
9:49 p.m. –
Best actress in a television series, musical or comedy
goes to
America the Beautiful! America Ferrara
wins for
Ugly Betty.
She accepts the award on behalf of all the women who don't look like...well, like everyone else in the auditorium.
9:45 p.m. – Hugh Grant and Drew Barrymore clear up why Prince was MIA earlier. He was "stuck in traffic." Oh yeah, and Alexandre Desplat wins
best original score for a motion picture
for
The Painted Veil.
He's not a star so he smartly wraps up his speech before he gets the hook.
9:36 p.m. – Djimon Hounsou and Sharon Stone (did they just pair presenters by picking names out of a hat?) present
best foreign language film.
The winner is
Letters From Iwo Jima.
Director
Clint Eastwood
pays homage to Jack Nicholson, who had nothing to do with the film. (Do they take your Globe away if you don't give props to Jack?).
9:34 p.m. –
Jamie Foxx
arrives onstage to introduce a
Dreamgirls
clip. He's name-checking audience members (hey, Prince!) just like he did during his
Ray
acceptance speeches two years ago. Wait, he's not
still
accepting for
Ray,
is he?
9:29 p.m. – I think we could all use a breather from the breakneck speed at which these awards are being handed out. Whew. It's time for the
best television series, musical or comedy.
And the winner is:
Ugly Betty
! The Globes continues its tradition of recognizing new TV series. Maybe next year, they won't have to sit in the back of the auditorium! Vanessa Williams, apparently, had a table in the parking lot, because she doesn't find her way onstage until a couple minutes into the speech.
9:21 p.m. – Tim Allen and Vanessa Williams (a bizarre pairing) present
best actor in a TV series musical or comedy.
NBC's entire Thursday night lineup is nominated, plus Tony Shalhoub for
Monk.
Alec Baldwin
wins for
30 Rock,
in the process doing what I thought was impossible: keeping Shalhoub off an awards stage. Baldwin becomes the first winner to kick off his speech with a reference to his hernia surgery – at least he didn't bring photos.
9:19 p.m. – The actor awards take a break, now it's
best screenplay, motion picture.
Peter Morgan wins for
The Queen.
Note to all producers: If you want a Golden Globe for your film, all you have to do is cast Helen Mirren.
9:17 p.m.
Cameron Diaz
presents a clip from
The Departed,
but director Martin Scorsese is too busy kissing Cate Blanchett on the cheek to watch the scene.
9:11 p.m. – Now the
mini-series/TV movie actresses
have their say. Helen Mirren wins (for
Elizabeth I
) AND loses (for
Prime Suspect: the Final Act
). I'm starting to worry about Annette Bening, who has lost twice tonight and is sipping champagne
every
time the camera is on her. Hopefully she'll be able to keep it together when her husband gets the Cecil B. DeMille Award later on. Meanwhile, something tells me Mirren will be back onstage before the night is through.
9:09 p.m. – Next up,
best performance by an actor in a mini-series or motion picture made for television.
Everyone in the room was apparently nominated (okay, seven people, but still).
Bill Nighy
comes out on top for BBC's
Gideon's Daughter.
9:06 p.m – Hey, Eddie Murphy didn't thank Beyoncé either. Will anyone thank her tonight? Our eyes turn to you,
Dreamgirls
director Bill Condon!
9:00 p.m. – We're at the hour mark, and it seems like we've given out about 73 awards so far. Now it's the most star-studded category by far,
best supporting actor in a motion picture.
We've got Brad Pitt, Eddie Murphy, Jack Nicholson, Ben Affleck and Mark Wahlberg.
Eddie Murphy
takes it. He got a few jokes in, and was energetic enough to make his long list of thank-yous fly right by. Hopefully the night's other winners will follow suit. (Meanwhile, Prince – a no-show earlier for his best song win – is in the audience after all. I guess he doesn't "do" acceptance speeches.
8:57 p.m. – Salma Hayek presents the
best mini-series or motion picture made for television
to
Elizabeth I.
In true Brit fashion, the acceptance speech is clipped and dry. On to the next category.
8:55 p.m. – Ben Stiller is presenting a clip from
Borat,
nominated for
best motion picture, musical or comedy.
He works in a humorless plug for his film
A Night at the Museum,
but that's okay, everyone in the audience is still milling about and no one is really listening anyway.
Photo by: Hal Horowitz / WireImage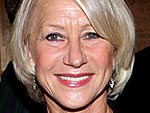 8:46 p.m. – Joaquin Phoenix presents
best performance by an actress in a motion picture – musical or comedy.
Meryl Streep
takes it for
The Devil Wears Prada
(beating poor Renee Zellweger, who even stayed out of the bathroom this time for her category). Uh-oh, she's pulling out a list of names to thank. "Oh shut up, it's not that long." Touche, Meryl! She's so graceful accepting her award, you'd think she's done this once or twice before. Then she tops it all off with a smart plea to – pretty please – have independent films played on more screens throughout the country. Is there a classier woman in Hollywood?
8:42 p.m. – Steve Carell is presenting
best animated feature film,
a new award this year. Carell's a good sport: he voiced a character in
Over the Hedge,
which wasn't nominated. The winner is
Cars
(has Pixar ever lost an award?) "Animation is awesome!" enthuses director
John Lasseter,
who seems to have ingested a cup of coffee or 12.
8:40 p.m. – Charlie Sheen introduces
Bobby,
which was directed by his brother Emilio Estevez. Apparently, Charlie isn't bitter about literally being the only actor in Hollywood who does not appear in the film.
8:31 p.m. – The cast of
Heroes
presents
best actor in a television drama.
It's hard to go wrong with any pick in this category, but they go the boring route and give it to
House
's Hugh Laurie, who also won last year. "I'm speechless. I'm literally without a speech," he says, but still puts together a clever one. There are lots of laughs, though he doesn't quite top last year's speech where he pulled scraps of paper out of his pocket, each containing the name of someone he wanted to thank. Someone please put this guy in a comedy...stat!
8:28 p.m. – Next up,
best performance by an actress in a supporting role in a series, mini-series or motion picture made for television.
I'm pulling for
Weeds
' Elizabeth Perkins, but it goes to
Emily Blunt
for the BBC's
Gideon's Daughter.
Blunt goes 1-for-2, after losing to Jennifer Hudson for her bitch-perfect role in
The Devil Wears Prada.
Sadly, she seems to be nothing like her Prada character: there's no delicious dissing of her co-nominees.
8:23 p.m. – Naomi Watts introduces the first motion picture drama nominee, Babel. She stumbles over director Alejandro González Inárritu 's name. I suddenly feel much better, now that I know I'm not the only one who gets tongue-tied.
8:19 p.m. – The oddest part of the Globes is the offstage interviews they do with the winners. So we go directly from Kyra Sedgwick's speech to ...Kyra's backstage interview. Wow, who would have guessed that just a few seconds after winning, she's still excited and overwhelmed?
8:15 p.m. – Now it's time for
best actress in a television drama,
or as Tina Fey calls it, "the least humorous performance by a female." This one goes to Kyra Sedgwick – yes! – for
The Closer.
(Actually, her performance is quite humorous, thank you very much.) Don't you love how all these acceptance speeches now boil down to whether or not they'll thank their famous spouses? Thankfully, Kyra nails the dismount: She thanks not only her husband, Kevin Bacon, but each of her kids.
8:05 p.m. –
Justin Timberlake
presents
best original song.
It's been a bad few moments for Beyoncé, who loses to an absent Prince, who wins for
Happy Feet
's "The Song of the Heart." Timberlake slouches down to accept on behalf of the diminutive Prince. On the heels of hosting
SNL
last month, this guy is developing some comic chops.
8:01 p.m. – No host means no opening monologue. You'll have to wait for the Oscars. Instead, we get right down to it with the first award, with George Clooney presenting
best supporting actress in a motion picture.
The crowd is pulling for front-runner
Jennifer Hudson,
who indeed takes the prize. She hit all the right notes in her speech, but oops, she forgot to thank costar Beyoncé. Uh-oh...the night's first scandal!