Seen & Heard on the Carpet: Eva's Dress Gets Stepped On
Photo by: chris carlson / AP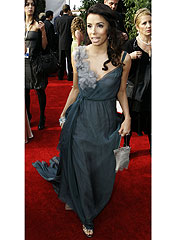 • As
Eva Longoria
makes her way down the red carpet, people keep stepping on the long train of her dress, prompting a chorus of "Sorry!". Later, she's joined by fiancé
Tony Parker,
who raced across town to join her after his Spurs beat the Lakers in overtime.
•
The Queen
Golden Globe winner
Helen Mirren
tells her husband,
Ray
director
Taylor Hackford,
"It's
cold!
" as they pass through security before the start of the red carpet.
• Behind Mirren and Hackford,
Leonardo DiCaprio
applies lip balm.
More Seen & Heard on the Carpet:
•
Eddie Parties All the Time, Rainn Wilson & More
•
Patrick Dempsey Hops the Rope, Steve Carrell & More