Seen & Heard on the Carpet: Eddie Parties All the Time
Photo by: Fernando Allende / Splash News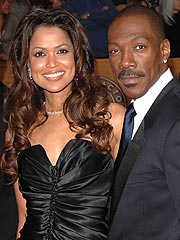 •
Eddie Murphy
and
new girlfriend
Tracey Edmonds
walk the red carpet as the crowd sings Murphy's '80's-era hit, "Party All the Time."
•
The Office'
s Dwight Schrute,
Rainn Wilson,
arrives with wife Holiday Reinhorn to fans frantically screaming, "Rainn! Dwight!" Looking surprised that anyone recognizes him, Wilson pauses for a second and then heads over to sign autographs.
•
Grey's Anatomy'
s Dr. McSteamy,
Eric Dane,
causes a frenzy in the stands as he walks the red carpet. Wife
Rebecca Gayheart
looks on approvingly as fans chant, "Autograph! Autograph!" With an oh-so-charming smile, Dane obliges.
• After
Will Smith
jumps the velvet rope to sign autographs, one female fan tells him she flew all the way from Toronto to see him. "That's a loooong way!" he says.
•
Heather Graham
and a female friend chat with
Weeds
star
Kevin Nealon.
"I wish you were sitting with us so you could keep us entertained throughout the whole show," Graham tells him.
More Seen & Heard on the Carpet:
•
Eva's Dress Gets Stepped On & More
•
Patrick Dempsey Hops the Rope, Steve Carrell & More