Chandra's Shout-Out to Isaiah
Photo by: Chris Carlson / AP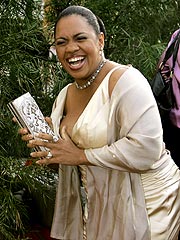 Accepting her award for best female actor in a drama series,
Grey's Anatomy'
s
Chandra Wilson
credited her castmates, including
Isaiah Washington,
saying, "It's about those 10 cast members sitting over there and the other one
in rehab
. Y'all just hold me together."
More on the Night's Winners:Eddie Murphy,
accepting his trophy for best supporting actor for
Dreamgirls,
started off his acceptance speech in a British accent – then quickly dropped it, cracking, "When the English people come up here and get awards, they're so smooth, and I feel goofy!"
Best actor in a drama series
Hugh Laurie
(
House
) later quipped onstage, "I'm British, which accounts for why I'm so 'smooth.' "
Accepting for best ensemble in a comedy,
The Office'
s
Steve Carrell
gave the sartorial definition of "ensemble," and joked, "I think it applies here."
More on the Night's Winners:
•
A Night for a Queen and a Dream(girl)
•
America Ferrera Is All Thanked Out
•
Complete List of Winners & Nominees