A night for a queen and a dream(girl): SAG Winners
Photo by: Hal Horowitz / WireImage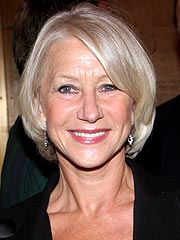 Jennifer Hudson, Helen Mirren
and
America Ferrera
all were queens for a night, while the embattled cast of
Grey's Anatomy
got a chance to shine again at Sunday night's 13th Annual Screen Actors Guild Awards.
(
Click here for the complete list of winners and nominees.
)
But the Golden Girl was still Hudson, a Golden Globe winner (and Oscar nominee) who must be getting used standing at the podium. The best supporting actress winner for
Dreamgirls
thanked her peers inside L.A.'s Shrine Auditorium for "noticing little old me."
Surprising no one, Mirren took two acting trophies – known as an Actor – first for
Elizabeth I,
then for
The Queen
– and admitted that when she first signed on to play H.R.H., "I saw those sensible shoes and tweed skirts laid out in a row, and I cried."
Another experienced winner,
Ugly Betty
's Ferrera, must have said it all when she nabbed her Golden Globe. Onstage to accept her outstanding actress in a comedy series Actor she joked, "I am completely out of things to say!"
The cast of
Grey's Anatomy
also had plenty to stay onstage (
and off
), winning best ensemble in a TV drama in the wake of the brewing scandal over
Isaiah Washington,
who missed the event because he is seeking counseling after using an anti-gay slur backstage at the Globes against costar
T.R. Knight.
Photo by: Chris Carlson / AP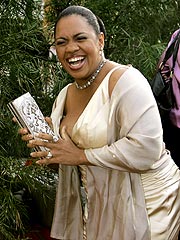 Accepting the award,
Grey'
s
Ellen Pompeo
said, "It's worth mentioning the members of our cast who aren't here." After naming Washington, she begged her castmates: "I'm drawing a blank, please help me!"
Washington also got a shout-out from best actress in TV drama winner
Chandra Wilson.
"It's about those 10 cast members sitting over there and the other one in rehab," she said. "Y'all just hold me together."
The surprise of the night was a victory for the comedy
Little Miss Sunshine,
whose cast was honored as best in a motion picture. When they accepted their award, Greg Kinnear wisecracked, "I'd like to thank the engineers at Volkswagen for making such a beautiful vehicle back in 1969 that is so comfortable, so safe."
Striking a different note, best film actor winner
Forest Whitaker
(for
Last King of Scotland
) was visibly moved by the honor. "Everybody tells me not to get carried away, 'cause I get carried away sometimes, but whatever. I'm really happy to receive this award."
Eddie Murphy,
accepting his trophy for best supporting actor for
Dreamgirls,
started off his acceptance speech in a British accent – then quickly dropped it, cracking, "When the English people come up here and get awards, they're so smooth, and I feel goofy!"
Picking up the cue, best actor in a drama series
Hugh Laurie
(
House
) later quipped onstage, "I'm British, which accounts for why I'm so 'smooth.' "
Accepting for best ensemble in a TV comedy,
The Office'
s
Steve Carrell
gave the sartorial definition of "ensemble," and joked, "I think it applies here."