What Is John Legend Doing in this Picture?
Photo by: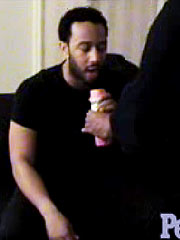 The Grammy nominee gave PEOPLE.com an all-access backstage pass to his recent concert tour in Asia. But do you know what he's doing in this picture?
• He's smelling some potpourri
• He's inhaling a special potion
that helps his throat.
• Um... He didn't inhale!
Find out this and much more in his video diary! (
Click here to watch.
)