What's Black and Red and Naked All Over?
Photo by: Alex Berliner / BEImages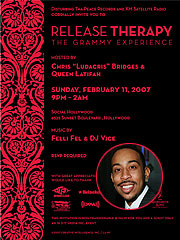 Ludacris'
post-Grammy party! Held at Social Hollywood, the sexually charged bash comes from the title of his Grammy-nominated CD,
Release Therapy.
Invited guests like
Justin Timberlake, Nelly Furtado, Drew Barrymore
or cohost
Queen Latifah
can indulge in cookies laced with aphrodisiac chocolates – or just watch the go go dancers grind against the black and red decor. If that isn't sexy enough, the bash's organizers promise a surprise involving "body painting, chocolate and beautiful naked women." Hmm... Are you sure the theme isn't pegged to another of his albums,
Red Light District?