Justin & K-Fed's Red-Carpet Run-In
Photo by: Kevin Mazur / WireImage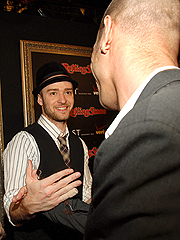 Awkward much? As
Justin Timberlake
made his way down the carpet into a special Friday night performance at Hollywood's Avalon, he came face to face with his ex's ex:
Kevin Federline.
The two – who've recently
made a habit of crossing paths
– exchanged a brief hug, then K-Fed motioned to the press to keep it quiet, signaling "Shhh" with his finger. Timberlake, on the other hand, was just getting the noise started at a party that was so packed not even
Jude Law
could get in.
After the
Black Eyed Peas
played, he joined
Nelly Furtado
and
Timbaland
onstage for "Promiscuous," beat-boxing into his mic. As Furtado slipped backstage he and Timbaland went right into "Sexyback," getting a nod of approval from a shades-wearing
Diddy
and had
Scarlett Johansson,
clad in a flowy black top and with cocktails flowing, on her feet throughout his entire performance. Also there:
Grey's Anatomy
costars
T.R. Knight, Kate Walsh
and
Sara Ramirez,
who was grooving solo against the guard rail;
Nick Lachey
and
Vanessa Minnillo,
navigating the VIP balcony with a few bodyguards;
Kid Rock,
smoking a stogie and getting a little cozy with a brunette; a Mischa-less
Cisco Adler,
standing in the aisle and jamming to every song; and
Paris Hilton,
deftly making the social rounds. And where did K-Fed end up? Standing against a wall outside the VIP area – gamely chatting up a brunette.