John Mayer on Jessica: Turning Japanese
Photo by: Lester Cohen / WireImage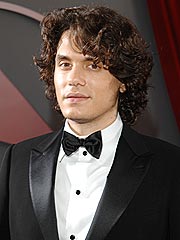 Talk about some intrepid journalism.
Ryan Seacrest
literally dragged
John Mayer
in front of the camera, pulling the multiple-nominee away from another interview. "You're the Anderson Cooper of E!," Mayer joked with Seacrest. After answering two short questions, Seacrest released Mayer – then nabbed him again for a more in-depth chat. After discussing his music, Seacrest asked the question on everybody's mind: What's the scoop with Jessica Simpson? Mayer, ever the funnyman, answered in what sounded like Japanese and then suggested: "Find a Japanese person and decode it. Subtitle it. Then you'll have your answer." Seeming self-satisfied, Mayer told an amused Seacrest, "I'm very happy with what I just did to you," before walking off.
UPDATE: Turns out John Mayer really can speak Japanese – and the translation is in! "She's a lovely woman and I'm glad to be with her," a bilingual Mayer teased Seacrest.
Meanwhile, she's already the evening's most nominated artist (with eight Grammy nods) but
Mary J. Blige
isn't exactly a new face at the award show. Ever self-analytical, Blige told Ryan Seacrest that she credits the success of her album
The Breakthrough
to her personal growth. "I really allowed myself to get better – personally better. It's a personal breakthrough," she said. "It's mental, spiritual and physical."