Dixie Chicks Win Big at the Grammys
Photo by: AP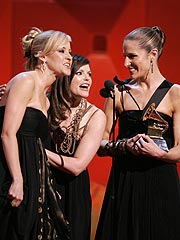 The Dixie Chicks
may not have been "ready to make nice," but they sure felt the love at Sunday night's 49th annual Grammy Awards in Los Angeles.
They swept the night, taking home all five awards they were nominated for – including album, song and record of the year, where they beat out competitors like
Justin Timberlake, the Red Hot Chili Peppers
and eight-time nominee
Mary J. Blige.
(
Click here for a list of the night's big winners.
)
While accepting the song of the year trophy, the group's outspoken lead singer,
Natalie Maines
joked: "I, for the first time in my life, am speechless."
Throughout the telecast the Dixie Chicks were full of memorable quips. When they won for best country album, for the fiery
Taking the Long Way,
Maines playfully rebuffed detractors by imitating a character from
The Simpsons,
saying, "Haa-ha."
Earlier in the evening, during the pre-telecast ceremony, the trio also won for best country performance by a duo or group – which they learned about from Ryan Seacrest
on the red carpet.
Blige, who was nominated for a leading eight Grammys, wept openly when she collected her first award of the night – for best R&B album for
The Breakthrough
. "This is the first time I've ever been up here to receive anything," she said. "I'm growing into a better human being and I thank you so much."
Blige, who delivered a simmering rendition of "Be Without You" backed by a full orchestra during the show, also picked up awards for best female R&B vocal performance and best R&B song.
Another big winner, the Red Hot Chili Peppers, nominated for six awards, made a strong showing, taking home four Grammys, including best rock album.
Flea
wished the crowd, "good will and peace and love," while accepting the award.
Meanwhile,
American Idol
alum
Carrie Underwood
won a major award of her own – earning the best new artist honor over
Chris Brown, Imogen Heap, Corrine Bailey Rae
and
James Blunt.
Underwood, who performed a marathon Eagles tribute with
Rascal Flatts,
also won best female country vocal performance for her song "Jesus Take the Wheel."
While
Justin Timberlake
was nominated four times – including album of the year – the "SexyBack" singer picked up two awards, including best dance recording.
In a slight upset,
John Mayer
won the best pop vocal album, besting Timberlake. "I just got done playing – I'm nervous," said Mayer, accepting the trophy mere moments after performing with
John Legend
and Corinne Bailey Rae.
But Timberlake made a strong showing during the telecast, playing the piano as he performed a rousing version of his song "What Goes Around Comes Around." He returned later in the show to perform Bill Withers' classic "Ain't No Sunshine" and his own "My Love." He was joined on both by Robyn Troup, a young duet partner who was chosen by the viewing audience.
In other show-stopping performances, one of the evening's most anticipated performances came early on – first thing, in fact – as
the Police
(newly reunited and revitalized) opened the show with "Roxanne."
"Ladies and gentlemen, we are the Police, and we're back,"
Sting
announced before launching into the song.
Beyoncé
tore through her song "Listen" from
Dreamgirls
. Her "Ring the Alarm" got a nod for best female R&B vocal performance – but Mary J. Blige took home that award. Beyoncé's album
B'Day
was named best contemporary R&B album, besting
Kelis
and Chris Brown, among others.
Meanwhile,
Gnarls Barkley
made an impression, unveiling a slower, starker version of their megahit "Crazy," which built slowly and was joined by a full orchestra and choir. The quirky four-time nominees won for best alternative music album, and best urban/alternative performance for "Crazy."
Click here for a list of the night's big winners.