Wardrobe Malfunction Alert!
Photo by: Jeff Vespa / WireImage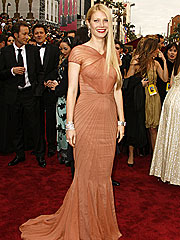 No, not
that
kind of wardrobe malfunction. But these ladies – and their outfits – barely made it out of the red carpet alive! Below, the injured parties on the red carpet:
•
Maggie Gyllenhaal's
dress looked great on the red carpet – literally. Her feather-trimmed Proenza Schouler dress shedded wherever she walked.
• Only halfway down the red carpet, and
Eddie Murphy'
s girlfriend
Tracey Edmonds's
long gown already had a hole in it.
•
Gwyneth Paltrow
made it out of the red carpet unscathed, but just a few steps into the Kodak Theatre, a woman stepped on the train of her Zac Posen gown. Thankfully, there were no visible rips – but Paltrow picked up the train. (She should have taken a cue from
Kate Winslet,
who employed a professional train-holder for part of the night.)
•
Isla Fisher'
s jeweled bracelet broke on the red carpet, leaving her and fiancé
Sacha Baron Cohen
to fiddle with the troubled clasp as they continued to make their way down the carpet.
SEE PHOTOS FROM THE RED CARPET
Best Dressed at the Oscars
They're Here! Best of Arrivals
Oscar Hair & Makeup Favorites
Oscar Night's Mega-Jewels