Seen & Heard on the Oscar Red Carpet!
Photo by: Lucas Jackson / Reuters / Landov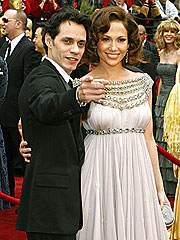 •
Marc Anthony,
mimicking
Jada Pinkett Smith's
teetering high-heeled walk with a pained look on his face. Catching him in the act, she laughs and dismisses him with a wave of her hand.
•
Gwyneth Paltrow,
letting out a relieved sigh after making her way through a throng of journalists clamoring for her attention. But then – much to her chagrin – she looks up and sees another row of photographers waiting for her.
•
Eddie Murphy,
his gray suit wrinkled from the limo ride, grasping girlfriend
Tracey Edmonds's
hand tightly on the red carpet. (And she has a big sparkler on that special finger ...)
•
Jennifer Hudson,
blowing kisses to a production assistant who takes her picture, then tucking her chilly hands in the pockets of her gown.
•
Portia de Rossi,
proudly saying that partner – and Oscar host! –
Ellen DeGeneres
"is excited and well prepared. She knows how to do this."
•
Larry David,
jokingly telling the fans in the bleachers, "Go home!" as he escorts his Oscar-nominated wife Laurie (who produced
An Inconvenient Truth
) down the red carpet.
•
Anne Hathaway,
breezing past the press line and earning a chorus of "boos" – but she promises them she'll be back.
•
Djimon Hounsou,
embracing
Spike Lee,
then turning to find
Al
and
Tipper Gore.
Gore, wearing cowboy boots, introduces his wife to the
Blood Diamond
star (and has to repeat Hounsou's name – twice!).
•
Nicole Kidman
(in red), grasping the hand of BFF
Naomi Watts
(in yellow) as they step onto the red carpet.
•
Ryan Gosling,
wearing an Amnesty International pin on his lapel. He was inspired by a girl named Joyce in Uganda who was set on fire by the rebel group the Lord's Resistance Army (LRA). His pin will be auctioned off for charity in a few weeks.
SEE PHOTOS FROM THE RED CARPET
Best Dressed at the Oscars
They're Here! Best of Arrivals
Oscar Hair & Makeup Favorites
Oscar Night's Mega-Jewels