Best Supporting Actor: Mr. Sunshine
Photo by: Kevork Djansezian / AP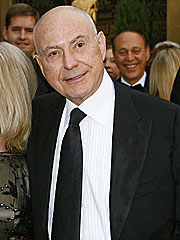 In the first acting award of the night,
Alan Arkin
nabbed an Oscar for his role as the cranky drug-addicted grandpa in
Little Miss Sunshine.
An announcer revealed Arkin was almost rejected for the role because he was "too virile" – and he came off as a stoic tough guy through most of his acceptance speech, until he choked up upon thanking his wife and three sons for "their endless support." Awww ...
See the list of major winners.