Al & Leo: It's Easy Being Green
Photo by: Gary Hershorn / Reuters / Landov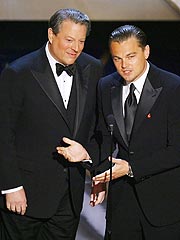 First
Al Gore
joked that he wanted
William Hung
to play him in a movie about his life. Then – surprise! – he provided the night's funniest moment so far (sorry, Ellen).
After the former Presidential candidate revealed with
Leonardo DiCaprio
that this year's Oscars had
gone green
, DiCaprio asked if Gore didn't want to take the opportunity to "make a major, major announcement."
Gore assumed a serious face, pulled out a piece of paper and began to read: "My fellow Americans, I'm going to take this opportunity here and now to formally ..." Just then, he was cut off by the orchestra's "time's up" overture. Well, there's always the 2011 Oscars!
SEE PHOTOS FROM THE RED CARPET
Best Dressed at the Oscars
They're Here! Best of Arrivals
Oscar Hair & Makeup Favorites
Oscar Night's Mega-Jewels