The Queen Strikes Gold
Photo by: Gabriel BOUYS / AFP / getty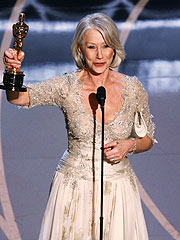 After winning every award under the sun, it must be hard to come up with an original acceptance speech, but Best Actress
Helen Mirren
pulled it off. "You know, my sister told me that all kids love to get gold stars," she said, "and this is the biggest and the best gold star that I have ever had in my life."
She went on to credit the woman she played so convincingly in
The Queen
: "For 50 years and more Elizabeth Windsor has maintained her dignity, her sense of duty and her hairstyle. ... If it wasn't for her, I most certainly wouldn't be here." Holding up her statue, she said, "Ladies and gentlemen, I give you the Queen."
See the list of major winners!