The Oscars, Ellen-Style: How Did She Do?
Photo by: Mark J. Terrill / AP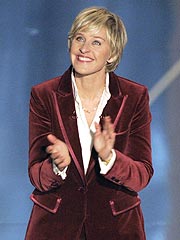 This was
Ellen DeGeneres's
first year hosting the Oscars (although she did a stellar job helming the Emmys), and there were definite highs and lows. On the plus side, she slipped a screenplay to
Martin Scorsese,
forced
Steven Spielberg
to take her picture with
Clint Eastwood
for her MySpace page and gave rolling papers to the orchestra. In the minus corner? Saying
Penélope Cruz
was from Mexico (hey, she apologized!) and that bad "recycled jokes" gag.
But tell us what you think: Was Ellen a good Oscar host?
Sorry! This poll has closed.
SEE PHOTOS FROM THE RED CARPET
Best Dressed at the Oscars
They're Here! Best of Arrivals
Oscar Hair & Makeup Favorites
Oscar Night's Mega-Jewels