Backstage at the Oscars: What You Didn't See
Photo by: Paul Fenton / ZUMA; RAMEY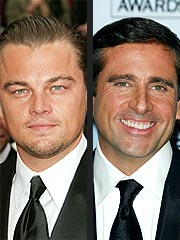 •
Leonardo DiCaprio,
impressing the heck out of
Steve Carell.
"He shook my hand and said 'Hey buddy,'" Carrell says. "He's like the smoothest guy on the planet. It's pretty cool."
• Later,
Leo
makes another good impression: He hugs Best Actor winner
Forest Whitaker
and says, "You took your moment. You moved me, man."
•
Eddie Murphy
sucking on a lollipop and looking confused as walks into the ceremony with girlfriend
Tracey Edmonds
. "How do we know where we're going?" he asks and then eventually finds his way to his seat.
•
Sacha Baron Cohen
and
Isla Fisher
downing cocktails at the Kodak Theatre's downstairs bar. They clustered with friends around a table, as if they were at a British pub. The good-spirited couple left only when a publicist urged them to take their seats.
•
Little Miss Sunshine
star
Abigail Breslin,
10, clutching a Curious George doll and rubbing her eyes. "[It's] past her bedtime" says her mom.
Jennifer Hudson
holding hands with
Dreamgirls
director
Bill Condon
and saying hello to a young fan. Asked if she's suffering for her fashion, she says, "I'm not! Everything is so comfortable, that's why I picked it."
• The entire downstairs bar – including a smiling
Peter O'Toole
– erupting into cheers when
Alan Arkin
wins Best Supporting Actor.
•
Helen Mirren
sipping on a beverage and waiting for a chair (not a throne!) to be brought out to her as she waited for her turn at the press room.
Alan Arkin
dropped by, and he and Mirren started an animated conversation, waving their Oscars at each other as they spoke.
Forest Whitaker
also dropped by, and stooped down to give The Queen a kiss.
•
Maggie Gyllenhaal and Peter Sarsgaard
taking a mid-show break for drinks with Cate Blanchett. A friend passes Maggie a glass of champagne, but then says, "that was a short pour." Maggie agrees saying, "it was a short pour," so they send it back to the bartender for a top-off.
•
Al Gore
running back into the press room to watch the announcement of Best Song – which went to
Melissa Etheridge,
for his movie,
An Inconvenient Truth.
The former Vice President stood in front of a monitor, beaming at her acceptance speech. Once she was backstage in the press room, Etheridge looked at her Oscar and joked that "this is the only naked man that will ever be in my bedroom."
• While waiting for his limo after the show
Ryan Gosling
hanging out with friends and telling them about his mom's experience at the Oscars. "It was hilarious. I was sandwiched between Gwyneth [Paltrow] and Meryl [Streep], and my mom was obsessed with putting her hair up and they both had it down....My mom had a beehive, and she kept saying, 'My hairdresser said everyone would have their hair up."