Alan Arkin Hoped Abigail Breslin Would Lose
Photo by: Kevork Djansezian / AP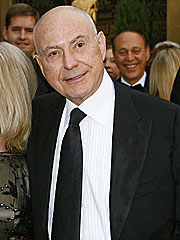 Little Miss Sunshine
Oscar-winner
Alan Arkin
confessed on the red carpet before the show that he hoped his young costar,
Abigail Breslin,
would
not
win the Oscar for Best Supporting Actress. (His wish came true –
Dreamgirls
star Jennifer Hudson won the award.)
Speaking to
Access Hollywood
, Arkin, 72, said: "I hope she loses frankly. No, I'm serious. I am not joking."
Arkin, who played a foul-mouthed grandpa to Breslin as their fractured family hit the road in
Sunshine
, insisted he had the child actress's best interests at heart in hoping she walked away empty-handed. "What, next year she is going to get the Nobel Prize? It's enough. She has had enough attention."
Arkin, whose own film career spans five decades, said he simply wants Breslin, 10, to enjoy childhood innocence. "I love her and I love her family; and I feel enough is enough," he said. "She is a kid; she needs to have a childhood."
Arkin, who won the Best Supporting Actor Oscar, told PEOPLE after the show that he doesn't much like award shows. "I don't believe in competitions between artists. This is insane. Who has the authority to say someone is better?"
Still, he wasn't complaining about his win. "I'm happy I have this. It's very nice."
Asked why he thinks he won, Arkin told PEOPLE: "I haven't got a clue. I think it's my age. Everybody thinks I'm going to keel over in a year or two."