VIDEO: Hudson, Whitaker and Scorsese Bathe in Oscar Glory
Photo by: Coco / starmax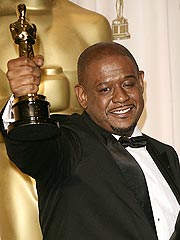 According to
Forest Whitaker,
he could feel something special happening before his Best Actor Oscar win Sunday night – in fact, he could feel it blowing right on his neck.
Click here to see video
from Whitaker and other winners after the show – including
Jennifer Hudson, Martin Scorsese
and
Alan Arkin,
who says his win was all age before beauty. (Oh, but Alan, you do age beautifully.)
See the clips here.