Helen Mirren's Royal-Tea
Photo by: Kirkland / AFF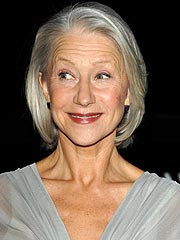 Fresh from her Best Actress Oscar win for
The Queen,
Helen Mirren is likely to be invited to tea with the
real
queen, a Buckingham Palace rep has confirmed.
"It is speculation, but we are looking at a number of options," a palace spokeswoman said on Monday, according to the Associated Press.
In a statement to PEOPLE, a rep for Her Majesty said, "We are sure that the Queen will be pleased with Dame Helen's success."
Because of the time difference – the Oscars began at 12:30 a.m. Monday morning in England –
Mirren's victory
was difficult to catch on British TV, though a pay movie channel did carry the ceremony. Even so, Mirren's win was a top story in the British press.
The 61-year-old actress saluted the queen in her acceptance speech Sunday for maintaining "her dignity, her sense of duty, and her hairstyle" and acknowledged: "If it wasn't for her, I most, most certainly would not be here."