Ellen: 'I Was Scared to Death'
Photo by: Mark J. Terrill / AP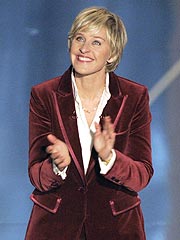 Ellen DeGeneres may have
told PEOPLE
she was "not at all" nervous about hosting the Oscars, but when the big night rolled around, she tearfully admitted Monday, she was "scared to death."
On her talk show's post-Oscar special, DeGeneres played her video diary from Sunday night, which wrapped up with stars from
Beyoncé Knowles
to
Kate Winslet
praising her job as host.
After the montage, a teary DeGeneres told her cheering audience, "I'm crying for many reasons. I'm tired, so I'm emotional ... [but hosting the Oscars] represented so many things to me. It represented that people believed in me, they took a chance in me to hold something like that together, that people would want to see me."
She went on to say that hosting the show "was hard. It was harder than I thought and I was scared to death. I didn't know how I would do. ... You know, you have confidence at the same time as you have insecurities."
Although
reviews of her performance
have been mixed so far, DeGeneres said, "It was an incredible experience."
Click here to see more photos and news on Ellen DeGeneres.