Oscar Burning Questions: You Asked, We Answered
Photo by: Gary Hershorn / REUTERS / Landov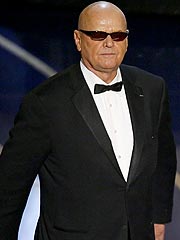 What was up with Jack Nicholson's shaved head at the Oscars?
–
Marsha Surad, San Antonio, Texas
The three-time Academy Award winner definitely raised a few eyebrows when he showed up to the Oscars with a completely bald head. An homage to Britney? Nope. Nicholson is now filming the movie
The Bucket List,
in which he plays a terminal cancer patient. In the film, directed by
Rob Reiner,
Nicholson and a fellow patient try to complete a list of goals before they die.
Did Katie accompany Tom Cruise to the ceremony? I didn't see her anywhere during the show.
–
Sierra Wlodarczyk, Wixom, Mich.
Tom Cruise
made a solo appearance on the Oscar telecast, when he presented Sherry Lansing with her honorary award, but he left the show early to be with wife
Katie Holmes.
The couple
celebrated together
at various after-parties, including the
Vanity Fair
bash, where the two, dressed in Armani, cheered on winners and posed for photographers. At one point, Cruise stepped back, allowing Holmes to poise solo, telling the photographers, "I'm going to show her off."
I have been searching everywhere for this! I thought that Diane Keaton looked absolutely beautiful presenting Best Picture, particularly in light of her past fashion faux-pas on the red carpet, but what designer was she wearing this year?
–
Victoria Kichuk, Wallingford, Ct.
Keaton, who copresented the award for Best Picture with
Jack Nicholson
, wore a belted, long-sleeved Ralph Lauren gown. She dressed up the basic black dress with a sparkly large pendant by Neil Lane Jewelry.
How are the seating arrangements in the Kodak Theatre decided for the Oscars?
–
Cindy Robbins, St. Louis
While it's a sure bet you'll see nominated actors sitting front and center, but seating inside the Kodak Theatre is a "real science," show producer Laura Ziskin tells PEOPLE. "A lot of things go into where people sit," she says, explaining the factors she and director Lou Horvitz consider while drawing a seating chart. "Accessibility to both the camera and the stage. Nominees have to be close to aisles. That's why when somebody says, 'Why are we further back?' – well, that's because there's only so many aisle seats."
Click here to read more burning questions:
Where were Brad and Angelina? Who was Kirsten's date? And more
SEE PHOTOS FROM THE RED CARPET
Best Dressed at the Oscars
They're Here! Best of Arrivals
Oscar Hair & Makeup Favorites
Oscar Night's Mega-Jewels