Seinfeld: Master of the Oscar Domain?
Photo by: Kevin Winter / Getty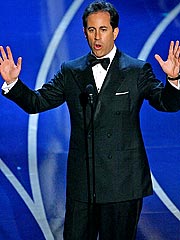 Despite wide speculation,
Jerry Seinfeld
isn't looking to be the host of next year's Oscars – not that there's anything wrong with that. The comic is focusing work on his new animated flick
Bee Movie,
his rep told the
New York Daily News.
Seinfeld's hoping the movie will get a nod for Best Animated Picture, and you can't host
and
win. But the Academy shouldn't be so quick to replace
Ellen DeGeneres:
Last Sunday, 39.9 million viewers watched the show – that's 1 million more people than last year. She also brought in 15 percent more female viewers. But you tell us: Which potential host (and comedian) do you think is most Oscar-worthy?
Sorry! This poll has closed.