Oscars Really Are 'One Night Only'
Photo by: Mark J. Terrill / AP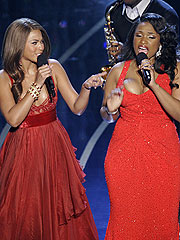 Are you dying to watch
Jennifer Hudson
and
Beyoncé
out-diva each other to a medley of
Dreamgirls
songs again? Or do you want to see those Pilobolus dancers contort themselves into the Volkswagen bus from
Little Miss Sunshine
? Well, you better have TiVo'd the show, because otherwise, you're out of luck.
Variety
reports that the Academy of Motion Picture Arts and Sciences has ordered YouTube to remove all clips from the show. So for your Oscar fix, visit
the Academy's official Web site
for a five-minute highlight reel. But click fast before the effects of Pilobolus withdrawal set in. According to an Academy official, the site will soon yank the video to "whet people's appetite for next year's show."
SEE PHOTOS FROM THE RED CARPET
Best Dressed at the Oscars
They're Here! Best of Arrivals
Oscar Hair & Makeup Favorites
Oscar Night's Mega-Jewels