Red Carpet Season 2007 (231 entries)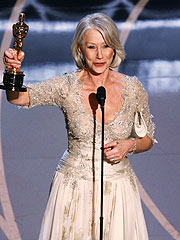 Those rumors that Helen Mirren went commando at the Academy Awards are false – well, sort of. While chatting on The Oprah Winfrey show, the Best Actress winner brought out the custom-made Christian Lacroix gown she wore to the Oscars. "You look at the inside of this dress," Mirren said, showing off the boning and built-in bra. "It was all made for me, so I didn't have to have any underwear – well I mean, I did have underwear!" But up in Cleavagetown, it was a different story: Clutching her bosom, Mirren explained to Winfrey, "It held me like two angel's hands." Sure, it's not the first time we've seen her show off the goods (remember the Golden Globes?) Let's just hope she keeps 'em covered for her tea with the Queen.

SEE PHOTOS FROM THE RED CARPET
Best Dressed at the Oscars
They're Here! Best of Arrivals
Oscar Hair & Makeup Favorites
Oscar Night's Mega-Jewels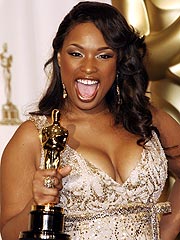 Most people hate Mondays. But for Jennifer Hudson, Monday, February 26 was the best day ever. And we're not just talking about the previous night's win for Best Supporting Actress at the Oscars. Illinois governor Rob Blagojevich also declared February 26, 2007 "Jennifer Hudson Day." (The Dreamgirls star hails from Chicago.) "Jennifer's Academy Award win is a testament to her amazing talent and determination and all of Illinois is proud to honor her talent and achievement," Blagojevich said in a statement. "We all look forward to watching her career unfold."

SEE PHOTOS FROM THE RED CARPET
Best Dressed at the Oscars
They're Here! Best of Arrivals
Oscar Hair & Makeup Favorites
Oscar Night's Mega-Jewels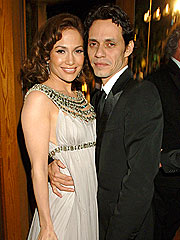 • Jennifer Lopez and Marc Anthony, sharing hugs and kisses with Elton John and husband David Furnish, as both duos arrived at the Vanity Fair bash at Mortons in West Hollywood. Meanwhile, Beyoncé Knowles, who made another wardrobe change into an ice-blue Elie Saab Couture gown, told us she wasn't about to starve herself before the Oscars: "I had an In-N-Out Burger before the show. It was so good," she said.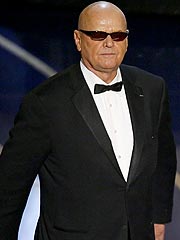 What was up with Jack Nicholson's shaved head at the Oscars? – Marsha Surad, San Antonio, Texas
The three-time Academy Award winner definitely raised a few eyebrows when he showed up to the Oscars with a completely bald head. An homage to Britney? Nope. Nicholson is now filming the movie The Bucket List, in which he plays a terminal cancer patient. In the film, directed by Rob Reiner, Nicholson and a fellow patient try to complete a list of goals before they die.

Did Katie accompany Tom Cruise to the ceremony? I didn't see her anywhere during the show. – Sierra Wlodarczyk, Wixom, Mich.
Tom Cruise made a solo appearance on the Oscar telecast...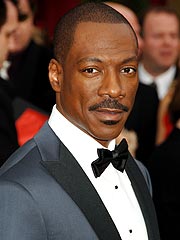 Eddie Murphy left his seat at the Kodak Theatre after losing the Best Supporting Actor Oscar (for Dreamgirls) to Little Miss Sunshine's Alan Arkin – but his rep says the comedian would have done the same thing even if he'd won.

"Eddie had always planned on leaving after his category was announced to spend the rest of the evening with his family," says rep Arnold Robinson, adding, "He did the same thing following the Golden Globe Awards." (Murphy did win at the Globes.)

Reports that Murphy stormed out of the auditorium after losing circulated widely on the Internet after the show. Both Page Six and TMZ.com report that star was being "a sore loser" after the upset. (Murphy was considered by many to be the favorite to win the category.)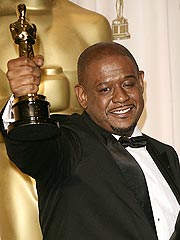 According to Forest Whitaker, he could feel something special happening before his Best Actor Oscar win Sunday night – in fact, he could feel it blowing right on his neck. Click here to see video from Whitaker and other winners after the show – including Jennifer Hudson, Martin Scorsese and Alan Arkin, who says his win was all age before beauty. (Oh, but Alan, you do age beautifully.) See the clips here.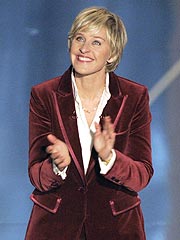 Ellen DeGeneres may have told PEOPLE she was "not at all" nervous about hosting the Oscars, but when the big night rolled around, she tearfully admitted Monday, she was "scared to death."

On her talk show's post-Oscar special, DeGeneres played her video diary from Sunday night, which wrapped up with stars from Beyoncé Knowles to Kate Winslet praising her job as host.

After the montage, a teary DeGeneres told her cheering audience, "I'm crying for many reasons. I'm tired, so I'm emotional ... [but hosting the Oscars] represented so many things to me. It represented that people believed in me, they took a chance in me to hold something like that together, that people would want to see me."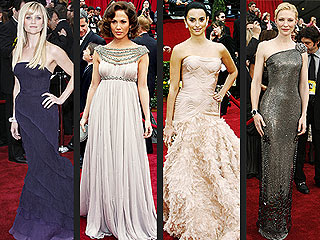 We made our picks, now it's your turn: Was it Reese in her ombré indigo Nina Ricci? J. Lo in her retro empire-waist Marchesa? Penélope in her dramatic blush Versace? Or Cate in her quicksilver Armani Privé column? Click here to vote!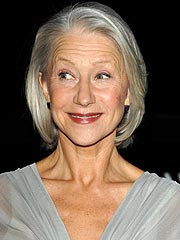 Fresh from her Best Actress Oscar win for The Queen, Helen Mirren is likely to be invited to tea with the real queen, a Buckingham Palace rep has confirmed.

"It is speculation, but we are looking at a number of options," a palace spokeswoman said on Monday, according to the Associated Press.

In a statement to PEOPLE, a rep for Her Majesty said, "We are sure that the Queen will be pleased with Dame Helen's success."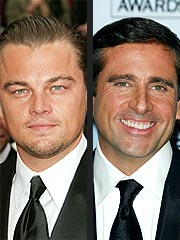 • Leonardo DiCaprio, impressing the heck out of Steve Carell. "He shook my hand and said 'Hey buddy,'" Carrell says. "He's like the smoothest guy on the planet. It's pretty cool."

• Later, Leo makes another good impression: He hugs Best Actor winner Forest Whitaker and says, "You took your moment. You moved me, man."

• Eddie Murphy sucking on a lollipop and looking confused as he walks into the awards ceremony with girlfriend Tracey Edmonds. "How do we know where we're going?" he asks and then eventually finds his seat.

• Sacha Baron Cohen and Isla Fisher downing cocktails at the Kodak Theatre's downstairs bar. They clustered with friends around a table, as if they were at a British pub. The good-spirited couple left only when a publicist urged them to take their seats.

• Little Miss Sunshine star Abigail Breslin, 10, clutching a Curious George doll and rubbing her eyes. "[It's] past her bedtime" says her mom.