Golden Globes (39 entries)
Forget the acceptance speeches – or Tom Hanks' insistence on repeating the word "balls" while introducing Warren Beatty – the real shocking statements came from the reporters covering the show. Below, the most cringe-worthy moments:

• About a minute after she won best actress for Ugly Betty, Maria Menunos reminds America Ferrera that she wasn't first choice for the role.

• Debbie Matenopolous references the cold weather and tells viewers to expect a lot of "goose bumps" from the women (and their, er, breasts) on the red carpet.

• On Angelina Jolie's sour disposition on the red carpet: "She probably wanted to be in a third world country." (Again, Debbie.)

• Ryan Seacrest interviews Jessica Biel about nothing other than her hot bikini body, and ends his interview with the tacky line, "I'm not going to stare as she walks away."

• While interviewing former Six Feet Under star Michael C. Hall – who was up for his turn as a serial killer on Dexter – Giuliana DiPandi asks him if he has a "thing" for dead people. Then, Giuliana follows up her question by asking if people run away from him in the supermarket. Seriously.

• Oh Giuliana... After Ali Larter describes her gown's color as "creamsicle,"to Ryan Seacrest, Giuliana wins the award for "Most Awkward Transition Ever" by announcing her next interview as, "speaking of creamiscles, Zach Braff!"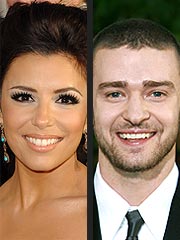 Brad talks shop, Jennifer Hudson relishes revenge, the Desperate Housewives use the bathroom buddy system, and more.

4:49 p.m. – With just ten minutes left in her broadcast, Vanessa Minnillo steals sips of champagne in between segments for Entertainment Tonight. (But unlike her last big live event, she didn't let any f-bombs slip.)

4:59 p.m. – Just a minute before showtime, Will Ferrell and Alec Baldwin greet each other at the entrance to the ballroom with a big hug – and cause a minor traffic jam.

5:01 p.m. – Fresh from her best supporting actress win for Dreamgirls, Jennifer Hudson holds up her Golden Globe in the press room and says, "You like my award, Simon?" (The American Idol judge was famously cruel to the Season 3 contestant, telling her she'd never make it.)

5:49 p.m. – Hugh Laurie's jokes start even before he wins best actor. He said that the press line was a breeze, because he surfed the wake of Ben Affleck and Jennifer Garner "like an old plastic bag, bogging along," Laurie quipped.

6:19 p.m. – While ex-girlfriend Cameron Diaz was presenting onstage, Justin Timberlake chats with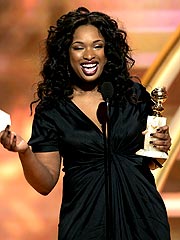 It was a dream-making night for onetime American Idol contestant Jennifer Hudson, who kicked off the Golden Globes with a win for her role in Dreamgirls.

"I had always dreamed, but I never ever dreamed this big," Hudson said as she accepted her best supporting actress trophy. "This goes far beyond anything I could have ever imagined."

It turned into a big night for the film, which took the best movie (musical or comedy) category and best supporting actor trophy for Eddie Murphy. "Wow," he said. "I'll be damned."

Sacha Baron Cohen won best actor for Borat – and gave the best acceptance speech as he described getting up close and personal with his costar's "wrinkled golden globes" in the film's naked wrestling scene.

Top drama winners included Helen Mirren (best actress for The Queen), Babel (best drama), and Forest Whitaker (best actor for The Kind of Scotland). In comedy, America Ferrera won for her lead role in ABC's Ugly Betty, which also took home the TV comedy prize, and Meryl Streep earned a trophy for The Devil Wears Prada.

For more of the night's top winners, click here.

PEOPLE movie critic Jason Lynch gives the full report in his live blogging of the night: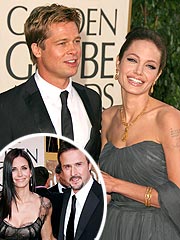 Spotted on the patio at the Beverly Hilton at about 6:35 PT: Jennifer Aniston's best friend Courteney Cox and husband David Arquette making their way toward her ex Brad Pitt and Angelina Jolie. Cox and Pitt hug each other warmly, and Pitt turns to Jolie saying, "Meet some great friends of mine." After a brief hello, Jolie and Arquette start to turn away, but Pitt reaches out to his old buddy – and gives him a hug around the neck and a kiss on the cheek. A moment later, they go their separate ways again.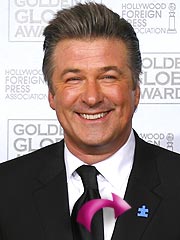 You asked, and we're answering ...

Why are all the celebrities wearing blue puzzle pieces? What do they stand for? – Eileen Montalvo, New York, N.Y.
NBC stars such as Tina Fey, Steve Carell and Alec Baldwin (left) hit the red carpet wearing blue pins to raise awareness for Autism Speaks, a favorite charity of NBC Universal chairman and CEO Bob Wright, who has ...
• A glowing Renee Zellweger, waiting on line for the ladies room, giddily greets Greg Kinear's wife and says, "This is fun!" But after seeing the line Zellweger changes her mind. "I'll skip this part," she says, and goes straight to the mirror for a touch-up.

• An unusually clean-shaven Dane Cook, with his hand on his date's back, gives her the up and down and tells her, "You look great."

• Leonardo Dicaprio and Chloe Sevigny help themselves to the Moet & Chandon minibottles as they enter the ceremony hall. Leo marvels at the built-in dispenser, while Chloe takes two big swigs before entering.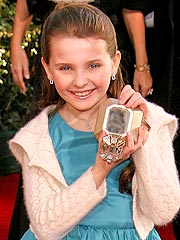 When Abigail Breslin popped open her clutch for E!'s Ryan Seacrest, the 10-year-old Little Miss Sunshine star had a surprise: nothing! The purse was empty – "I don't have anything in it 'cause none of my stuff would fit in it" – proving to be no Little Miss Diva. That left her bemused costar and carpet escort Paul Dano looking to take advantage of the unusual situation, saying, "Maybe she can hold onto my chapstick?"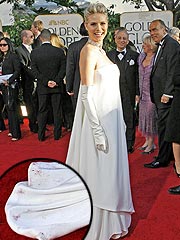 PEOPLE reporters are texting in from the Globes, and here's what they're seeing and hearing:

• A very tan Drew Barrymore, readying for the onslaught of flashbulbs, leans into her date and says, "This is going to take forever ..."

• Alec Baldwin shakes the hand of a golden-clad Julia Louis Dreyfus and says, "Good luck." "You too," she says back, looking a little nervous.

• Heidi Klum notices the bottom of her white gown turning colors: "I seem to be picking up much of the red carpet!"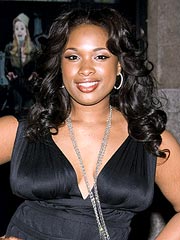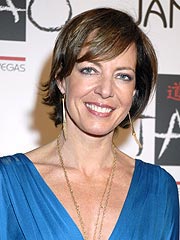 When PEOPLE asked The West Wing's Allison Janney whom she thought deserved a nomination this year, she got cheeky with us: "Allison Janney! Allison. Janney." But then she let the goodness of her heart shine through: "I thought Sienna Miller did a great job in Factory Girl. I guess it just surprised me. It was very sad and it stayed with me after I saw it, and I was really impressed with her."