Grammys (61 entries)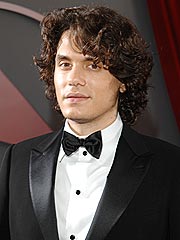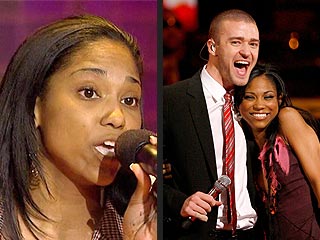 You remember Robyn Troup as the girl who held her own against Justin Timberlake at the Grammy Awards, as the winner of the My Grammy Moment contest. But on Tuesday night, Troup was booted from American Idol – before even making it to the top 24! Still, the Houston native has the last laugh: Besides her Grammy performance, she's signed a deal with Timberlake's production company. And she has no hard feelings for the Idol judges. "Simon told me my voice needs to mature, which I definitely agree with," she tells PEOPLE.

So, what was her Grammy experience like?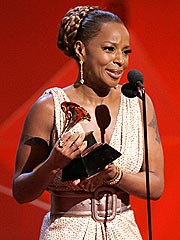 Mary J. Blige didn't exactly pull a Hilary Swank at the Grammys on Sunday night – she at least remembered to thank her manager husband Kendu Isaacs. But the three-time winner did forget to thank the two music powerhouses who first helped put her on that stage: Uptown Records founder Andre Harrell and her first producer, Sean "Diddy" Combs. Uh, oops! So, what happened up there, Miss Mary? "I was shaking. I absolutely was trying to remember everyone who helped with the album (The Breakthrough) because it was just such a big breakthrough," she tells us exclusively. But, like the R&B diva herself, we believe in second chances, so here's what Blige really meant to say up there ...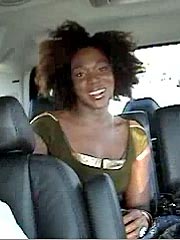 The Grammy nominee (and previous two-time winner) showed PEOPLE.COM just what happens before and after the big show. But which of the following does not happen in India.Arie's video diary?

• She introduces us to her celebrity friends, Chris Tucker and Tyrese
• She picks her Grammy outfit from racks of several expensive designer dresses
• She illustrates one way to exit an SUV without showing off any lady parts

Find out what really happened in PEOPLE.COM's exclusive video!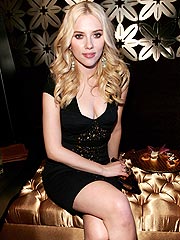 • Scarlett Johansson, ducking into a private alcove at the Warner Music Group post-Grammy party at downtown L.A.'s Old Church, before she and a girlfriend hunkered down over their own tray of hors d'oeuvres. Meanwhile, James Blunt and girlfriend Petra Nemcova headed straight for one of the unclaimed heating vents that was warming up the tented area. "I can feel the heat!" the happy supermodel exclaimed.

• John Mayer, planting a tender, sweet kiss on Jessica Simpson when she arrived at the Sony BMG Post-Grammy Party at the Beverly Hills Hotel, and later stroking her back and holding her hand in the cabana that also housed Simpson's sister Ashlee and others. Champagne flowed and Mayer lip-synched Terence Trent D'Arby's "Wishing Well" to Jess. And the Dixie Chicks, John Legend and Carrie Underwood feasted on crab legs, roast beef and raspberry tarts in the white-themed bash (calla lilies, white cabanas, white seating) while Chris Daughtry, spent the entire night roaming the ballroom and trying to take photos with celebrities.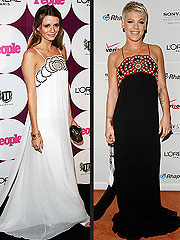 It's an awards-show hazard – two stars wearing the same dress. And the big "oops" happened to Mischa Barton and Pink, who wore different versions of the same Temperley London gown. Pink sported hers to Clive Davis's pre-Grammy bash on Saturday while Mischa bloomed in a white version at PEOPLE's Grammy afterparty. Who rocked the look better? Tell us what you think in our poll. Click here to vote!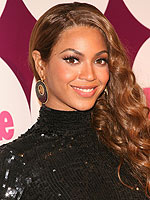 Ever wonder what it's like to party with Beyoncé? Yeah, so did we. And then, Sunday night, we got our chance. Check out PEOPLE's exclusive video from inside the singer's post-Grammy bash, where Mary J. Blige, Mischa Barton and more danced the night away. Make sure you watch it to the very end, for a very special treat from John Legend.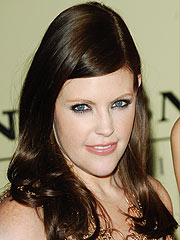 The Dixie Chicks were not ready to make nice, but Natalie Maines was sure ready to make a change at the Grammy Awards, where the singer debuted a new cocoa 'do. Do you like her darker look, or do you want her hair to match her gold Grammys? Tell us what you think in our poll. Click here to vote!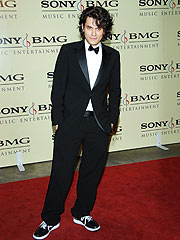 Once a rocker, always a rocker. From the ankles up, John Mayer is in picture-perfect black-tie formalwear (thanks to his classic Armani tux), but his kicks are another story. Do you like the Nike? Or would you rather he went with something a bit more conservative? Tell us what you think in our poll! Click here to vote.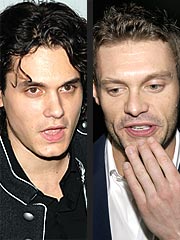 Forget the Dixie Chicks sweeping the awards or Scarlet Johansson looking down sheepishly as she announced rumored beau's Justin Timberlake's name. Yet again the most shocking moments came from the reporters covering the show. Below, check out the most cringe-worthy moment: • Debbie Matenopolous asking Death Cab for Cutie if they were excited when The O.C. played their songs. Their reply? "It was like, three and a half years ago, four years ago, now, so I haven't even given it a second thought for quite a while."

•Ryan Seacrest forcibly – and frantically – pulling John Mayer over for an interview, only to have to cut to a commercial break (and have Mayer call him "the Anderson Cooper of E!"

•Giuliana DePandi asking pretty much anyone with breasts (like LeAnn Rimes and Cobie Smulders) if they were using tape to keep their cleavage from breaking free.

•DePandi also asked Weird Al Yankovic how much money he made off of his hit Michael Jackson parody "Eat It," prompting CSI star Gary Dourdan to call her a gold digger.

•Finally, DePandi scored the awkward trifecta when she reminded Grammy nominee Akon that he was in prison for three years, and then asked, "Were you singing in prison?"