TV Watch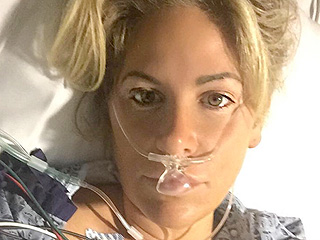 Credit: Courtesy Kim Zolciak
Fans of the Real Housewives franchise were shocked and concerned when Kim Zolciak-Biermann was hospitalized in late September after having a mini stroke.

Though the scare forced the Atlanta-based mother of six out of the competition on Dancing with the Stars, Zolciak-Biermann has been making a full recovery in recent weeks.

Of course, Zolciak-Biermann is far from the first Housewife to endure a difficult health crisis or face down a terrifying diagnosis.

In the years since the franchise first began, fans have watched and supported their favorite stars through their battles with chronic illness and scary hospital stays. And in many instances, the wives themselves have stuck by one another through all manner of horrific health struggles.
Permalink | Filed Under: Health, Real Housewives of Atlanta, The Real Housewives Of New Jersey, The Real Housewives Of Orange County, Real Housewives of Beverly Hills, The Real Housewives of..., People Picks, TV News, Amber Marchese, Camille Grammer, Cynthia Bailey, Kim Zolciak, NeNe Leakes, Yolanda Foster
NeNe Leakes isn't dancing around this subject: Rules are rules.

PEOPLE caught up with Leakes while she celebrated the Barefoot Wine Bear Garten Pride Celebration event in Atlanta on Thursday, and the reality star touched on her former Real Housewives of Atlanta costar Kim Zolciak-Biermann's recent Dancing with the Stars gig, which ended when she was eliminated after suffering from a mini stroke.
This season of Big Brother was a summer of showmances, from southern sweethearts Clay Honeycutt and Shelli Poole going steady (they only kissed once, you guys) to Liz Nolan overcoming her aversion to tuna fish-filled pony-beards and becoming Austin Matelson's new girlfriend.

But despite his best efforts and impressive scare tactics, James Huling stayed squarely in the friend zone with Meg Maley – until now.

Maley, 25, appeared on PEOPLE Now on Friday to discuss her experience as a house guest, and the conversation naturally turned to her number-one ally.
Neil Patrick Harris: 'I'm the Bad Cop' When It Comes to Parenting the Twins