TV Watch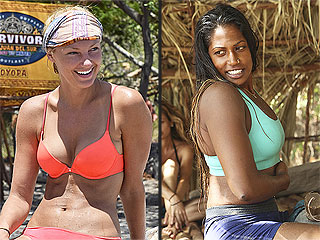 Credit: Timothy Kuratek/CBS(2); Monty Brinton
Stephen Fishbach was the runner-up on Survivor: Tocantins and has been blogging about Survivor strategy for PEOPLE since 2009. Follow him on Twitter @stephenfishbach.

"So I did what I had to, I made huge moves, I dug around for the idols to make sure nobody else had them, and I won challenges when I absolutely had to. Everything I did was strategic, nothing was out of malice, and I'm here – day 39 – because Rachel made that sacrifice." – Tyson Apostol, Winner of Survivor: Blood vs. Water

In a humdrum season, we actually have a great winner.

On Survivor's season finale Wednesday, Natalie Anderson plotted and finessed her way to a million dollars and the title of sole survivor.
One thing you can say for Nicki Minaj is that she's never boring – and that goes for her raps and her wardrobe.


Although Survivor: San Juan Del Sur was an uneven entry in the long-running reality show, the season finale had its share of blindsides and backstabbing – and, ultimately, a satisfying winner.

At the beginning of the final episode, it looked as though former Miss Michigan USA Jaclyn Schulz would be the next to go – and she would have been, had perennial CBS reality star Natalie Anderson not saved her with her immunity idol.

After Schulz won the final immunity challenge, the tribe voted out likable Louisiana firefighter Keith Nale, leaving an all-female final 3. At the final tribal council, Schulz, Anderson and Texas cheerleading coach Missy Payne answered the pointed questions of the jury.
Just in time for the holidays, Nick Lachey has returned to host The Sing-Off, which he calls "a feel-good show in a feel-good time of year."

"The great thing about The Sing-Off is that it's given such a faith to cappella music that it inspires groups out there to actually form for the show," Lachey tells PEOPLE. "[It's] great to see new groups and new talents inspired by what groups of the past have done at this point."

With a winner to be crowned at the end of the night, the two-hour special airing Wednesday at 9/8 p.m. on NBC is bound to offer great performances.
TV Watch
Get PEOPLE Everywhere
Advertisement