TV Watch
The Real Housewives of New York City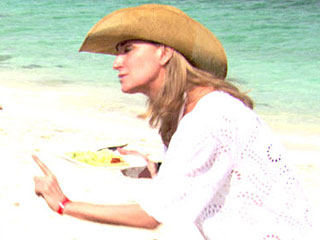 Credit: Bravo
The Real Housewives of New York City celebrated its 100th episode Tuesday night, and the centennial was appropriately filled with drama.

The girls' trip to Turks and Caicos continued with Ramona Singer pouring out her heart to Bethenny Frankel about the demise of her marriage.

"I know what lonely is," Singer told Frankel.
Chris Daughtry isn't quite convinced American Idol is really coming to an end.


With more than 30 years of hosting Jeopardy under his belt, you'd think Alex Trebek could just coast from here on out. Nope. He still goes the extra mile for fans.


On Monday's episode of the game show, one clue contained some of the lyrics to the theme from
The Fresh Prince of Bel-Air
. While Trebek could have simply read the clue, he instead did his best at re-creating
Will Smith's
version of it.
The Hindsight actress welcomed son Machai David on Tuesday, her rep confirms to PEOPLE exclusively
The Jane the Virgin star and wife Emily welcomed daughter Maiya Grace on Saturday, his rep confirms to PEOPLE
TV Watch