TV Watch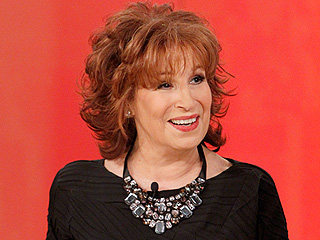 Credit: Lou Rocco/ABC/Getty
In the latest on The View casting drama, former co-host Joy Behar says she rejected an offer to return to the show, which she left after 16 seasons.

In an interview with WBAZ's Walker Vreeland on Wednesday, the 72-year-old comedian said she was approached about the possibility of returning to the ABC talk show.

"They've come to me, and we couldn't make a deal," Behar said.
Looks like there's trouble in paradise – a lot of it.

In an exclusive teaser of the new season of VH1's Couples Therapy with Dr. Jenn, former model Janice Dickinson can be seen yelling, sobbing and even turning over a chair in a fit of anger.

Dickinson and her fiancé Dr. Robert "Rocky" Gerner, who got engaged in 2012, were cast on season 6 of the reality show, which has couples with troubled relationships undergo three weeks of intense therapy with Dr. Jenn Mann.
Do the Olsen twins means business? You got it, dude.

At least, that's the case in a new clip from Lifetime's The Unauthorized Full House Story, a tell-all TV movie that delves into the alleged behind-the-scenes drama of the wildly popular '90s show Full House and its cast.
When planning a wedding, choosing the venue is usually the first and hardest decision to make. That wasn't the case for Little People, Big World's Zach Roloff, 25, and his new wife Tori, 24.

Just as his twin brother Jeremy did last September, Roloff married his bride at home on the grounds of his parents Amy and Matt Roloff's picturesque farmland.

"My parents played a huge role in setting up the farm," Zach tells PEOPLE exclusively.
Armie Hammer revealed a little more than he bargained for when he accidentally gave his hairstylist a peek at his naked body while showing her pictures of his baby girl.

The actor, who shared the story on Jimmy Kimmel Live! Tuesday, said the incident happened while he was getting his hair cut that morning.
The Bachelorette's Kaitlyn Bristowe and Shawn Booth Vow to Pay Jimmy Kimmel $1,000 If They Split Up