TV Watch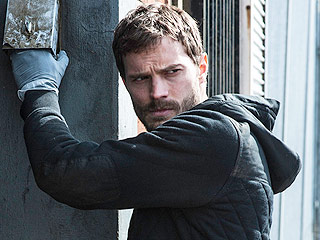 Credit: Courtesy Netflix
Jamie Dornan took getting into character to a whole new – and incredibly creepy – level.


Noah Galloway was a voracious fitness buff with an enviable six-pack before he dropped out of college to join the military after 9/11.

But a 2005 incident in Iraq would alter his life forever. Three months into his second tour of duty, Galloway, now 33, lost his left leg above his knee and his left arm above his elbow during an improvised explosive device attack. He remained unconscious in a German hospital for five days.

After returning home to Alabama, the vet says he fell into a deep depression.

"I was drinking, eating bad, spending days at the house with out leaving," Galloway told PEOPLE. "And then one day I realized I wasn't being a good father, a good person. I let myself get out of shape, and something needed to change."
Scandal's Mellie Grant – played to polished perfection by Bellamy Young – is the epitome of class.

She coats her ruthlessness in a shiny, Southern belle varnish. But, as Gladiators will see on Thursday, refinement doesn't necessarily run in the family.

In a sneak peek of this week's episode exclusive to PEOPLE, the first lady and Senate hopeful is furious that her campaign manager Elizabeth (Portia de Rossi) wants to bring her sister Harmony (Lauren Bowles) to Washington.

Sorry, half-sister.
It took less 24 hours after the news that Trevor Noah would replace Jon Stewart on the Daily Show for the new host to land himself in hot water when Twitter users called out the comedian for controversial remarks made on his feed.

Despite the drama, one of the the show's correspondents is defending Comedy Central's newest headliner.

"It's much ado about nothing," Aasif Mandvi said Tuesday during a LinkedIn Discussion Series with executive editor Dan Roth in New York City.
TV Watch
Get PEOPLE Everywhere
Advertisement