TV Watch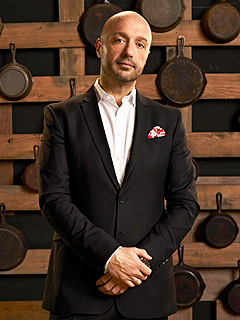 Credit: Matt Hoyle/FOX
Joe Bastianich is a restaurateur, winemaker, author and one of the judges of MasterChef. He'll be blogging each week about the show's search for the best home cooks. Follow him on Twitter @Jbastianich or visit his joebastianich.com.

Hello, MasterChef fans!

It is great to be back for another season of the world's most-watched culinary competition show! In addition to having some of our strongest contenders to date, season 4 brings some pretty amazing guests judges, including the great Paula Deen and the easy-on-the-eyes (and very restaurant savvy) Eva Longoria, to name a few ...
The Real Housewives of Orange County
Here comes the bride … and a brand new show!

Real Housewives of Orange County star Tamra Barney told PEOPLE Wednesday that she's filming a new series for Bravo with husband-to-be Eddie Judge – and it's all about their journey to the altar.

"Eddie and I are so excited to share our wedding with the viewers. There are going to be a lot of fun scenes captured. It's amazing how much we are able to do in the given time frame," says Tamra, who recently opened a gym.
The stars of the Disney Channel's Phineas and Ferb have gotten into some "Trouble" with Taylor Swift.

Using clips from the animated series, the Dr. Doof character sings to Perry the Platypus in a cleverly silly mash-up music video set to the pop star's hit, "I Knew You Were Trouble."

The video premieres Friday at 8 p.m. ET on the "Gravity Falls" episode.
Sitting down for an interview on a sunny afternoon in L.A., Meredith Phillips can't help but complain about those last 10 lbs. she'd like to lose. As a former model and, most notably, the star of The Bachelorette in 2004, she'll admit she's a little hard on herself.

"I need to get back in the gym. I should really be taking better care of myself," she says. "But I really can only focus on one thing at a time right now."

Her primary focus has been far more challenging than logging time on a treadmill. Until six months ago, Phillips, 39, was in the throes of alcoholism. Now, she's more than 150 days sober and still struggling to maintain a healthy lifestyle.
As Scarlett O'Connor on Nashville, Clare Bowen portrays the quintessential country crooner with a heart of gold, but the reality of the actress and singer's life may surprise you.

The Australian native (yes, that's right) has come to be known for her character's folksy duets with costar Sam Palladio (who plays Gunnar Scott) like "When the Right One Comes Along."

Leading in to Wednesday's finale, Bowen, 24, talks to PEOPLE about her accent, moving to the States, and what's next for the just-signed Scarlett.
TV Watch
Get PEOPLE Everywhere
Advertisement