TV Watch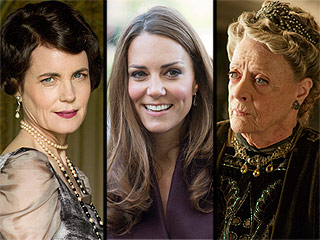 Credit: Nick Briggs/Carnival Films(2); Mark Cuthbert/UK Press/Getty
Downton Abbey has welcomed its share of fictional dignitaries. But next week it will host a most esteemed visitor for real.


Sensitive readers may want to look away.

Danny DeVito likes to show off what he calls his "troll foot" on Twitter, and Jimmy Fallon took the bait Wednesday, allowing DeVito the opportunity to pull the thing out on national television.

This may have been a mistake.
Right after he snags a bride, Chris Soules is going to go after a mirror-ball trophy.

PEOPLE has confirmed that Chris Soules will become the 12th celebrity on the 20th season of Dancing with the Stars. He is expected to partner with Witney Carson, the reigning champion.
Stephen Fishbach was the runner-up on Survivor: Tocantins and has been blogging about Survivor strategy for PEOPLE since 2009. Follow him on Twitter @stephenfishbach.

"I will do what everybody feels most comfortable doing. I don't care what that is." –Todd Herzog, Survivor: China winner

People on Survivor just want to feel safe.

Before you ever hit the beach, you've suffered months of preparation.

You've passed the grueling gauntlet of casting, where you are assessed against a dozen people who look vaguely like you.

You have trained – swum, sprinted and Crossfit WOD-ed until you had nothing left to snatch.

You have bid adieu to your work and said au revoir to your family.

So when contestants enter the game, they really want to stay there. They want safety and security.
Like the fierce Cookie Lyon she plays on Fox's hit drama Empire, Taraji P. Henson knows what it's like to start with nothing.

"People thought I was crazy," Henson, 44, tells PEOPLE of deciding to leave her lucrative job back home in Washington, D.C., to take a shot at making it big in Hollywood.

Henson had graduated from Howard University and was working as a supervisor on a five-star dining cruise when she packed up her son Marcel, now 20, and moved to California at the age of 26.

"My dad knew that acting was my calling," says Henson. "One day, he looked at me and said, 'How do you expect to catch fish on dry land?' So I moved out here with my son with $700 in our pocket."
TV Watch
Get PEOPLE Everywhere
Advertisement