TV Watch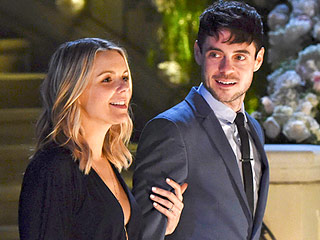 Credit: Matt Petit/ABC
The E! host is expecting her first child with fiancé Kevin Manno this summer
Kelly Ripa looks amazing for 15!

Michael Strahan honored his co-host's 15th year on ABC's talk show – both beside the Giants legend and, for a decade, Regis Philbin – with a special "Sweet 16" episode Friday. Or as Ripa, 45, put it, a a quinceañera.

With the set decorated pink and the champagne flowing, Ripa was presented with a diamond "Live" necklace and montages of her most memorable segments – plus congratulatory videos from stars like Oprah Winfrey, Judge Judy and Jimmy Kimmel, along with surprise stop-ins from Neil Patrick Harris, Anderson Cooper, Andy Cohen and Bryan Adams, who performed a medley with lyrics altered in her honor. (And yes, Ripa was indeed conceived around the "Summer of '69."
Filling a courtyard dripped in flowers and chandeliers with my ex-boyfriend and 10 of his ex-girlfriends as I proceed down a large staircase in a giant gown looking flawless and expensive is pretty much my darkest fantasy.


VIDEO: Cate Blanchett and Jimmy Fallon Have Epic Accent Battle During Hilarious Game of 'Lip Flip'