TV Watch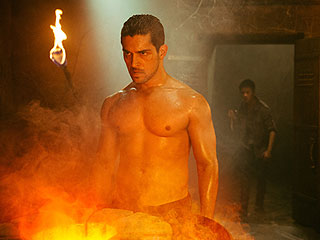 Credit: Courtesy El Rey
For the second season of From Dusk Till Dawn, Wilmer Valderrama said he wanted to create a whole new look for his villainous character Carlos Madrigal.

"I wanted him to come back more dangerous," Valderrama tells PEOPLE. "I thought doing a full-body transformation would be exciting for the character."

So, five months before filming in Austin, Valderamma began hitting the gym twice a day for early morning and evening workouts. He also stuck to a strict nutrition plan consisting of five small meals a day of protein, lots of greens and healthy carbs like yams and brown rice.

"I had to put chocolate, burgers, pizza and my ranch dressing on hold," says the That '70s Show alum, 35, who adds that the hard work was well worth it when he put on 10 lbs. of muscle.
Kourtney Kardashian proudly showed off her strong bond with sister Khloé last week; now it looks like Khloé is returning the favor amid her big sis's emotional breakup.

In the wake of yesterday's news that Kourtney, 36, and boyfriend Scott Disick have called it quits after sharing nine years and three children together, Khloé Tweeted a cryptic message about finding happiness.

"Everyone has their own journey to the pursuit of happiness," wrote Khloé, 31, on Twitter.
Like most fathers, Chrisley Knows Best's Todd Chrisley doesn't seem too happy that his teenage daughter has started dating.

In an exclusive clip from Tuesday's episode, Todd questions who daughter Savannah, 17, has been hanging out with – and particularly, why he hasn't met her "friend" yet.

"Well, you know what?" Savannah candidly explains to her dad. "Because I wasn't ready for you to meet the friend yet."

She adds about her boyfriend, country singer Blaire Hanks: "Now, I may be ready for you to meet the friend because it's not just a friend."
If the ladies from Teen Mom 2 know anything, it's how to make it work when times get tough – and that's exactly what cast member Jenelle Evans is doing.

The 23-year-old – who has publicly struggled with substance abuse, including a stint in rehab and several criminal charges – says she is finally sober and looking to the future.

"My life has changed so much since I stopped doing drugs – my whole attitude has changed," Evans tells PEOPLE. "I'm more active in my children's lives, and I want to be at every milestone and special event they have. Being there for them is more important to me than going partying or doing drugs."
She was with Scott Disick for nine years, but Kourtney Kardashian will always put her children first, and that's why she called it quits on their relationship.


TV Watch