TV Watch
After months of teasing – and a recently announced title – we finally have our first look at the Walking Dead companion series, Fear the Walking Dead.

As we've come to expect from the franchise, the teaser – which first aired during the finale of TWD – reveals very little.
For a community trying to build a civilization, the people of Alexandria have always been myopic. Unable to truly look at the bigger picture or to focus on more than one thing at a time, their nearsightedness cost them some of their own people while the wolves circled ever closer.

In the season finale of The Walking Dead, "Conquer," Rick (Andrew Lincoln) managed, once again, to convince people that his way is the best way. Also, Father Gabriel (Seth Gilliam) was the worst, yet again, and one of our main heroes was nearly killed. An old friend finally returned, and we met the villains – the wolves – who will inevitably be specifically targeting Alexandria next season.
Viewers may have witnessed a first on Sunday's The Real Housewives of Atlanta: A girls trip with little drama.

The wives had a lot of baggage to deal with (both of the personal and travel variety) during their trip to the Philippines, but they did leave something behind: NeNe Leakes.

Leakes stayed back to meet with the creative director of Cinderella, who gave her a taste of her own shade when her reading with him was, well, not nearly as magical as a glass slipper.

"I want to bring it," Leakes said, suggesting she wanted to try out "two accents," an idea that did not float well.

"You better bring it," he said. "Your name is on the marquee."
From Bel-Air to BET – Will Smith and his former costar Tatyana Ali were reunited Saturday at the 2015 Black Girls Rock event.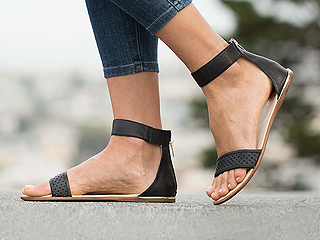 Fall in love with the ant-flip-flops
TV Watch
Get PEOPLE Everywhere
Advertisement