TV Watch
Keeping Up with the Kardashians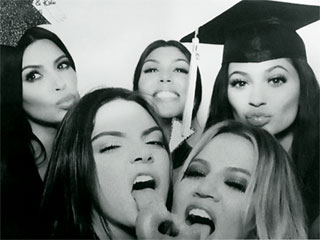 Credit: Courtesy of Kim Kardashian
This week's episode of Keeping Up with the Kardashians picked up right where it left off: smack in the middle of Kourtney Kardashian and Scott Disick's post-breakup drama.
"She's such a sweetheart and steals our hearts every day," she tells PEOPLE exclusively of daughter Harlow
The HGTV star has a "bad gag reflex," his wife Christina tells PEOPLE
She captured gold at the 1992 Winter Olympics in Albertville, France, but famed figure skater Kristi Yamaguchi's greatest accomplishment may be the life she created after her competitive career.

Today, the 44-year-old resides in Alamo, California, with her husband of 15 years, former pro hockey player Bret Hedican (now a radio analyst for the San Jose Sharks), and their two daughters, Keara, 12, and Emma, 10.

"I'm a Cancer, so I'm very much a homebody," Yamaguchi tells PEOPLE. "I love doing mom things. It's especially exciting with Christmas coming up – we'll be baking cookies!"
"This house has something in it."

Those words may sound like something from a horror film, but that's exactly what Khloé Kardashian is told by clairvoyant Tyler Henry on Sunday's episode of Keeping Up with the Kardashians.

In a preview exclusive to PEOPLE, Henry – the 20-year-old star of the upcoming E! reality show Hollywood Medium – tells Khloé and her sisters Kim and Kourtney that he got an "odd feeling" the minute he entered Khloé's home.
VIDEO: Cate Blanchett and Jimmy Fallon Have Epic Accent Battle During Hilarious Game of 'Lip Flip'