TV Watch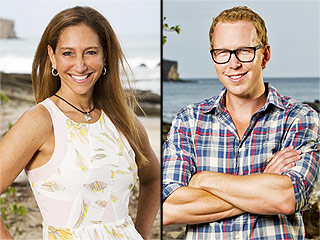 Credit: Monty Brinton/CBS /Landov (3)
Stephen Fishbach was the runner-up on Survivor: Tocantins and has been blogging about Survivor for PEOPLE since 2009. Follow him on Twitter @stephenfishbach.

"I really believe that when you identify a threat, you take them out as soon as possible. You don't wait." –Tom Westman, Survivor: Heroes vs. Villains


A Humble Appeal
Before I start this week's blog, I want to take a moment for a personal note.
I've been blogging about
Survivor
strategy since 2009. I've written more than 150 blogs analyzing every boot and blindside from the past 11 seasons. I have been truly touched and humbled that so many of you come back every week to see what I have to say and to share your thoughts in the comments.
CBS is offering me a chance to take what I've learned from writing this blog and apply it to actually playing
Survivor
. They've launched a
Second Chance season
. The cast will be determined entirely by fan votes.
If you could take a brief moment to
head over to CBS
and vote for me, I would be honored and grateful. I'd like to try to win some Fishies, not just award them.
And I will do my best to do my readers proud.
Now let the analysis begin!
It's goodbye for The Mindy Project, and the show's loyal fans are not taking the news well.


Jackie Cole may only be 19 years old, but she's already enough of a diva to go by just one name – Jax.

The American Idol contestant has been a front-runner since early on in season 14, and Wednesday night she proved she deserves to be the only girl left in the competition.
In its 30 seasons, Survivor has worked hard to keep things fresh.

Each season has included twists and turns, keeping contestants – and viewers – on their toes. "Sometimes, people love what we do," host Jeff Probst told PEOPLE in February. "Sometimes, they just want to throw things at us."

For the show's 31st season, producers have come up with one of the show's biggest twists: letting fans of the show choose the 20 castaways who will compete.
With his charity campaign "Always Keep Fighting," Supernatural star Jared Padalecki raised ample funds for To Write Love on Her Arms, a non-profit organization that helps those struggling with depression, addiction and suicidal ideation. However, he was most keenly interested in destigmatizing mental illness following the suicide of a close friend.

Thanks to the help of the Supernatural fandom, which continues to thrive even as the show gears up for its 10th season finale, the T-shirt campaign was a rousing success.

Now, Padalecki and costar Jensen Ackles have joined forces. The two have set up a joint, donor-advised fund – "a junior version of a foundation," Ackles tells PEOPLE – to support a variety of like causes that, chiefly, work to help those suffering from mental illness and mood disorders, among other causes. In the future, the pair may even decide to partner up with costar Misha Collins' foundation, Random Acts, but Ackles tells PEOPLE that they're just getting their feet wet with their "junior foundation" for now.

In a chat with PEOPLE, Ackles, 37, reveals his personal reasons for joining the charitable fray and how he helped Padalecki when he "went down a dark road" while filming the third season of Supernatural. Ackles also shares that he, too, has dealt with these issues and saysit's not only important to have somebody in your life to listen to you when things get dark, but also to have the courage to reach out and ask for help.

These issues are also germane to Ackles' current plotline on Supernatural as his character, Dean, fights against the Mark of Cain which, without a cure, may overtake him completely. (Yes, don't worry – we also chatted about what's next for the Winchester brothers.)
TV Watch
Get PEOPLE Everywhere
Advertisement