TV Watch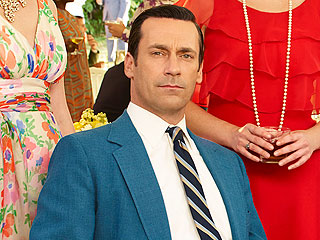 Credit: Frank Ockenfels/AMC
While Mad Men fans won't know for sure until Sunday's premiere, it's been widely speculated online that the second half of the show's final season won't pick up where the first half left off. In fact, it may skip ahead … to the 1970s.



It may seem hard to imagine Mad Men in any time period other than the '60s, but how else to explain those outfits? Or the trailer's use of Diana Ross's "Love Hangover," which debuted in 1976? And most importantly, what will happen to our beloved but broken characters in this new decade?

We let our imaginations run wild.
You can always tell when the Survivor editors think something is funny. They play corny music in the background and slap a hashtag on the screen.

Last week was no different. During the sixth episode of Survivor: Worlds Apart, a bromance bloomed between contestants Joaquin Souberbielle and Rodney Lavoie. ("Bromance" isn't our word; CBS helpfully hashtagged it several times throughout the show.)

There other tribe members, sensing the close bond between Souberbielle and Lavoie, did what any intelligent tribe would do: they got together to vote out Souberbielle, a 27-year-old marketing director from Valley Stream, New York.

Speaking with PEOPLE, Souberbielle talks about what he did wrong – and dishes on that infamous bromance.
Sure Bella Thorne has her share of glamorous moments these days, but at heart, she's a down-with-nature kind of girl.


The Real Housewives of New York City
With just a week left until Bethenny Frankel returns to The Real Housewives of New York City, the faces may have changed, but fans are bound to wonder whether the feuds – on and off camera – remain the same.

Frankel's former RHONY costar Jill Zarin took to the radio waves last week to set the record straight about her relationship with Frankel, 44, saying that she has no hard feelings toward her old pal.

"There is no feud between myself and Bethenny or myself and anybody that I know of unless they come forth and tell me there's a feud," Zarin – who left RHONY in 2011 – told her longtime friend, crisis manager Wendy Feldman, on the March 25 debut of her new Dash Radio talk show The Hollywood Fixer (airing Wednesdays, 1-3 p.m. PT).

When Zarin, 58, and her husband, Bobby, ran into Frankel last summer, Zarin said the three of them "were so civil. She had a private conversation with [my daughter] Ally. She danced with Bobby."
Robert Durst, who remains in a Louisiana jail charged with the execution-style murder of a close friend and is suspected in the disappearances of five others, "is in relatively good spirits," his attorney, Dick DeGuerin, tells PEOPLE. "He is not suicidal."


TV Watch
Get PEOPLE Everywhere
Advertisement