TV Watch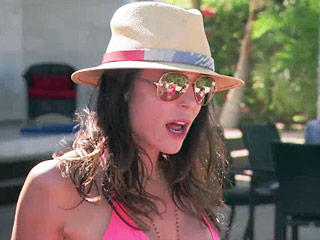 Credit: Bravo
Is Bethenny Frankel a know-it-all?


A little rain and a messy breakup certainly don't seem to be getting Kourtney Kardashian down.

The Keeping Up with the Kardashians star made her first appearance on social media since splitting with Scott Disick in the midst of cheating allegations against her longtime boyfriend and the father of her three children.

On Thursday afternoon, Kardashian posted an Instagram shot of herself getting physical in a drizzly "workout sesh" with sisters Khloé, 31, and Kim, 34.
Hours after a controversial photo appeared on Paula Deen's Twitter account, the TV chef has fired her social media manager and apologized to her fans.

In the photo, Deen and her son Bobby were dressed as Lucille Ball and Desi Arnaz. Bobby, 45, was wearing skin-darkening makeup.

After a vitriolic Twitter backlash, the photo was deleted.

"Paula Deen's Social Media Manager posted a picture this morning of Paula and Bobby Deen dressed in costume as Lucy and Ricky, from I Love Lucy," her reps said in a statement to PEOPLE. "This photograph is from a Halloween episode of Paula's Best Dishes that aired in 2011."
America got to know Cassidy Gifford because her mom Kathie Lee Gifford regaled Live! With Regis and Kathie Lee fans with anecdotes until she left the show in 2000, but it turns out we could have been keeping up with the Giffords this whole time!

"When I was younger, people kept making offers for different reality shows and stuff," Cassidy – who makes her debut in a leading role in summer horror film The Gallows (out Friday) – says in the new issue of PEOPLE.

In fact, E! producers initially approached Kathie Lee, now 61, for a family-style reality series, but the Today personality actually recommended they pitch the show to her longtime pal Kris Jenner, thus making her responsible for a little show called Keeping Up With the Kardashians.

Had Kathie Lee said yes, what would a Gifford family TV show look like?
TV Watch