TV Watch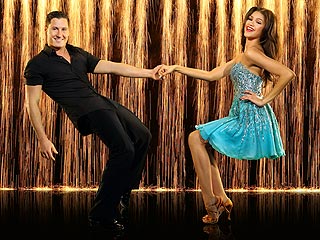 Credit: Craig Sjodin/ABC
Zendaya's elbow went flying, and Val Chmerkovskiy's night was suddenly in jeopardy.

But Chmerkovskiy, 27, being the pro that he is, soldiered on after the accident in dress rehearsal for Monday's Dancing with the Stars left him with a deep gash over his right eye that almost sent him straight to the hospital before the first night of the season 16 finale.

"That's what I was worried about," he told PEOPLE after the show. "It's going to keep pouring, pouring, pouring, and I'm going to need stitches. If I was going to have to go get stitches, then I wouldn't have time to make it back. So thank God the blood subsided."

Chmerkovskiy did hurry off after the interview to seek medical care – brother Maks took him for 14 stitches! – but not before he and Zendaya earned perfect scores on all of their dances.
It wasn't just teary-eyed viewers who were left speechless after Kellie Pickler's flawless, dramatic freestyle performance with Derek Hough on Monday night's Dancing with the Stars finals. The country starlet herself was also at a loss for words.

"I just feel like I let all of my walls down and I just got out there and just did my little dance," Pickler, 26, told PEOPLE backstage after her performance. "I just let myself go. There was a freedom, in a sense, that I felt. I really don't even know how to put it into words. Regardless of what happens tomorrow, I feel like I've accomplished so much being here."

Hough, 28, who admitted he and Pickler struggled with the routine during rehearsals, said, "We were super, super nervous, but right before we went on there, I kind of gave Kellie a little pep talk. I was just like, 'This is your dance. There is nobody here that can do this dance but you. This is what you're meant to do.' "
Competition tightened for the top 10 on Monday's episode of The Voice, with star potential growing as singers showed off deeper range and greater confidence in their performances.

As rescuers searched for survivors of Monday afternoon's Oklahoma tornadoes, Voice host Carson Daly offered a shout out of support to all affected by the tragedy.

Oklahoma native Blake Shelton said his family is safe but that the violent, massive storm made it hard to focus on the competition.

"They are going through hell right now," Shelton said. "It's bad news. [But] I've got a job to do and the team is counting on me."
The final four couples performed three routines each on Monday's Dancing with the Stars. By the end of the night, one pair were in the lead with a perfect score for all three dances.

However, the episode kicked off with an imperfect – though energetic – jive.

Karina Smirnoff and partner Jacoby Jones – who judge Carrie Ann Inaba previously called "the number one entertainer of season 16" – were told by judge Len Goodman that they showed improvement, but that "you got excited at times and lost it."
There's going to be some girl power on The X Factor this fall!

Kelly Rowland and pop sensation Paulina Rubio will join Demi Lovato and Simon Cowell at the judges table when the show returns, FOX announced Monday.

"It's taken more than a decade, but I'm delighted to finally be on a panel with three girls (I think!)," Cowell said in a statement. "Paulina and Kelly both have great taste and massive experience in the music industry and together with Demi, this is going to be a fun panel. It just feels like the time to do something different."

Rowland, 32, was a judge on the U.K. version of the show. "I am very excited to be reuniting with Simon Cowell and The X Factor family," said Rowland in a statement. "It feels great to be able to take this journey here at home in the States!"
TV Watch
Get PEOPLE Everywhere
Advertisement