TV Watch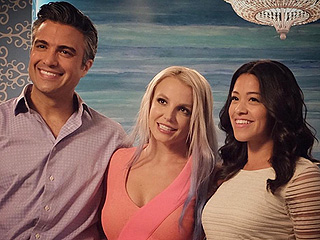 Credit: Courtesy Jaime Camil
It's finally happening!


"It's always a conversation we have," she tells PEOPLE of giving son Duke a sibling
Maybe time really does heal all.


Shaquille O'Neal probably just wants to stick to using his cell phone from now on.

The 7'1" former basketball MVP charmingly battled back claustrophobia as he was pitted against Hugh Jackman in a competitive game of Phone Booth on The Tonight Show Starring Jimmy Fallon Monday.

Phone Booth's rules are simple: Step into your phone booth, answer it when it rings and try to correctly answer the trivia question Fallon delivers you. A right answer earns cheers and another person added to your opponent's booth, while a wrong answer forces another person into your booth.
Neil Patrick Harris: 'I'm the Bad Cop' When It Comes to Parenting the Twins