TV Watch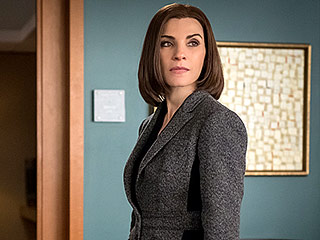 Credit: Jeff Neumann/CBS
The Good Wife may be ending, but it's not because of any bad blood.

During a Monday press conference call, co-creators and executive producers Robert and Michelle King opened up about the recent news that the show will conclude after nine episodes – which CBS announced with an ad during the Super Bowl on Sunday.

"This is not a show that is ending because anybody hates each other. We're ending the show because really it is a show that should be ending," Robert told reporters, explaining that even after seven years working together, the cast and crew are "still very happy with each other" – in fact, they "couldn't be happier."
Gitchi gitchi ya ya da da, indeed!


If you've ever fantasized about James Corden wearing nothing but a whipped cream bikini, you're in luck.

For the Late Late Show's post-Super Bowl episode Sunday night, the host got actors Zac Efron, Anna Kendrick and Adam DeVine to help him recreate the best cinematic tributes to athleticism in a skit called "History of Sports Movies in 7 Minutes" – including Ali Larter's sweet seduction scene from 1999's Varsity Blues.

"Uh ... we cut this bit," Efron, 28, said as Corden, 37, sauntered in front of the green screen in a blonde wig (and not much else).
VIDEO: Cate Blanchett and Jimmy Fallon Have Epic Accent Battle During Hilarious Game of 'Lip Flip'