TV Watch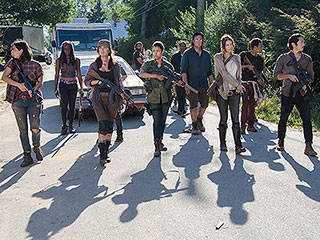 Credit: Gene Page/AMC
In "Remember," Glenn (Steven Yeun) said it best when he told the survivors' de facto new leader: "We need to make this work. ... We were almost out there too long."

It wasn't new information, of course, but that reality was present in every single one of Team Rick's interactions with the denizens of the Alexandria Safe-Zone. Led by Deanna Monroe (Tovah Feldshuh), their new home was almost too idyllic for any of them to trust.

"People out there are always looking for an angle," Rick (Andrew Lincoln) told Deanna. "Looking to play on your weakness. They measure you by what they can take from you." Indeed, on this week's episode of The Walking Dead, we were reminded that Team Rick is still very much the "people out there."
It was a Glee-ful night in Hollywood on Saturday night as many of the hit Fox series cast members such as Lea Michele, Chris Colfer and Chord Overstreet along with the series creator Ryan Murphy attended the Family Equality Council Dinner. 


Is it too soon to joke about ISIS?


TV Watch
Get PEOPLE Everywhere
Advertisement