TV Watch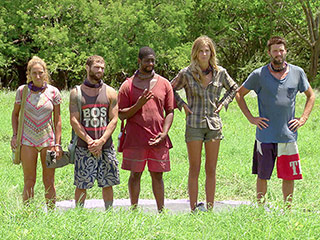 Credit: CBS
Sometimes, people play a good game of Survivor, but lose because of bad luck.


Mary-Kate and Ashley Olsen will not be joining the cast of Netflix's Full House reboot Fuller House, according to The Hollywood Reporter.

While much of the cast is set to return, the Olsen twins' participation has long been in question. Last month, the 28-year-old fashion powerhouses told Women's Wear Daily that they had no idea the show was happening until John Stamos broke the news.

"We just found out about it today," Mary-Kate told WWD. "I guess we're going to talk to the creators and see what's happening."
Nice guys don't always finish last.

That was ultimately the message of Survivor: Worlds Apart. The arguments were ugly and the characters weren't always lovable, but in the end, it was good guy Mike Holloway who walked away with $1 million.

It wasn't easy. After finding himself on the outs, Holloway only made it to the end by winning five immunity challenges and playing a hidden immunity idol.

Holloway, a 38-year-old oil driller from Texas, tells PEOPLE how he won the game – and what he'll do differently if he ever plays again.
[YOUTUBE "FpoChDen9lc"]
Secrets, horror, pledges getting hazed in their underwear and, oh, Nick Jonas – an inside look at Fox's new series gives several reasons why Scream Queens is poised to be appointment television.

"These girls are kickass," says series co-creator Ryan Murphy in the featurette, which was released Friday. "They're not waiting for a boy to come in and rescue them, they're the one's doing the rescuing."
Court papers from Sofia Vergara and Nick Loeb's lawsuit over frozen embryos show just how messy their fight has become – with the businessman accusing the Modern Family star of physical and emotional abuse.


TV Watch
Get PEOPLE Everywhere
Advertisement