TV Watch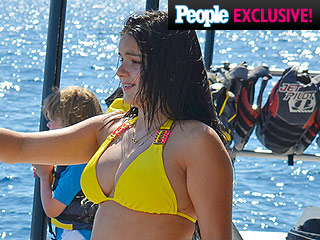 Credit: AKM-GSI
Ariel Winter has officially kicked off her Fourth of July celebrations.

On a family vacation in Maui, the Modern Family actress was spotted jet-skiing with her boyfriend, Laurent Claude Gaudette.

As she raced through the crystal-clear waters – both as driver and holding tight around Laurent's chest – 17-year-old Ariel was sunshine personified in a yellow bikini with a huge smile on her face.
These Disney Channel starlets have got each other's back.


About a month ago, Leonard Nimoy's son Adam launched a Kickstarter to raise funds for a documentary about his father called For the Love of Spock. And fans showed the love: With less than a day to spare, the project met and surpassed its $600,000 goal by more than $60,000, Variety reports.


Here's something to chat about over hot dogs and fireworks this holiday weekend – the official trailer for Wet Hot American Summer: First Day of Camp is here, and it's a feast of nostalgic (and not-so-clean) fun.

The cast alone is worth celebrating. In addition to Wet Hot's original players (Amy Poehler, Bradley Cooper, Paul Rudd, Janeane Garofalo, Michael Ian Black, Joe Lo Truglio, Molly Shannon, Elizabeth Banks, and director David Wain in an on-camera role), newcomers Kristen Wiig, Jordan Peele, H. Jon Benjamin, Jason Schwartzman, John Slattery, Michael Cera, "Weird Al" Yankovic and Jon Hamm signed on for the prequel sequel, upping the wackiness exponentially.

Among other things, the Netflix original series promises the characters from the 2001 film are younger and hotter (or, you know, 14 years older and often wearing terrible wigs). Here are some of the highlights of the nutty trailer:
Eli Roth might be best known as the man behind the Hostel horror franchise, but the director has a romance in mind for his next project, and the stars are ... sharks?

Roth's love for the kings of the ocean shines through in an exclusive new trailer he created to accompany his upcoming gig hosting Discovery's late-night talk show Shark After Dark, which airs during the network's annual Shark Week TV event.

"I've always been a huge fan of Shark Week," Roth, 43, tells PEOPLE. "When I was in New York City after college, there was a phone booth with the most incredible poster of a great white from Shark Week. I stole it and hung it my apartment because it was the coolest poster I had ever seen."
TV Watch