TV Watch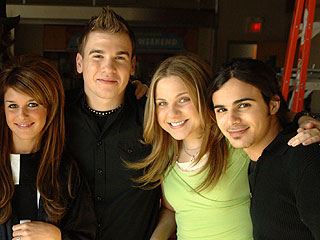 Credit: George Pimentel/Wireimage
Whatever it takes, they know they can make it through.

Degrassi stars Shane Kippel, Lauren Collins, Jake Epstein and Adam Ruggiero reunited Monday while shooting promos for the show, which got canceled earlier this month after 14 years on the air – but is coming back with 20 new episodes in 2016 thanks to the powers that be at Netflix.

Still, every fan of the Canadian tween/teen drama knows that the show really hit its stride in the Next Generation years, with Kippel's slacker Spinner, Collins' queen bee Paige, Epstein's bipolar rocker Craig and Ruggiero's proudly out Marco ruling the hallways.
As arguably the biggest star of Bravo's Real Housewives franchise, NeNe Leakes' departure from Real Housewives of Atlanta in advance of its 8th season has been a bitter pill to swallow for her fans.

But how did her castmates, who she told PEOPLE "will be happy" now that they have an "opportunity to shine" with her gone, react?

Kenya Moore was the first of the RHOA ladies to respond on social media to Leakes' departure. When asked by a fan if she was glad to hear the news, Moore answered with three nail-painting emojis. (As any emoji scholar knows, the nail-painting emoji is the shadiest of the emojis, second only to the tea emoji.)


June 30, 2015
Though she's moving on to bigger things, this moment is bittersweet for Leakes, too. The 48-year-old reality star took to
Instagram
on Monday night to thank her fans directly for their support over the years and to express how difficult the choice was for her to make.
My how time flies!

On last week's Kate Plus 8, Kate Gosselin marked her big 4-0, now she's turning her attention toward the sextuplets as they celebrate their 11th birthday. (Yes, you read that right: Alexis, Aaden, Leah, Colin, Hannah and Joel are 11 – and we're all very, very old.)

In an exclusive sneak peek at Tuesday's episode Kate says one of the benefits of age is that she doesn't sweat the small stuff anymore: "I am relaxing, chilling out. And I can tell that about myself. I kind of laugh at myself," she says.

"Things that used to really send me over the edge, now I'm just like, 'Hey, whatever.' I just can't be spending my energy on the meltdown of the century every time something little happens."
Jimmy Kimmel likes to kid around.

Days after the Supreme Court legalized gay marriage, Jimmy Kimmel Live put a lighthearted spin on the subject by asking children for their opinions.

In the clip, the kids come across as open-minded. One girl (who plans to tie the knot at age 30) suggests that while "some kids" may have a hard time wrapping their heads around gay marriage, she believes that anybody should be able to wed "if you're old enough."

A boy also chimes in with his support for same-sex unions, saying, "If they want to, they should be able to." But odds are slim he will walk down the aisle anytime soon. His disinterest in marrying stems from frugality, he explains: "When you get married, the other person is entitled to any money the other person has."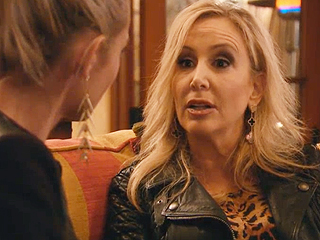 The Real Housewives of Orange County's whine tour of Napa continued Monday night, with Shannon Beador and Meghan King Edmonds battling over – of all things – charity.

"You can't insinuate I'm not charitable," said Beador, who upset the new Housewife when she abruptly ended a call and didn't return a text from Edmonds asking questions about a charity event she was hosting. "Who do you think you are, Miss 30-Year-Old?"

"She thinks I'm trying to paint her as a bad person," said Edmonds, who then apologized to Beador. "I'm really sorry … I feel awful."

"I felt completely ambushed," replied Beador, upset anew. "I bend over backwards for my friends."
TV Watch