TV Watch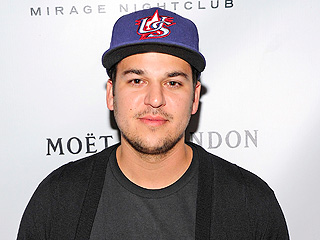 Credit: Steven Lawton/WireImage
Rob Kardashian may not have any love for sister Kim on Instagram, but it turns out he's certainly a fan of Scott Disick.

Kardashian, whose recent social media activity could be – at best – described as sporadic and mercurial, paid homage to the father of sister Kourtney's three children with a Keeping Up with the Kardashians screengrab – the E! reality series from which he's been noticeably absent for some time.

"Legend lol," Kardashian, 28, captioned a photo of Disick, 31, adding, "I just need money for a helicopter."
Catherine Lowe is pregnant!

The Bachelor alum announced on Instagram on Wednesday that she's "17 weeks" along.

In a surprising turn, PEOPLE can confirm that the baby does not belong to her husband, Sean.

"Strangely enough, [the father] is Andy Dick," says Lowe's rep. "They met at Dancing with the Stars and have kept their love alive in secret but now the time has come to reveal that they are all one big happy, mixed family."
Jamie Dornan took getting into character to a whole new – and incredibly creepy – level.


Noah Galloway was a voracious fitness buff with an enviable six-pack before he dropped out of college to join the military after 9/11.

But a 2005 incident in Iraq would alter his life forever. Three months into his second tour of duty, Galloway, now 33, lost his left leg above his knee and his left arm above his elbow during an improvised explosive device attack. He remained unconscious in a German hospital for five days.

After returning home to Alabama, the vet says he fell into a deep depression.

"I was drinking, eating bad, spending days at the house with out leaving," Galloway told PEOPLE. "And then one day I realized I wasn't being a good father, a good person. I let myself get out of shape, and something needed to change."
TV Watch
Get PEOPLE Everywhere
Advertisement