TV Watch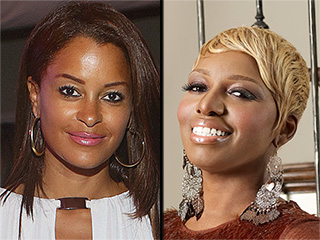 Credit: Getty Images; Bravo
Despite reports that she's been booted from Real Housewives of Atlanta, Claudia Jordan maintains her future with the Bravo show is still up in the air.

"No one called and said, 'Hey, it's a wrap.' It didn't happen," Jordan told PEOPLE Saturday after her Essence Festival Empowerment panel in New Orleans.
She may be getting Hot & Bothered in her upcoming NBC show, but Eva Longoria has a cool head when it comes to her career goals.

"I want to be the female George Clooney," Longoria, 40, says in the August issue of InStyle. "He directs, produces and stars. I want to be in charge of the final product."

The Desperate Housewives alum and self-proclaimed "control freak" also wants to clear up a misconception about her rise to fame: "Everyone goes, 'Oh, she's an actor–turned–director,' and I'm like, 'No, I was always a director and a producer who happened to become an actor.' "
Sorry Ezra! Pretty Little Liars star Lucy Hale is making waves with another man.

The actress, 26, and boyfriend Anthony Kalabretta were all smiles as they enjoyed some fun in the sun in Maui on Thursday. The new couple was spotted showing some sweet PDA in the tropical destination, where they're on vacation with several friends – including Hale's BFF Anne Breiter.

As the group did some sightseeing on a boat tour, Hale opted for Triangl's blue, white and black structured Brigitte bikini, paired with a straw hat.
Hartnett and Tamsin Egerton met on the set of The Lovers in 2011
Maybe leave the stripping to the pros, Conan O'Brien.

In a skit for his talk show Thursday, O'Brien pretended to crash a girls' night out that his Magic Mike-obsessed female staffers had organized. And he regaled them with some shimmying, hip-thrusting, not-very-sexy-at-all stripped moves.

The look on their faces says it all. It's clear Conan hasn't learned much from Joe Manganiello and the rest of the Magic Mike gang.
TV Watch