TV Watch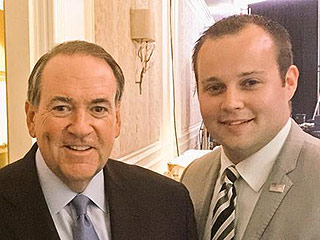 Credit: Courtesy Josh Duggar
After Josh Duggar addressed accusations that he molested five underage girls as a teen, 2016 Republican presidential candidate Mike Huckabee has spoken out in support of his longtime friends the Duggars.


New York Governor Andrew Cuomo has been a dedicated boyfriend in the weeks following longtime love Sandra Lee's breast cancer diagnosis and subsequent double mastectomy. Cuomo is reportedly spending his nights at the hospital where Lee is recovering from her Tuesday surgery, sleeping by her side.


Netflix has just proved that it's never too early to start preparing for the holiday season.

The streaming service announced Friday that it's picking up A Very Murray Christmas, a special starring Bill Murray and written and directed by Sofia Coppola.

Paying homage to classic variety shows, the special follows Murray playing himself as he worries that no one will show up for his TV show thanks to a massive snowstorm in New York City.
Permalink | Filed Under: People PicksNetflix, Christmas, TV News, Amy Poehler, Bill Murray, Chris Rock, Jason Schwartzman, Michael Cera, Miley Cyrus, Rashida Jones, Sofia Coppola
Since 2012, Kelly Rutherford's two children have been living with their father, Daniel Giersch, in Europe. The exes technically share custody, according to legal papers, yet she flies back and forth for visits based on a court-mandated parenting plan.


TV Watch
Get PEOPLE Everywhere
Advertisement