TV Watch
Ellen DeGeneres has one explanation for the dress that had the Internet erupting into mayhem last week: "The dress is an optical illusion created by the devil."

Finally, somebody said it.

For what it's worth, the talk show host sees white and gold: "I know there are people out there who see blue and black – and those people are crazy."

Given all the confusion the dress has caused, DeGeneres claims that this is the reason why she doesn't wear dresses.
Apparently, The Daily Show was the only thing keeping Jon Stewart stable.

Now that he's retiring, he seems to have lost his mind a little bit.
Goodbye, Sue Sylvester. Hello ... angel?

Glee is not over yet, but Jane Lynch has already booked her next role.

The 54-year-old actress has been cast as a brassy and larger-than-life guardian angel named Amy in Angel from Hell, a new CBS comedy pilot in the works for fall 2015.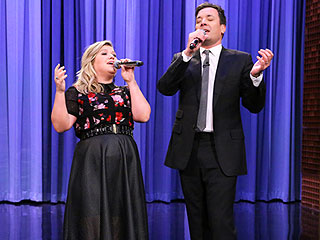 With as auspicious a guest as Kelly Clarkson, you know Jimmy Fallon was going to pull out all the stops. And he did, dueting with Clarkson on an extensive medley that contained pretty much the entire history of pop music.
E! may not have to look very far for Kelly Osbourne's replacement.

PEOPLE has confirmed that Khloé Kardashian is interested in joining Fashion Police now that Osbourne has left the show.
TV Watch
Get PEOPLE Everywhere
Advertisement