TV Watch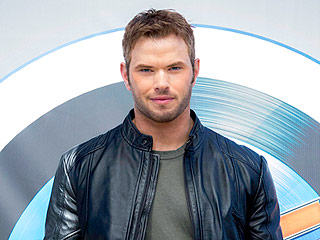 Credit: FOX
Kellan Lutz found fame as Twilight's brawny badass Emmett Cullen and, while he appreciates his superfans, he warns them not to expect more of the same when it comes to his new hosting gig on Fox's reality competition Bullseye.

"Emmett wasn't the sharpest tool in the shed, he was the protector of the family," Lutz says of jacked-up vampire Emmett. "I do a lot of roles with my shirt off, so a lot of people see me as a dim-witted beefhead. I can play those roles, I'm glad it's believable – but I have the brains."

Lutz, 30, says his mind for science was one of many aspects of his personality that drew him to Bullseye, a series from the designers and crews of Wipeout and Fear Factor that puts eight thrill-seekers through outrageous, extreme and dizzying stunts for a $50,000 prize.
The famously conservative Duggars seemed to be models of wholesome family life, but son Josh was hiding a dark past: He allegedly molested five young girls as a teen. Subscribe now for an inside look at the Duggars' dark family secrets, only in PEOPLE.


In the new CBS show, The Briefcase, two hard working American families are given a briefcase containing $101,000 and are told they can keep all the money or give it to the other family in need.

On the show's premiere episode Wednesday night, the Bergin and the Bronson families might just surprise everyone with their decisions.
Amy Schumer has a theory about the inherent inequality of women in show business: "I think people hate women."

In a roundtable of comedic actresses assembled for The Hollywood Reporter's latest issue, the Inside Amy Schumer creator and star adds, "I don't think they want to hear a woman talk for too long. A lot of people project their mom yelling a them."

Schumer continues, "My [career] has been about tricking people into listening. I'm not saying all men hate women, but there's such an aggression."

For the magazine's June 5 issue, THR sat down with Schumer, Lena Dunham, Unbreakable Kimmy Schmidt's Ellie Kemper, Jane the Virgin's Gina Rodriguez, Black-ish's Tracee Ellis Ross and Saturday Night Live's Kate McKinnon to discuss the struggles of being a woman in entertainment and the sexism they've encountered throughout their careers.
TV Watch
Get PEOPLE Everywhere
Advertisement