TV Watch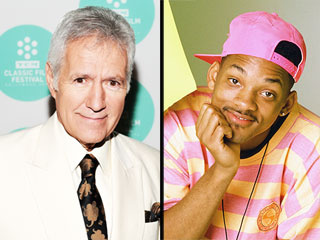 Credit: Getty (2)
With more than 30 years of hosting Jeopardy under his belt, you'd think Alex Trebek could just coast from here on out. Nope. He still goes the extra mile for fans.


On Monday's episode of the game show, one clue contained some of the lyrics to the theme from
The Fresh Prince of Bel-Air
. While Trebek could have simply read the clue, he instead did his best at re-creating
Will Smith's
version of it.
The Hindsight actress welcomed son Machai David on Tuesday, her rep confirms to PEOPLE exclusively
The Jane the Virgin star and wife Emily welcomed daughter Maiya Grace on Saturday, his rep confirms to PEOPLE
Amy Schumer's career has never been hotter: Her skits on Inside Amy Schumer almost always go viral, her first movie, Trainwreck, is already getting rave early reviews and she totally stands a chance as the next Bachelorette.

So fans were a little disappointed when they learned earlier this month that the comedian was offered the job of succeeding Jon Stewart as host of The Daily Show and turned it down. (Trevor Noah got the gig.)

Still, Schumer,34, stands by her decision.
Betty White has combined two of her passions – acting and animal advocacy – in her latest project, and it's basically the cutest thing you'll see this week.

In a clip for Discovery Family's upcoming "Pawgust" campaign, White plays with a gaggle of pooches and makes paw puns (see: "paw-some," "paws-itively paw-dorable," "raise the woof").
TV Watch