TV Watch
The Real Housewives of New York City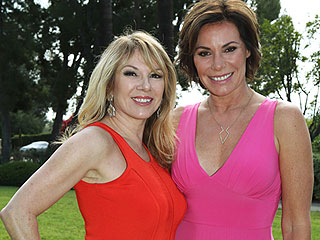 Credit: Evans Vestal Ward/NBC/NBCU Photo Bank/Getty
There's no hard feelings between these Housewives.

After Bethenny Frankel revealed that her Real Housewives of New York City costar LuAnn de Lesseps's new fiancée once dated Ramona Singer, the pinot grigio connoisseur confirmed the report – but denied any behind-the-scenes drama.

"Yes, I did date him, but we just didn't have any chemistry. I do think he's a nice guy," Singer, 59, told E! News on Monday. "Now that I'm single again, I'm realizing just how small the dating pool is and how funny it is that Luann and I overlapped."
Can we get a fist pump for DJ Pauly D and Aubrey O'Day?

The two have been dating for the past few months, O'Day recently confirmed to E! News.

Funnily enough, the Jersey Shore star, 35, and O'Day, 31, met while filming Famously Single, an upcoming E! relationship rehab show.
When Scandal returns Thursday, Olitz is over – and so is our gladiator-in-chief's reign in the White House.

In a sneak peek exclusive to PEOPLE, Olivia (Kerry Washington) is reunited with her devious dad Eli aka Rowan aka Pape Pope (Joe Morton) is what is a truly bizarre case of season 2 deja vu. They sit down for dinner like he didn't run a shadowy government organization, assassinate the president's son and basically order a PTSD-plagued operative to fall in love with her. The red wine is flowing, and everything's nice and cordial until women at a nearby table fan-girl over her, snapping a not-so surreptitious photo and mouthing, "We love you!"

"Celebrity," he says, amused. "Has your newfound notoriety been good for business?"
"It's a wonderful thing, but get it out. Let's get on with our lives . There's things to do, people to see," Baccarin said of her pregnancy.
Khloé Kardashian and James Harden have called it quits, PEOPLE has confirmed.

The reality star called off her relationship with the Houston Rockets player, a source tells PEOPLE.
VIDEO: Cate Blanchett and Jimmy Fallon Have Epic Accent Battle During Hilarious Game of 'Lip Flip'