TV Watch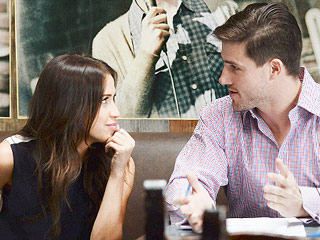 Credit: Matt Petit/ABC
Kaitlyn Bristowe is the Bachelorette! She charmed her way into the hearts of the Bachelor Nation – and nearly the Bachelor himself, Chris Soules, on season 19 of The Bachelor. Now Kaitlyn has begun her own journey to love.

Waking up that next morning as the Bachelorette was a surreal feeling. There was so much happening that first night I think it was still taking its time to sink in. I mean, it's not every day you wake up in a beautiful house with Chris Harrison knocking at your door. But I will admit, I was so relieved to see him. There was a lot to process and having him there to help talk me through it was much needed.

I couldn't believe that in just one night connections had already begun to develop. And there I sat, lucky enough to be the Bachelorette and eagerly awaiting my first week of dates. In the back of my mind, I had to wonder, Which of these guys voted for Britt and who voted for me? And how was Britt doing? But I couldn't allow those thoughts to take over. I had a great group of guys ready to kick these dates off with, and that's where my focus needed to be.
Kacy Catanzaro is competing for a third season on American Ninja Warrior. She made history last season by becoming the first female competitor to reach the top of the 14-ft. warped wall and also became the first and only woman to earn a spot to the Las Vegas finals by completing a city finals course.

ANW is back for its seventh season and is bigger than ever. With more than 10 times the amount of submissions as last year, you will see a lot of new talent showing up to prove themselves on the course. Rookies who have been eagerly waiting will finally get their shot at the course and give the veterans a run for their money.

Three of the six obstacles that make up this Venice Beach qualifying course are brand new. One new obstacle that proved to be a showstopper for many Ninjas was the Hourglass Drop. A lot of competitors had trouble with this touchy trampoline transition.
And you thought that having 25 men vote for either Britt Nilsson or Kaitlyn Bristowe as their next Bachelorette would be the most uncomfortable thing to watch, as a woman, on this season of The Bachelorette. Naïve.

This week, eight of Kaitlyn's suitors took to a boxing ring to fight each other/posture manfully, and Ben Z. ended up sending Jared to the hospital while Kupah appeared more enamored of meeting Laila Ali than interacting with Kaitlyn.

Later, Kupah accused Kaitlyn of only keeping him around as part of a "quota," and then completely ignored her boundaries when she asked him to leave. It was bad, but more on that below.
Things are getting ugly down South!

Tensions come to a head between Shepard "Shep" Rose and Craig Conover on the reality series Southern Charm, and it looks like tonight things might finally hit the roof – or rather, the naval deck.

And it all goes down during a charity auction.
It was one decade ago today that Carrie Underwood was named the winner of the fourth season of American Idol, and the 10-year anniversary prompted the country singer to get a little nostalgic on Instagram.
TV Watch
Get PEOPLE Everywhere
Advertisement