TV Watch
[YOUTUBE "u9qBDFmbkZg"]
President Selina Meyer (Julia Louis-Dreyfus) has officially taken up residence in the Oval Office, and her reign is going about as well as you might expect.

However, she's still got her team looking out for her – "What you say goes," Mike (Matt Walsh) assures her. "Literally. You're like a real-life Mariah Carey."
On Monday's episode of The Voice, Battle Rounds begin, and coach Blake Shelton finds himself in the throes of a dilemma.

PEOPLE can exclusively preview Joshua Davis and Brian Johnson's sing-off to Bob Dylan's "Knockin' on Heaven's Door."

After the performance, the other judges compliment both members of Team Blake for their soulful voices, and when Christina Aguilera refuses to pick a winner, Pharrell Williams jump on the bandwagon.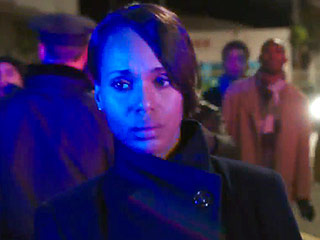 If Scandal's latest episode left you feeling completely gutted, you're not alone.


[BRIGHTCOVE "4097671759001" "" "" "auto"]
Delivering the news is a tough job, but somebody's got to do it – unless you're WXVT's Eric Zernich. Then you just full-on panic.


One Man Freezes
On
Breaking Greenville
, a truTV reality show that follows news anchors at rival stations in one of the smallest news markets in America, Zernich totally blew his "shot at the majors."
"This is one of the first times I've gone into the studio and gotten to present one of my feature stories," said the meteorologist in an exclusive clip obtained by PEOPLE. "Hopefully someone in a bigger market out there, like New York, might see this and it will be my calling card up to the majors and get me out of Greenville."
All of our 2002 dreams are coming true!

Kelly Clarkson has admitted that she and fellow American Idol finalist Justin Guarini used to date.

In a segment of "Plead the Fifth" on Watch What Happens Live on Thursday, the "Heartbeat" singer was asked to confirm whether she and Guarini really had a fling, as he claimed in his one-man show Lovesick.
TV Watch
Get PEOPLE Everywhere
Advertisement