TV Watch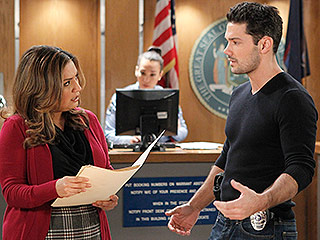 Credit: Getty
Tuesday was a good day for the cast and crew of General Hospital. The long-running soap opera picked up 28 Daytime Emmy nominations.

The awards will be held on April 26 and Betty White will be honored at the ceremony, where she'll be presented with a lifetime achievement award.

In other nods announced Tuesday, nominees for outstanding lead actress in a drama series are Alison Sweeney, Maura West and Laura Wright for General Hospital, Peggy McCay for Days of Our Lives and Gina Tognoni for The Young and the Restless.
General Hospital fans, your wait is almost over: It's time to learn the truth about what caused Luke's mental break!

In this exclusive clip obtained by PEOPLE, Anthony Geary's alter ego goes to uncover some much-needed answers.

Luke revisits his old childhood home, now abandoned. Memories flood back as Luke starts to remember the dark secret that took him over the edge in the first place. What on earth was it? And what is it about that door jam that jogs his memory?
While Mad Men fans won't know for sure until Sunday's premiere, it's been widely speculated online that the second half of the show's final season won't pick up where the first half left off. In fact, it may skip ahead … to the 1970s.



It may seem hard to imagine Mad Men in any time period other than the '60s, but how else to explain those outfits? Or the trailer's use of Diana Ross's "Love Hangover," which debuted in 1976? And most importantly, what will happen to our beloved but broken characters in this new decade?

We let our imaginations run wild.
"We packed him off to the French café and he works there every Saturday and Sunday for a few hours and gets his own pocket money," the soccer star says
You can always tell when the Survivor editors think something is funny. They play corny music in the background and slap a hashtag on the screen.

Last week was no different. During the sixth episode of Survivor: Worlds Apart, a bromance bloomed between contestants Joaquin Souberbielle and Rodney Lavoie. ("Bromance" isn't our word; CBS helpfully hashtagged it several times throughout the show.)

There other tribe members, sensing the close bond between Souberbielle and Lavoie, did what any intelligent tribe would do: they got together to vote out Souberbielle, a 27-year-old marketing director from Valley Stream, New York.

Speaking with PEOPLE, Souberbielle talks about what he did wrong – and dishes on that infamous bromance.
TV Watch
Get PEOPLE Everywhere
Advertisement