TV Watch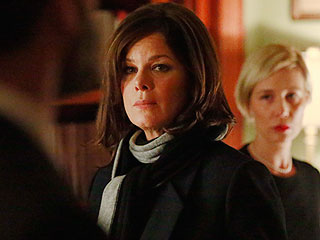 Credit: Mitch Haaseth/ABC
Marcia Gay Harden is no stranger to playing strong women. The Oscar winner has shared the screen with plenty of talented actresses, but going toe-to-toe with SAG winner Viola Davis certainly kept Harden guessing.

"You have to be on your game," she tells PEOPLE of pairing with the How to Get Away with Murder star, 49. "You have to be ready to go right away. If she's the quarterback, you've got to be ready to receive and then do a little dance of your own to make it exciting."
Everywhere you look, the cast of Full House seems to be getting together – and singing their theme song.

John Stamos and his TV band, Jesse and the Rippers, performed it on Jimmy Fallon's show, and on Saturday night, the former Uncle Jesse teamed up with much of the cast to serenade show creator Jeff Franklin with the tune at Franklin's birthday party.

Andrea Barber and Lori Loughlin took to Instagram to share video and photo from the bash.
Contracts are made to be broken, but Cynthia Bailey took it one step further on Sunday's The Real Housewives of Atlanta when she burned the friendship contract between her and former BFF NeNe Leakes.

"Burn, baby, burn," Bailey cheered, clapping. "It's over."

Bailey burned it after her friendship with Leakes went up in flames over the past season and imploded following the wives' shady trip to sunny Puerto Rico.

"NeNe made it crystal clear she didn't want to be friends," Bailey said, prompting her sister, Malorie, to find the contract, which had been signed and filed away.
Which international beauty took home this year's Miss Universe crown?

That would be the lovely Miss Colombia, Paulina Vega.

Vega stole the judges' hearts at the 63td annual pageant in Miami – which aired on NBC on Sunday night – beating out 88 other contestants, including finalists from Jamaica, Netherlands, Ukraine and Miss USA, Nia Sanchez, who was first runner up.

Vega, 22, hails from Barranquilla and is currently a business administration major at the Universidad Javeriana in Bogota.
Blake Shelton pulled double-duty when he dropped by Saturday Night Live, hosting the show and performing two songs, "Boys 'Round Here" and "Neon Light."


TV Watch
Get PEOPLE Everywhere
Advertisement