TV Watch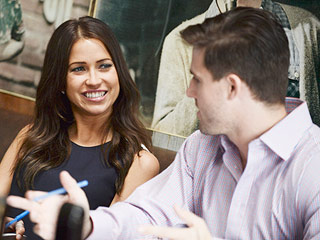 Credit: Matt Petit/ABC
And you thought that having 25 men vote for either Britt Nilsson or Kaitlyn Bristowe as their next Bachelorette would be the most uncomfortable thing to watch, as a woman, on this season of The Bachelorette. Naïve.

This week, eight of Kaitlyn's suitors took to a boxing ring to fight each other/posture manfully, and Ben Z. ended up sending Jared to the hospital while Kupah appeared more enamored with meeting Leila Ali than interacting with Kaitlyn.

Later, Kupah accused Kaitlyn of only keeping him around as part of a "quota," and then completely ignored her boundaries when she asked him to leave. It was bad, but more on that below.
Things are getting ugly down South!

Tensions come to a head between Shepard "Shep" Rose and Craig Conover on the reality series Southern Charm, and it looks like tonight things might finally hit the roof – or rather, the naval deck.

And it all goes down during a charity auction.
It was one decade ago today that Carrie Underwood was named the winner of the fourth season of American Idol, and the 10-year anniversary prompted the country singer to get a little nostalgic on Instagram.
Tyrion Lannister and Daenerys Targaryen were paired for the first time Sunday
Show creator Ryan Murphy Tweeted that the actor "is checking in to the hotel….but not checking out"
TV Watch
Get PEOPLE Everywhere
Advertisement