TV Watch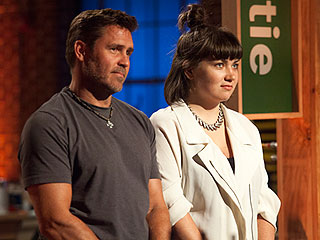 Credit: Stephanie Diani/Getty
Ellen's Design Challenge was short, but boy was that ending a whopper.

The hit HGTV show concluded last night with a shocking epilogue: Tim McClellan, the Western-style furniture designer who'd been named the winner, was disqualified and runner-up Katie Stout learned she would take home the $100,000 prize.

To be fair, producer and namesake Ellen DeGeneres had warned her audience on Monday's episode of her eponymous talk show that the finale would be "very dramatic. Even if you think you know what's going to happen, you don't know nothin'."
As Bobbi Kristina Brown remains on life support after being found unresponsive in her bathtub on Jan. 31, some of her family members are planning to share their grief with TV audiences.

According to two family sources, some of her father Bobby Brown's siblings are in the earliest stages of shooting a reality show. The footage will include scenes from their daily life – and will also spotlight how the family copes as Bobbi Kristina remains in the hospital.

But not everyone is on board with the idea. "I hope it's not true," says Randy Kessler, an Atlanta-based attorney who represents Nick Gordon, Bobbi Kristina's boyfriend.

According to one family source, Bobby is "not happy" that his relatives are planning to do a reality show. Brown's lawyer tells TMZ that his client will not be participating.
They were born and bred in Hollywood and now, sisters Erin and Sara Foster (daughters of superstar music producer David Foster) are poking fun at the reality TV genre in a parody on VH1.

Barely Famous follows the duo as they navigate the celebrity-obsessed world of Los Angeles. Sara, 34 and Erin, 32, offer a tongue-in-cheek perspective in the satirical comedy series with help from celebrity pals like Kate Hudson, Nicole Richie and Jessica Alba.

In the clip, Erin, who claims she is looking for a normal guy, is having drinks on a date when she gets a late night text from James Franco, derailing her claim that she doesn't associate with Hollywood ilk.

Sara, best known for her role as Jen Clark on 90210, and Erin, a writer and actress, are the stepdaughters of Real Housewives of Beverly Hills star Yolanda Foster, and they even have a Kardashian connection. Their father, David, was married to Brody and Brandon Jenner's mom, Linda Thompson, for 14 years.
We've all wept over the end of Parks and Recreation. Some of us grieve in different ways, though. For example, we've made a life-size papier-mâché replica of Ron Swanson that's glowering at us from the corner this very moment. Aubrey Plaza?

Well, Aubrey Plaza gave one of her castmates a vial of blood and some of her hair.
Seeing as she speaks fluent emoji, it should come as no surprise Mindy Kaling was cast in Pixar's upcoming Inside Out.


TV Watch
Get PEOPLE Everywhere
Advertisement