TV Watch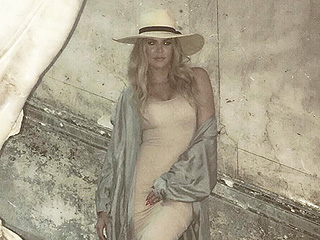 Credit: Source Khloe Kardashian/Instagram
The Kardashians are taking over Cuba – but not without controversy.

On Wednesday, Khloé Kardashian shared a photo on Instagram of herself posing in sexy attire under a Fidel Castro inscribed into a wall in Havana.

Within seconds of the picture hitting social media, an influx of angry comments were posted questioning the reality star's choice to align herself with the dictator through the photo.

A slew of followers called the 31-year-old "ignorant" and "insensitive," while others demanded she take down the photo.

South Florida Rep. Ileana Ros-Lehtinen, who was previously critical of the family told PEOPLE amid the uproar: "Another day in Cuba seems to bring another selfie in Havana for the Kardashians. While Khloe is taking photos with a sign that says Fidel, she should have at least some awareness that Fidel would have prohibited a Kardashians-style show."

Continued Rep. Ros-Lehtinen: "More than anything it's disappointing that someone who exercises her free speech right in the U.S. is blind to the lack free speech when she takes a selfie glorifying a serial repressor."
Shay Mitchell isn't one for labels.

Though Mitchell plays an out-and-proud lesbian on Pretty Little Liars, she reveals in Cosmopolitan's June cover story that she doesn't subscribe to pinning down her sexuality off screen.
It's time to say goodbye to a very special agent!


Meyers shares a photo of his newborn son and gives a peek into his life as a new dad
RHOBH Season Finale: Yolanda Hadid Opens Up About Her Split from David Foster, Says 'I Still Love Him'