TV Watch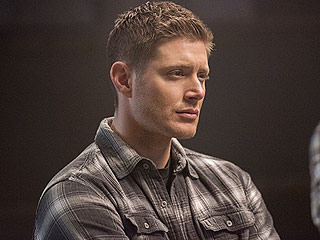 Credit: Diyah Pera/The CW
With his charity campaign "Always Keep Fighting," Supernatural star Jared Padalecki raised ample funds for To Write Love on Her Arms, a non-profit organization that helps those struggling with depression, addiction and suicidal ideation. However, he was most keenly interested in destigmatizing mental illness following the suicide of a close friend.

Thanks to the help of the Supernatural fandom, which continues to thrive even as the show gears up for its 10th season finale, the T-shirt campaign was a rousing success.

Now, Padalecki and costar Jensen Ackles have joined forces. The two have set up a joint, donor-advised fund – "a junior version of a foundation," Ackles tells PEOPLE – to support a variety of like causes that, chiefly, work to help those suffering from mental illness and mood disorders, among other causes. In the future, the pair may even decide to partner up with costar Misha Collins' foundation, Random Acts, but Ackles tells PEOPLE that they're just getting their feet wet with their "junior foundation" for now.

In a chat with PEOPLE, Ackles, 37, reveals his personal reasons for joining the charitable fray and how he helped Padalecki when he "went down a dark road" while filming the third season of Supernatural. Ackles also shares that he, too, has dealt with these issues and saysit's not only important to have somebody in your life to listen to you when things get dark, but also to have the courage to reach out and ask for help.

These issues are also germane to Ackles' current plotline on Supernatural as his character, Dean, fights against the Mark of Cain which, without a cure, may overtake him completely. (Yes, don't worry – we also chatted about what's next for the Winchester brothers.)
Holly Montag and husband Richie Wilson welcomed a son, Isaiah Hawk Wilson, on Sunday, May 3, at 9:24 p.m. The baby boy weighed 7 lbs., 5 ounces.

"He is a gift straight from heaven. Richie Wilson and I feel so blessed to be his parents," Montag tells PEOPLE exclusively. "The whole family is doing well."
Diane Keaton may never have married, but the iconic actress admits there is someone who could make her reconsider: Channing Tatum.

The actress, who said on The Ellen DeGeneres Show Wednesday that the concept of being devoted to a person for decades, "moves me," was reminded by the talk show host that "It's not too late!"

"Who's gonna … ? Wait. Oh!" says a smiling Keaton. "Channing Tatum?"
Calling all Nashville fans! PEOPLE sat down with Charles Esten, who plays the charming rebel Deacon Claybourne at the Nashville Live show at New York City's Beacon Theatre and discovered (not surprisingly) that he doesn't save his charm for the small screen – he makes us swoon in real life too!


It was the news that Full House fans had been waiting for.

Candace Cameron Bure is hopeful that Netflix's reboot will include at least one episode with the entire Tanner family. 

"I hope everyone will be on the show," Cameron Bure, 39, tells PEOPLE. "There are a lot of talks right now. Fans of the show won't be disappointed. I promise." 
TV Watch
Get PEOPLE Everywhere
Advertisement